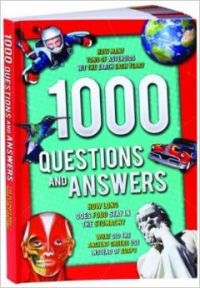 (F2L) 1000 Questions and Answers
Product Details:
Share this by email:
ISBN:
9782753026094
Publisher
:
Reader's Digest
Year of publishing:
2015
Format:
Paperback
Language
: English
THE ULTIMATE QUIZ BOOK FOR EVERYONE! Test your own knowledge or quiz your friends with 1000 QUESTIONS AND ANSWERS. Just grab your pen, and get ready for hours of exciting games! How many tons of asteroids...
Read more
THE ULTIMATE QUIZ BOOK FOR EVERYONE! Test your own knowledge or quiz your friends with 1000 QUESTIONS AND ANSWERS. Just grab your pen, and get ready for hours of exciting games! How many tons of asteroids hit the Earth each year? How long does good stay in the stomach? What did the ancient Greeks use instead of soap? Each quiz contains eight thematic questions covering sports, animals, plants, geography, history, science & technology, art & literature and general knowledge. Are you ready, genius
Read less
Recommended Books for you - See all
Price
:
Rs. 1099
Rs.346
You save: Rs.753
Vendor :
B and H Entertainment, Mumbai
Free Shipping on all orders of Rs.500 and above. Add Rs.30 otherwise. | Delivered in 5 working days
(Cash on delivery available)
Be assured. 7 days Return & Refund Policy.
Click here