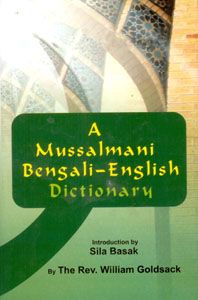 A Mussalmani Bengali-English Dictionary
Product Details:
Share this by email:
ISBN:
9788121209427
Publisher
:
Gyan Publishing House
Year of publishing:
2007
Format:
Hardback
No of Pages:
134
Language
: English
Description About The Author:- Dr. Sila Basak Ph.D., D. Lit., FRAS(London) was Born in 1947, Kolkata, India. Working as an academic, attached to the Dept. of Folklore and language studies with various...
Read more
Description About The Author:- Dr. Sila Basak Ph.D., D. Lit., FRAS(London) was Born in 1947, Kolkata, India. Working as an academic, attached to the Dept. of Folklore and language studies with various Universities. She is also associated with the training and research programmes in Folkloristics with diffirent institutions both India and abroad. She is the author of a number of books and research papers on the various aspect of Bengal's folklore and life including Women Brata Rituals, Bengali Culture and Society through its Riddles and Nakshi Kantha of Bengal (Embroidered Quilt of Bengal). She lives with her family in Kolkata.About The Book:- This Book, Compiled By The Reverend William Goldsack, Contains Nearly 6000 Words Of Arabic, Persian, Turkish And Hindi Origin Which Have Been Incorporated In Bengali Over A Long Period Of Time. First Published In 1923, This Book Is The First Attempt To Compile A Dictionary Along Such Line. It Will Be Immensely Useful Both To The Scholars And General Public., About The Author:- Dr. Sila Basak Ph.D., D. Lit., Fras(London) Was Born In 1947, Kolkata, India. Working As An Academic, Attached To The Dept. Of Folklore And Language Studies With Various Universities. She Is Also Associated With The Training And Research Programmes In Folkloristics With Diffirent Institutions Both India And Abroad. She Is The Author Of A Number Of Books And Research Papers On The Various Aspect Of Bengal's Folklore And Life Including Women Brata Rituals, Bengali Culture And Society Through Its Riddles And Nakshi Kantha Of Bengal (Embroidered Quilt Of Bengal). She Lives With Her Family In Kolkata.,
Read less
Other books by Rev. William Goldsack
Recommended Books for you - See all
Price
:
Rs. 340
Rs.252
You save: Rs.88
Vendor :
Gyan Books Pvt.Ltd, Delhi
Free Shipping on all orders of Rs.500 and above. Add Rs.30 otherwise. | Delivered in 5 working days
(Cash on delivery available)
Be assured. 7 days Return & Refund Policy.
Click here
2 offers starting from Rs. 252
Rs.252 + Rs.30 delivery charges

In stock | Delivered in 5 working days

Gyan Books Pvt.Ltd, Delhi

Add to cart

Rs.336 + Rs.30 delivery charges

In stock | Delivered in 5 working days

Anshika Books, Delhi

Add to cart