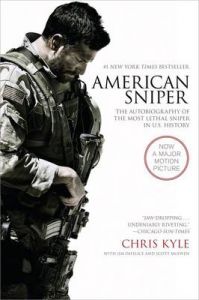 American Sniper [Movie Tie-In Edition]: The Autobiography of the Most Lethal Sniper in U.S. Military History
By: Chris Kyle
Product Details: Share this by email:
ISBN:
9780062401724
Publisher
:
HarperCollins Publishers Inc
Year of publishing:
2015
Format:
Paperback / softback
No of Pages:
7.99
Language
: English
Review
:
#1 NEW YORK TIMES BESTSELLER -- No Source "Chris Kyle tells his story with the same courage and grit he displayed in life and on the battlefield. American Sniper is a compelling read." -- CLINT...
Read more
#1 NEW YORK TIMES BESTSELLER -- No Source "Chris Kyle tells his story with the same courage and grit he displayed in life and on the battlefield. American Sniper is a compelling read." -- CLINT EASTWOOD "[My] favorite book of the year. Chris Kyle's American Sniper is an amazingly detailed account of fighting in Iraq -- a humanizing, brave story that's extremely readable." -- PATRICIA CORNWELL, New York Times Book Review "In the community of elite warriors, one man has risen above our ranks and distinguished himself as unique. Chris Kyle is that man. A master sniper, Chris has done and seen things that will be talked about for generations to come." -- MARCUS LUTTRELL, former USN SEAL, recipient of the Navy Cross for extraordinary heroism under fire, #1 bestselling author of Lone Survivor "The raw and unforgettable narrative of the making of our country's record-holding sniper, Chris Kyle's memoir is a powerful book, both in terms of combat action and human drama. Chief Kyle is a true American warrior down to the bone, the Carlos Hathcock of a new generation." -- CHARLES W. SASSER, Green Beret (US Army Ret.) and author of One Shot, One Kill "American Sniper is the inside story of what it's like to be in war. A brave warrior and patriot, Chris Kyle writes frankly about the missions, personal challenges, and hard choices that are part of daily life of an elite SEAL Sniper. It's a classic!" -- RICHARD MARCINKO (USN, Ret.), First Commanding Officer of SEAL Team Six and #1 bestselling author of Rogue Warrior "Eloquent ... An aggressively written account of frontline combat, with plenty of action." -- KIRKUS REVIEWS "Reads like a first-person thriller narrated by a sniper. The bare-bones facts are stunning. ... A first-rate military memoir." -- BOOKLIST
Read less
Other books by Chris Kyle
Recommended Books for you - See all
Price
:
Rs.728
Vendor :
PBC Books, Delhi
FREE SHIPPING | Delivered in 21 working days
(Cash on delivery not available)
Imported Edition
Be assured. 7 days Return & Refund Policy.
Click here