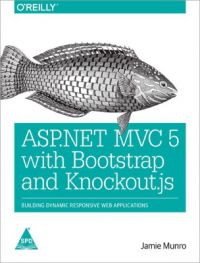 ASP.NET MVC 5 with Bootstrap and Knockout.js: Building Dynamic, Responsive Web Applications
By: Jamie Munro
Product Details:
Share this by email:
ISBN:
9789352130931
Publisher
:
Shroff/O'Reilly
Year of publishing:
2015
Format:
Paperback
No of Pages:
296
Language
: English
Bring dynamic server-side web content and responsive web design together to build websites that work and display well on any resolution, desktop or mobile. With this practical...
Read more
Bring dynamic server-side web content and responsive web design together to build websites that work and display well on any resolution, desktop or mobile. With this practical book, you'll learn how by combining the ASP.NET MVC server-side language, the Bootstrap front-end framework, and Knockout.js--the JavaScript implementation of the Model-View-ViewModel pattern.
Author Jamie Munro introduces these and other related technologies by having you work with sophisticated web forms. At the end of the book, experienced and aspiring web developers alike will learn how to build a complete shopping cart that demonstrates how these technologies interact with each other in a sleek, dynamic, and responsive web application.


Build well-organized, easy-to-maintain web applications by letting ASP.NET MVC 5, Bootstrap, and Knockout.js do the heavy lifting


Use ASP.NET MVC 5 to build server-side web applications, interact with a database, and dynamically render HTML


Create responsive views with Bootstrap that render on a variety of modern devices; you may never code with CSS again


Add Knockout.js to enhance responsive web design with snappy client-side interactions driven by your server-side web application


About the Author
Jamie Munro
The author of 20 Recipes for Programming MVC 3 from O'Reilly Media, Jamie Munro has been developing websites and web applications for over 15 years. For the past 6 years Jamie has been acting as a lead developer by mentoring younger developers to enhance their web development skills. Taking his love of mentoring people, Jamie began his writing career on his personal blog (http://www.endyourif.com) back in 2009. As Jamie's blog grew in success, he turned his writing passion to books about web development. As well as writing books, Jamie is currently in the process of starting a new website (http://www.webistrate.com) that is geared towards helping web developers further expand their experience with many online examples using MVC3, CakePHP, CodeIgniter, Jquery, Database Optimzation, and Search Engine Optimization.
Read less
Recommended Books for you - See all
Price
:
Rs. 630
Rs.624
You save: Rs.6
Vendor :
Sunidhi Ventures Inc., Mumbai
FREE SHIPPING | Delivered in 5 working days
(Cash on delivery available)
Be assured. 7 days Return & Refund Policy.
Click here