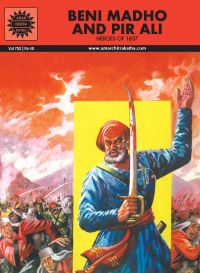 Beni Madho And Pir Ali (752)
By: Rajnikant Verma
Product Details:
Share this by email:
ISBN:
9788184822106
Publisher
:
Amar Chitra Katha Pvt. Ltd.
Year of publishing:
1983
Format:
Paperback
No of Pages:
32
Language
: English
It was a time of turbulence when resentment against British treachery and betrayal was simmering in the people of India. The Nawab of Avadh had been a staunch ally of the British, providing them with...
Read more
It was a time of turbulence when resentment against British treachery and betrayal was simmering in the people of India. The Nawab of Avadh had been a staunch ally of the British, providing them with money, grain and cattle. And yet, Avadh was annexed through the Doctrine of Lapse as were other states like Satara, Sambalpur, Nagpur and Jhansi. The discontent triggered off the first war of Indian Independence. Rana Beni Madho and Pir Ali were two heroes of that period who inspired many to stand up against injustice. OTHER ACK BRAVEHEARTS MANGAL PANDE BHAGAT SINGH DURGADAS SUBHAS CHANDRA BOSE ALSO LOOK FOR EPICS AND MYTHOLOGY: KRISHNA AND JARASANDHA INDIAN CLASSICS: ANCESTORS OF RAMA FABLES AND HUMOUR: THE PRICELESS GEM
Read less
Other books by Rajnikant Verma
Recommended Books for you - See all
Price
:
Rs.70
Vendor :
ACK Media Direct Limited, Mumbai
Free Shipping on all orders of Rs.500 and above. Add Rs.30 otherwise. | Delivered in 21 working days
(Cash on delivery not available)
Imported Edition
Be assured. 7 days Return & Refund Policy.
Click here