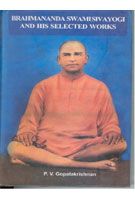 Brahmanada Swami Sivayogi And His Selected Works
Product Details:
Share this by email:
ISBN:
9788178351018
Publisher
:
Kalpaz Publications
Year of publishing:
2002
Format:
Hardback
No of Pages:
264
Language
: English
Description About The Author:- P.V. Gopalakrishanan, was born at Edapal, a little town in the state of Kerala. After taking Post Graduation in English Language and Literature, and Post graduate Diploma...
Read more
Description About The Author:- P.V. Gopalakrishanan, was born at Edapal, a little town in the state of Kerala. After taking Post Graduation in English Language and Literature, and Post graduate Diploma in Public Relations and Journalism, he found his way into literary work. He is a life member in the Indo-American Centre for International Studies. He gives regular contributions to the Indian Skeptic, an English journal devoted for humanism, skepticism and rationalism. In 1998, Culture Department of the Govt. of India awarded him a junior fellowship in the field of literature for doing research work on 'Literary and Culture contributions of Brahmananda Swami Sivayogi'. Word Bank, Dictionary of Abbreviations, Glossary of Places, Book of Signs and Symbols, A Dictionary of Shakespearian References, The Greatest Quotations, Ananda Cult and Teachings of Sivayogi, Educational Opportunities in Abroad, A passage to the bliss supreme and Brahmananda Swami Sivayogi and his selected works are his other books in English.Contents:- Contents # Preface : PART- I:LITERARY AND CULTURAL CONTRIBUTIONS OF SWAMI SIVAYOGI : His Life : Contemporary Social Reformers of Brahmananda Swami Sivayogi : Sivayogi's Position in the Indian Philosophy : Sidhasramam : Ananda Maha Sabha, Ananda Samajas, Ananda YogaAbout The Book:- This Book Deals With A Meaningful Dialogue On Ethics, Literature And Culture. Based On Philosophical Human Values, It Depicts Clearly The Purity Of Life And Thought And Its Deep Impact On Character And Morality. Swami Sivayogi Has Woven The Whole Theme Into The Basic Tenets Of Humanity And Religious Purification. The Work Would Be Useful For Teachers, Scholars And Students Interested In Human Values And Morality., About The Author:- P.V. Gopalakrishanan, Was Born At Edapal, A Little Town In The State Of Kerala. After Taking Post Graduation In English Language And Literature, And Post Graduate Diploma In Public Relations And Journalism, He Found His Way Into Literary Work. He Is A Life Member In The Indo-American Centre For International Studies. He Gives Regular Contributions To The Indian Skeptic, An English Journal Devoted For Humanism, Skepticism And Rationalism. In 1998, Culture Department Of The Govt. Of India Awarded Him A Junior Fellowship In The Field Of Literature For Doing Research Work On 'Literary And Culture Contributions Of Brahmananda Swami Sivayogi'. Word Bank, Dictionary Of Abbreviations, Glossary Of Places, Book Of Signs And Symbols, A Dictionary Of Shakespearian References, The Greatest Quotations, Ananda Cult And Teachings Of Sivayogi, Educational Opportunities In Abroad, A Passage To The Bliss Supreme And Brahmananda Swami Sivayogi And His Selected Works Are His Other Books In English., Content:- Preface : Part- I:Literary And Cultural Contributions Of Swami Sivayogi : His Life : Contemporary Social Reformers Of Brahmananda Swami Sivayogi : Sivayogi's Position In The Indian Philosophy : Sidhasramam : Ananda Maha Sabha, Ananda Samajas, Ananda Yoga
Read less
Other books by P.V. Gopalakrishnan
Price
:
Rs. 890
Rs.660
You save: Rs.230
Vendor :
Gyan Books Pvt.Ltd, Delhi
FREE SHIPPING | Delivered in 5 working days
(Cash on delivery available)
Be assured. 7 days Return & Refund Policy.
Click here
2 offers starting from Rs. 660
Rs.660 FREE SHIPPING

In stock | Delivered in 5 working days

Gyan Books Pvt.Ltd, Delhi

Add to cart

Rs.880 FREE SHIPPING

In stock | Delivered in 5 working days

Anshika Books, Delhi

Add to cart