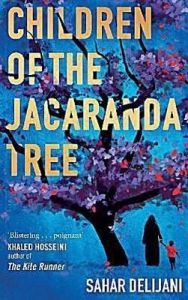 Children of the Jacaranda Tree
By: Sahar Delijani
Product Details:
Share this by email:
ISBN:
9781780226927
Publisher
:
ORION
Year of publishing:
2014
Format:
Paperback
Language
: English
A country divided by revolution. A people united by love. CHILDREN OF THE JACARANDA TREE is an astonishing debut reminiscent of THE KITE RUNNER and HALF A YELLOW SUN.
Review
:
Set in post-revolutionary Iran, Delijani's gripping novel is a blistering indictment of tyranny, a poignant tribute to those who bear the scars of it, and a celebration of the human's heart's...
Read more
Set in post-revolutionary Iran, Delijani's gripping novel is a blistering indictment of tyranny, a poignant tribute to those who bear the scars of it, and a celebration of the human's heart's eternal yearning for freedom Khaled Hosseini, author of THE KITE RUNNER and A THOUSAND SPLENDID SUNS A brutally honest story of secrets, hope and endurance, revealing some of the truth behind a devastating period in Iran's history THE GOOD BOOK GUIDE The cast of this first novel are the children of Iran's Islamic revolution...Delijani shows skilfully and movingly how families were broken by the regime and how the survivors try to piece the shards of their lives back together DAILY MAIL The amazing debut Children of the Jacaranda Tree is a family saga at heart but, as it's set in Iran between 1983 and 2011, the tale is harrowing and at the family are at the mercy of politics and revolution. Sahar Delijani drew on the experiences of her own family and friends, making this debut all the more moving. EMERALD STREET a poetic, deeply moving novel about love and loss set in Iran GOOD HOUSEKEEPING Set in post-revolutionary Iran, this is the story of three generations whose lives are devastated by the revolution. Vivid and poignant reading WOMAN & HOME Delijani is exceptionally talented as a writer, and the subject matter is both compelling and timely Kirkus This moving story - set in post-revolutionary Iran, from 1983 to 2011 - describes how lives have been affected by revolution... Based on the author's experiences - Delijani herself was born in Evin Prison in Tehran - this debut novel is harrowing yet beautifully written, as it carefully links three generations who have to build a future from a difficult and painful past THE LADY Spanning the years 1983 to 2011, Children of the Jacaranda Tree offers a personal and often painful look at post-revolutionary Iranian history, from the height of the Iran-Iraq war to the 2009 election protests and beyond... Evocative and emotive - and highly recommended NEW INTERNATIONALIST Set in post-revolutionary Iran, this is a powerful and evocative portrait of the thoughts and experiences of three generations for people whose idealistic hopes of justice and freedom are shattered by the Revolutionary Guards of the post-Shah regime CHOICE Children of the Jacaranda Tree is a novel with a great weight of history attached to it... At the centre of the web of connections are three women prisoners... Through these women and their families a narrative emerges that is more effective than one that cleaves to an individual. The pain of women prisoners who have to give up their children; the pain of parents and sisters who don't know what is happening to those they love or who are imprisoned; the pain of letting go of the nephews and nieces you've been raising, when their mothers are finally released from prison; the pain of supressing the truth; the pain of discovering the truth; the pain of leaving Iran, the pain of staying and the pain of return: all these are held within these linked stories... those stories and memories are all entwined and should never be forgotten -- Kamila Shamsie THE GUARDIAN A beautiful tale of growing up in post revolutionary Iran, the semi-autobiographical Children of the Jacaranda Tree by Sahar Delijani follows three generations fighting for freedom MOTHER & BABY
Read less
Other books by Sahar Delijani
Recommended Books for you - See all
Price
:
Rs. 399
Rs.384
You save: Rs.15
Vendor :
Zapzhoop Services, Mumbai
Free Shipping on all orders of Rs.500 and above. Add Rs.30 otherwise. | Delivered in 4 working days
(Cash on delivery available)
Be assured. 7 days Return & Refund Policy.
Click here