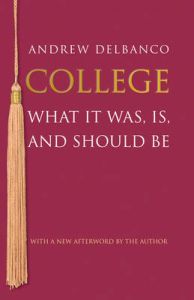 College: What it Was, is, and Should be
By: Andrew Delbanco
Product Details:
Share this by email:
ISBN:
9780691165516
Publisher
:
Princeton University Press
Year of publishing:
2014
Format:
Paperback
No of Pages:
264
Language
: English
As the commercialization of American higher education accelerates, more and more students are coming to college with the narrow aim of obtaining a preprofessional credential. The traditional four-year...
Read more
As the commercialization of American higher education accelerates, more and more students are coming to college with the narrow aim of obtaining a preprofessional credential. The traditional four-year college experience--an exploratory time for students to discover their passions and test ideas and values with the help of teachers and peers--is in danger of becoming a thing of the past. In College, prominent cultural critic Andrew Delbanco offers a trenchant defense of such an education, and warns that it is becoming a privilege reserved for the relatively rich. In describing what a true college education should be, he demonstrates why making it available to as many young people as possible remains central to America's democratic promise. In a brisk and vivid historical narrative, Delbanco explains how the idea of college arose in the colonial period from the Puritan idea of the gathered church, how it struggled to survive in the nineteenth century in the shadow of the new research universities, and how, in the twentieth century, it slowly opened its doors to women, minorities, and students from low-income families.
He describes the unique strengths of America's colleges in our era of globalization and, while recognizing the growing centrality of science, technology, and vocational subjects in the curriculum, he mounts a vigorous defense of a broadly humanistic education for all. Acknowledging the serious financial, intellectual, and ethical challenges that all colleges face today, Delbanco considers what is at stake in the urgent effort to protect these venerable institutions for future generations. In a new afterword, Delbanco responds to recent developments--both ominous and promising--in the changing landscape of higher education.
Read less
About the author:
Andrew Delbanco
Review
:
Winner of the 2013 O.L. Davis, Jr. Book Award, American Association for Teaching and Curriculum. Winner of the 2013 Gold Medal in Education II (Commentary/Theory), Independent Publisher Book...
Read more
Winner of the 2013 O.L. Davis, Jr. Book Award, American Association for Teaching and Curriculum. Winner of the 2013 Gold Medal in Education II (Commentary/Theory), Independent Publisher Book Awards. Winner of the 2013 Philip E. Frandson Award for Literature in the Field of Continuing Education, University Professional and Continuing Higher Education Association. Finalist for the 2012 Book of the Year Award in Education, ForeWord Reviews. One of Choice's Outstanding Academic Titles for 2013. Honorable Mention for the 2012 Award for Best Professional/Scholarly Book in Education, Association of American Publishers. "At a time when many are trying to reduce the college years to a training period for economic competition, Delbanco reminds readers of the ideal of democratic education... The American college is too important 'to be permitted to give up on its own ideals,' Delbanco writes. He has underscored these ideals by tracing their history. Like a great teacher, he has inspired us to try to live up to them."--Michael S. Roth, New York Times Book Review "The book does have a thesis, but it is not thesis-ridden. It seeks to persuade not by driving a stake into the opponent's position or even paying much attention to it, but by offering us examples of the experience it celebrates. Delbanco's is not an argument for, but a display of, the value of a liberal arts education."--Stanley Fish, New York Times "A lucid, fair, and well-informed account of the problems, and it offers a full-throated defense of the idea that you don't go to college just to get a job. Delbanco's brevity, wit, and curiosity about the past and its lessons for the present give his book a humanity all too rare in the literature on universities."--Anthony Grafton, New York Review of Books "[I]nsightful and rewarding... Delbanco's evocation of these nineteenth-century precedents is of central importance, for they allow him to demonstrate that liberal education, far from being an elite indulgence, is inseparable from our nation's most cherished and deeply rooted democratic precepts. In the face of today's hyper-accelerated, ultra-competitive global society, the preservation of opportunities for self-development and autonomous reflection is a value we underestimate at our peril."--Richard Wolin, The Nation "Has the democratic ideal of a classical education, open to rich and poor alike, become a thing of the past? That's the scenario proposed by esteemed literary scholar Delbanco in this engaging assessment of how American higher education has lost its way... He makes a strong case that the purely materialist approach to education assures that the disparity between rich and poor students only widens, with 'merit-based' financial aid and scholarships all going disproportionately to students from families with money... This is an impassioned call for a corrupt system to heal itself."--Kirkus Reviews "To renew higher education in an age of secular pluralism, Delbanco summons his colleagues to a defense of the university's role in fostering humane and democratic impulses... Delbanco's agenda for reform--curricular, pedagogical, financial, and technological--will stimulate a much-needed national dialogue."--Bryce Christensen, Booklist "Delbanco explores American higher education in a manner befitting a scholar of Melville and the Puritans, with a humanist's belief in lessons from history and in asking what the right thing is to do... College has always been a microcosm of society, so a book about it is also about how we're doing as a country."--Clare Malone, American Prospect "A thoughtful and insightful look at American college's exceptionalism and pitfalls... Whether you're in college, thinking about college or just paying for it, it's a good read to help better understand one of America's oldest and finest institutions. And if we want it to stay that way, we all better get schooled about it."--Kacie Flynn, Vox Magazine, Missourian "The 'Was' part is an illuminating reminder of the Puritan origin of early colleges, such as Harvard and Princeton, where only wealthy males needed apply and where religion, literature and philosophy dominated the curricula. The 'Is' section considers the prohibitive cost, the woefully underprepared applicants, the self-centered teachers and the dominance of research over instruction of undergraduates at today's colleges. Obviously the 'Should Be' is Delbanco's motive in this effort... He dreams of the day when college teachers are back in the classrooms, working collaboratively to bring their youngsters into this new century."--Kathleen Daley, Newark Star Ledger "Recommended for academic and general audiences as a thoughtful, literate, and gracefully written reminder of what higher education needs to be."--Elizabeth R. Hayford, Library Journal "[College] will give a lot of pleasure to anyone who cares about undergraduate education. It offers a fascinating history of the creation and growth of US colleges and universities, some sombre reflections on the tension between the desire of many universities to be known as great research institutions and the needs of their undergraduates, and some angry thoughts about the way in which elite education reinforces economic inequality... Delbanco writes with the exasperated energy of a radical assistant professor half his age, and displays an unforced affection for undergraduate students that is deeply engaging and permeates the book with an infectious optimism about the possibilities of liberal education in spite of all the obstacles that he lists."--Alan Ryan, Times Higher Education "Refreshingly, Delbanco's examination of what college was doesn't turn into a longing backward look... This book is a result of what Delbanco says is two decades of visiting more than 100 colleges of all types, from community colleges to the undergraduate divisions of research universities. It is also the product of extensive reading: He seems to have digested every self-flagellating and self-congratulating essay, every cri de coeur and jeremiad about higher ed that has been produced since scholars sat down together in collegium."--Sebastian Stockman, Kansas City Star "This is a brief, well-researched book, and an insightful account of the factors that shape the current higher educational landscape."--Dennis O'Brien, Commonweal "[An] eloquent book--a combination of jeremiad, elegy and call to arms."--Alan Cate, Cleveland Plain Dealer "In College, [Delbanco] looks to the lengthy and dynamic history of higher education in America as a lens through which to examine its current crises and unsettled future."--Serena Golden, Inside Higher Ed "'Every year the teacher gets older while the students stay the same age.' This has always been true, but Delbanco's observation has a poignant weight today when college is always justified as being for something, whether for the economy, or for democracy, or for social mobility, and not as a place that exists as a community asking questions together, trying to unify knowledge to make sense of our lives--in short, as a place where we pursue the truth."--Angus Kennedy, Spiked Review of Books "Andrew Delbanco does a marvelous job tracing the evolution of one of the most treasured institutions in the United States, 'college,' in terms of the ideal of such an institution and the challenges it is facing... Delbanco's book would be a great one for students and scholars in the fields of educational philosophy, history of education, educational policy, and other related fields. It would also be a good read for anyone who is interested in the development of higher education in the United States."--Shouping Hu, Teachers College Record "What commends [t]his book is its richness of reference and its willingness to charge colleges and universities with lapses that should sow insomnia among administrators."--James Morris, Wilson Quarterly "College: What It Was, Is, and Should Be gives a clear picture of all the forces, both within and outside the university, working against the liberal arts."--Joseph Epstein, Weekly Standard "Andrew Delbanco's recent book is to be praised, for it reminds us that college should be about character formation and not a surrender to a customer service mentality that inflates accomplishments to please future employers, placate doting parents and repair fragile egos... Enlightening."--Robert J. Parmach, America magazine "Well researched, succinct, and eloquently written, this little book should be in every library in every institution of higher learning. It would be an appropriate book for all new faculty members so that they can quickly come to understand the professional situation they are now in... Delbanco's intention is to avoid writing a jeremiad, elegy, funeral dirge, or call to arms. He has succeeded. His realistic account of the current state of affairs is indeed sobering."--Choice "Delbanco provides a fresh historical argument for why it's important to keep liberal learning in the picture for as many students as possible, and he offers some suggestions for how colleges might do that."--Mary Taylor Huber, Change "This isn't just a plea for the humanities to keep its place at the table, though College is certainly that. Nor is Delbanco exactly making an argument for the liberal arts as the medium through which new, socially critical ideas can take hold and be propagated, a la Dewey--despite his clear belief that an education that has not produced an accountable, critical mind has failed. Rather, he's concerned about the deeply anti-democratic implications of what is happening--the undoing of Emerson's vision of scholarship and serious discussion coming down from the ivory tower and joining the fray, rather than polishing the manners of a happy few... Delbanco does a fine job at making his case for liberal education as a public good that should be preserved and fostered; his concern about how social inequality undermines democratic cultural values strikes me as utterly justified."--Scott McLemee, Democracy "[T]he book reaches its objectives. Its research base is impeccable, as is its expository form. It deserves a place in every college and university library, and not just in the U.S."--William Bruneau, CAUT Bulletin "College offers much valuable analysis, as when Delbanco lays out three common understandings of the purposes of college today... [T]his fine-grained, literate argument for why teaching students 'how to think and how to choose' ought to be at the heart of a college education deserves careful thought and consideration, on and off campus."--Ben Wildavsky, Strategy Matters "Andrew Delbanco offers an eloquent and persuasive argument for the importance of a liberal arts education. At a time when others are challenging the so-called economic viability of a college diploma ... Delbanco seeks to remind us of the enduring existential value of higher education; of its ability to enrich experience, deepen intellectual ability, and enhance one's own humanity."--Robin Tatu, Prism "Andrew Delbanco has given us a first rate account of the history and present state of the American college... He comes across as a fine teacher, one of the best. I have recommended his classes, solely on the basis of this book, to a young man starting soon at Columbia. And I recommend this book to all who have been to any college or will go someday. This is a fine book."--Geoffrey M. Vaughan, Society "I strongly recommend this book if you are interested in a discussion of the history of undergraduate education in the United States."--Michael Joseph Brown, Teaching Technology and Religion "Delbanco is lovely at historical context... He makes a plea for the great intangibles of a college education."--Katharine Whittemore, Boston Globe
Read less
Recommended Books for you - See all
OUT OF STOCK
Looks like the book you were looking for is currently not in stock with us. Please leave us your email and phone number.
We will get back to you as soon as it's available.
Your email

Phone No.

Enter characters from image