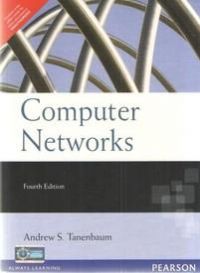 Computer Networks
Product Details:
Share this by email:
ISBN:
9788177581652
Publisher
:
DORLING KINDERSLEY PVT LTD
Year of publishing:
2008
Format:
Paperback
No of Pages:
912
Language
: English
This edition of the popular book, Computer Networks, has been updated to reflect technological developments since the previous edition.
Summary Of The Book
Computer networks is an evolving technology,...
Read more
This edition of the popular book, Computer Networks, has been updated to reflect technological developments since the previous edition.
Summary Of The Book
Computer networks is an evolving technology, and it is developing at a fast pace. This book is one of the most popular resources to learn about the subject. Each edition is updated to reflect the latest developments in the field, and each time, there are a lot of new topics as the technology advances rapidly.
Computer Networks begins with an introduction to computer networks. It discusses the uses of computer networks, network hardware, software and reference models. This chapter also takes a look at some example networks like the Internet, Ethernet, and wireless networks. The organizations that define networking standards are introduced.
In the next chapter, the author discusses the physical layer of networks. It first takes a look at the fundamentals of data communication and then looks at various technologies used in data transmission - transmission media, wireless communication, satellite transmission, telephone networks, mobile telephone network, and cable television.
The third chapter looks at the data link layers. It first discusses the design issues for this layer and error detection and correction. Then, the various protocols relevant to this layer are introduced. Chapter 4 focuses on the medium access sublayer. This section covers channel allocation problems, multiple access protocols, Ethernet, wireless LANs, broadband wireless, Bluetooth and data link layer switching.
Chapter 5 discusses the network layer. It concentrates on the various aspects of this layer - design issues, routing algorithms, congestion control algorithms, quality of service, and the network layer on the Internet.
Chapter 6 is about the transport layer. It discusses transport service, elements of transport protocols, simple transport protocol, Internet transport protocols (UDP, TCP), and performance issues.
The application layer section looks at Domain Name Service (DNS), electronic mail, the world wide web, and multimedia. The next chapter discusses network security. It covers cryptography, symmetric-key algorithms, public-key algorithms, digital signatures, managing public keys, communication security, email security, authentication protocol, web security and social issues like privacy, copyright, and freedom of speech.
The next chapter provides a list of further reading. The book ends with alphabetical bibliography and index.
The updated features in this edition include coverage of Bluetooth, 802.1B wireless LANs, and 3G cellular systems. The section on security has been thoroughly revised and updated. It also includes expanded coverage of multimedia networking, coverage of current IP addressing solutions, and extended coverage of quality of service .
Each chapter ends with a summary and problems and lab exercises.
About Andrew S. Tanenbaum
Andrew S. Tanenbaum is professor of Computer Science at Vrije Universiteit in Amsterdam, the Netherlands.
He has authored many books on computer networks and operating systems. Some of these are Operating Systems: Design and Implementation, Modern Operating Systems, Distributed Operating Systems, and Structured Computer Organization.
Tanenbaum was born in New York City in 1944 and graduated from MIT with a B.Sc. in Physics. He received his doctorate in Physics form the University of California. He designed the free MINIX operating system based on Unix, for teaching purposes. The author also operates a website that is dedicated to analysing polling data in the US Federal Elections. He lives in the Netherlands with his Dutch wife, but retains his US citizenship.
Read less
Other books by Andrew S. Tanenbaum
Recommended Books for you - See all
Price
:
Rs. 559
Rs.534
You save: Rs.25
Vendor :
NUTSHELL, Mumbai
FREE SHIPPING | Delivered in 7 working days
(Cash on delivery available)
Be assured. 7 days Return & Refund Policy.
Click here