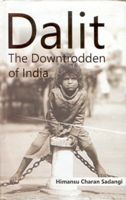 Dalit: The Downtrodden of India
Product Details:
Share this by email:
ISBN:
9788182054394
Publisher
:
Isha Books
Year of publishing:
2008
Format:
Hardback
No of Pages:
306
Language
: English
Description About The Author:- Himanshu Chran Sadangi has a prolific profile of academic career. He is an M.A. M Phil. In sociology from J.N.U. and also did M.Sc. In Physics from IIT Kanpur. This brilliant...
Read more
Description About The Author:- Himanshu Chran Sadangi has a prolific profile of academic career. He is an M.A. M Phil. In sociology from J.N.U. and also did M.Sc. In Physics from IIT Kanpur. This brilliant pedagogue is professing now at Government College Bhawanipata\na as the Head, Department of Sociology. He has an experience of over 17 years in teaching. This multifaceted author has some outstanding research work to his name. The worth mentioning among those are Small Scale Issue Oriented, Mrginal Culture, Rehabilitation Displacement, Alternate Development, Discrete Cultral Element and Practice4s, Indigenous Practices Related to Technology, Culture and Medicine, and appropriate Technology.Contents:- Preface • Introduction • Social Background and Origins of Dalits • Dalit and Religion • Historical Attitudes and Discrimination • Reform Movements • Constitution Privileges for Dalit • Dalit and Contemporary Indian Politics • Bibliography • IndexAbout The Book:- This Books Represets A Detailed Scholarly Analysis Of The Dalit Situation, But Rather To Isolate And Present The Central Isues Pertinent To Thil Long Oppresion. In Comes As An Ongoing Ple For The Ear Of The World, From A Courageous Representative Of Oneof Themost Exploited Andoppressed Populations On Earth, Victim Of A Centuries Old Experiment In Forced Political Integration Undr Conditions Of Segregation And Cultureal Assimilation. I Hope This Book Will Helpful And Fulfill All The Requistes And Provede Information Needed To The Readers. It Would Be The Choice For Dalit Activists, Students, Professionals Seeking To Arouse Public Indignation Against This Most Outrageous Of Indiganities Against Humankind: The Notion That The Very Touchj Of Some Might Be Polluting To Others. Because It Says All That Most Of Us Need To Know In Regard Tothis Social Crime Against Humanity. And There Remains So Much To Be Achieved In The Dalit Struggle For Human Dignithy., About The Author:- Himanshu Chran Sadangi Has A Prolific Profile Of Academic Career. He Is An M.A. M Phil. In Sociology From J.N.U. And Also Did M.Sc. In Physics From Iit Kanpur. This Brilliant Pedagogue Is Professing Now At Government College Bhawanipata\Na As The Head, Department Of Sociology. He Has An Experience Of Over 17 Years In Teaching. This Multifaceted Author Has Some Outstanding Research Work To His Name. The Worth Mentioning Among Those Are Small Scale Issue Oriented, Mrginal Culture, Rehabilitation Displacement, Alternate Development, Discrete Cultral Element And Practice4S, Indigenous Practices Related To Technology, Culture And Medicine, And Appropriate Technology., Content:- Preface • Introduction • Social Background And Origins Of Dalits • Dalit And Religion • Historical Attitudes And Discrimination • Reform Movements • Constitution Privileges For Dalit • Dalit And Contemporary Indian Politics • Bibliography • Index
Read less
Other books by Himansu Charan Sadangi
Recommended Books for you - See all
Price
:
Rs. 790
Rs.586
You save: Rs.204
Vendor :
Gyan Books Pvt.Ltd, Delhi
FREE SHIPPING | Delivered in 5 working days
(Cash on delivery available)
Be assured. 7 days Return & Refund Policy.
Click here
2 offers starting from Rs. 586
Rs.586 FREE SHIPPING

In stock | Delivered in 5 working days

Gyan Books Pvt.Ltd, Delhi

Add to cart

Rs.782 FREE SHIPPING

In stock | Delivered in 5 working days

Anshika Books, Delhi

Add to cart