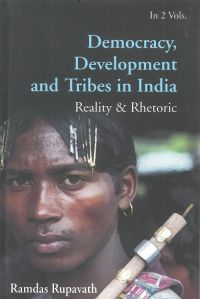 Democracy 2 Volumes Set
By: Ramdas Rupavath
Product Details:
Share this by email:
ISBN:
9788121212489
Publisher
:
Gyan Publishing House
Year of publishing:
2015
Format:
Hardback
No of Pages:
704
Language
: English
sha 150 Prof Shyam Sundar Acharya 12. Traditional Storage Practices Adopted by the Tribal Community of Warangal District, Andhra Pradesh 161 R. Arunjyothi, Ch. Sowmya, D. Sreenivas 13. Development-Induced...
Read more
sha 150 Prof Shyam Sundar Acharya 12. Traditional Storage Practices Adopted by the Tribal Community of Warangal District, Andhra Pradesh 161 R. Arunjyothi, Ch. Sowmya, D. Sreenivas 13. Development-Induced Displacement and Resettlement of Indigenous Communities in India: Policy and Practice 168 Ram Babu Mallavarpu 14. Politics of Inclusion and Exclusion of Tribals in the Local Governance in Odisha: Issues and Concerns 176 Ramchandra Jena 15. Contentious Agitations and State Intervention: An Analysis of Gujjar Agitation for Tribal Status in Rajasthan 183 Ramesh Kumar 16. Globalisation, Accumulation by Dispossession and the Adivasi Struggle for Right to Habitat 200 Rohit Jain 17. Democracy, Development and Tribal Resistance: Contemporary Issues 214 Sravya Katta 18. Democratic Decentralisation and Participation in the Context of Local Governance in the Fifth Scheduled Areas 235 Dambarudhar Garada 19. Concept of Development: Development and its Effects on Adivasis in Andhra Pradesh 253 V. Rajunayak 20. Impact ofMahatma Gandhi National Rural Employment Guarantee Act on Socio-economic Conditions of Tribals: A Case Study of Nuapada District ofOdisha 260 Tapan Kumar Bihari 21. Forest Resources - An Ideal Altern ative for Tribal Development and Health Care 284 Shivesh 22. Problems and Prospects of Mainstreaming Gender in the Bangladesh Civil Service 290 Syed Muhammad Sajjad Kabir and Nazmunnessa Mahtab 23. Political Empowerment of the Marginalised Groups in Nagaland: Emerging Alternatives 305 K. Vrdyasagar Reddy 24. Tribe-Caste Conflict : A Study of Kandhmal Districts of Odisha 323 Ganesh Digal 25. Movement and Politics of ST Reservation in Assam 331 Harsha. S. Index 341. Acknowledgements Foreword Introduction and Overview List of Contributors 1. Tribal Education of Karnataka: Attainments and Challenges KM. Metry 2. Salvation Army Boon or Bane? A Critique of Yerukula Reformation in Andhra Pradesh Malli Gandhi 3. Socio-economic Conditions of Tribals and Resulting Social Alienation Ramdas Rupavath 4. Gender Inequality and Development: A Study on the Toda of Nilgiri Hills in Anthropological Perspective Jakka Parthasarathy 5. Tribal Development and Insurgency Movement in Tripura Harsha S and Antibum Ranglong 6. Voice of Tribals through RTI Act, in Contemporary Democracy: A Case Study of Odisha Akshaya Kumar Nayak 7. Determinants of Students Dropout in Indian Higher Education Bharat Chandra Rout 8. Education Status of Scheduled Tribes in Andhra Pradesh: A Case Study of Lambada Tribe Bikku 9. Development and Displacement-A Question of Human Right: A Case Study of POSCO Project in Odisha Chitta Ranjan Mishra 10. Development Induced Displacement of Tribals in Odisha: Issues and Concerns Dasarathi Bhuiyan 11 13 15 21 23 31 42 52 60 67 70 91 103 109 7 8 Democracy, Governance and Tribes in the Age of Globalised India 11. Ramoshi the Denotified Tribe in India: Understanding their Struggle and Politics of Exclusion Dattatary Bhandalkar 12. Social Exclusion and Marginal Communities: Some Reflection on Development Induced Displacement in India Niharranjan Mishra and Dinabandhu Sahoo 13. Status of Schedule Tribes in Andhra Pradesh: With Special Reference to Educational, Economical, Socio and Political Contexts- A Brief Review C. Rama Mohan Reddy and T. Sasikanth Reddy 14. Policies against Tribals: A Study of Displacement through Development Projects Johani Xaxa 15. Tribal Land Alienation Palla Trinadha Rao 16. Governance in Tribal Areas in Contemporary Time: Tribal Peoples' Voice and Livelihood from Chhattisgarh Pradip Kumar Parida 17. Environmental Approach to Tribal Development Satchidananda Misra 18. Adivasis from Public Policy Perspective in India Satyam Sunkari 19. Awareness of Human Rights among Tribal and Non-tribal Higher Secondary Students - A Comparative Study KV Sridevi and Asha BN 20. Working of Civil Society Organisations for Development of Tribals: A Study BK Mahakul 21. Empowerment of Tribal's in Assam: Role of Autonomous District Councils Girija Brahma 22. Politics of SCs and STs Conflict in Kandhamal: Failure of Indian Secularism Himanshu Sekhar Mishra 23. Role of NYKS on Tribal Youth Development: A Case Study of Koraput District, Odisha Janmejay Sahu and Ashok Behera 24. Political Economy of Tribal Development in Madhya Pradesh: The Case of Korku Tribe Janmejaya Mishra 25. Land Alienation of Tribals in Andhra Pradesh Justin Jos 122 132 144 150 157 171 178 190 211 218 232 237 247 257 266 Contents 9 26. Contesting Inclusive Development: Exclusion and Marginality among Scheduled Tribes in North Coastal Andhra Pradesh KR Rama Mohan 27. Trends in the Cropping Pattern and Its Impact on theAbout The Book:- This Book Is Putting Together Various Issues From Different States In India. The Tribal Communities In India Represent Different Levels Of The Deprivation In A Larger, Regional, And Globalized World. This Book Aims To Place The Concept Of Democracy, Development In The Tribal Context. This Volume Basically Focuses To Understand Contemporary Tribal Societies Which Require A Basic Appreciation Of The Historical Processes Which Have Been Determined The Course Of Successive Changes In Economic, Social Cultural, Ideological And Political Life Of The Tribes. Indian State And Governments Are Talked About As Models Of Federalism In A Large And Multinational Society, Ensuring Rights Of Ethnic And Religious Groups In A Truly Pluralistic Society, And Striving For Social Justice In A Society Marked By Social Hierarchies For A Long Time. However The Democratic Experiment Has Not Been Without Significant Challenges, Namely That Of Ensuring Inclusive Development. Economic Equality, Social Justice, Cultural Pluralism, Human Rights, Dignity And Security Are All Important Aspects Of Development Which Have Been Consolidated And Expanded Through The Existing Structure Of Participatory Democracy. But This Has Not Always Been An Easy Task. Indian Democracy Has Been Intensively Analysesd, Debated And Criticized For A Long Time. However, Democracy Is Not Only Just An Elections And Government Formation Process; It Is More About Values, Habits Of Thoughts And Practices, Democracy Need Not Electoral But Replacement With Social Justice. Through Democratic Method Existing Unequal Social, Economic And Political Justice Situation Can Be Removed. The Tribal's Are Most Affected People In Such Democratic Set Up With Developmental Approach. The New Tribal Politics Will Be Based On Two Things The Resource Politics Of The Adivasis And Survival Politics Of The Informal Sector. This Book Will Be Of Interest To Students And Scholars Of Democracy And Development Studies, Political Science, Anthropology, And Sociology, Political Economy, Tribal Studies, Rural Development, And Gender Studies. It Is Widely Applicable To All Sections Of The Marginalized Whether Socially, Economically, Culturally, Academically, Politically And Administrators And Policy Makers., About The Author:- Ramdas Rupavath Is Associate Professor, In The Department Of Political Science, School Of Social Sciences, University Of Hyderabad, Hyderabad, Telengana State, India. His Areas Of Specialization Include Indian Political Process, Tribal Politics, Land Alienation And Displacement, Democracy, Ethnic And Identity Politics And Comparative Politics In Indigenous Societies. He Did His M.A., M.Phil, And Ph.D. From Jawaharlal Nehru University, New Delhi. He Visited Uppsala University, Sweden As A Guest Faculty. He Has Published A Book On "Tribal Land Alienation And Political Movements, Socio Economic Patterns From South India, Cambridge Scholars Publishing, United Kingdom (Uk) And Published Many Articles In National And International Referred Journals. Besides This, He Has Conducted Various National Survey And Projects Which Are Funded By Ugc And Icssr. He Was Born In A Small Hamlet Of South Indian Telangana State In 1970S And Grew Up In The 1980S As Part Of The First Generation Born In Post-Colonial Telangana. Hamlets In India Have Not Changed Radically During 68 Years Of Independence., Content:- Acknowledgements 9 Foreword 11 Introduction And Overview 13 List Of Contributors 19 I. Fear Of Uprising: Post Colonial State, Natural Calamity And The Politics Of Development 21 Sajal Nag 2. Impact Of Multilingual Education On The Education Of Tribal Children In Andhra Pradesh 47 Kandipalli Ramakrishnarao 3. Status Of Women And Girl Child In Lambada Community: A Study Of South Telangana Region Of Andhra Pradesh 58 M Ramulu 4. Mining And Displacement In South Odisha: Perspectives From A Census Survey 78 M Gopinath Reddy And Prajna Paramita Mishra 5. Livelihood In Bangalore: Migration From Villages To City - Displacement And Rehabilitation 91 Salu D ' Souza 6. Livelihood Issues: Land Alienation, Displacement, Rehabilitation And Migration 98 Neelmani Jaysawal 7. Approaches To Tribal Development 111 P Shailaja 8. Contextualising The Tribal Problem In The Background Of Pesa: Experience From Odisha 122 Pranay Kumar Parida And Smita Raut 9. Rural Decentralisation, People's Participation And In Clusive Growth 130 Nupur Tiwari 10. Sts As The Beneficiaries Of Pds In The Mayurbhanj District Of Odisha 141 Prachi Madhumita Mohanty Democracy, Development And Tribes In India 11. Development And Tribal Resistance: A Study Of Niyamgiri Movement In Odisha 150 Prof Shyam Sundar Acharya 12. Traditional Storage Practices Adopted By The Tribal Community Of Warangal District, Andhra Pradesh 161 R. Arunjyothi, Ch. Sowmya, D. Sreenivas 13. Development-Induced Displacement And Resettlement Of Indigenous Communities In India: Policy And Practice 168 Ram Babu Mallavarpu 14. Politics Of Inclusion And Exclusion Of Tribals In The Local Governance In Odisha: Issues And Concerns 176 Ramchandra Jena 15. Contentious Agitations And State Intervention: An Analysis Of Gujjar Agitation For Tribal Status In Rajasthan 183 Ramesh Kumar 16. Globalisation, Accumulation By Dispossession And The Adivasi Struggle For Right To Habitat 200 Rohit Jain 17. Democracy, Development And Tribal Resistance: Contemporary Issues 214 Sravya Katta 18. Democratic Decentralisation And Participation In The Context Of Local Governance In The Fifth Scheduled Areas 235 Dambarudhar Garada 19. Concept Of Development: Development And Its Effects On Adivasis In Andhra Pradesh 253 V. Rajunayak 20. Impact Ofmahatma Gandhi National Rural Employment Guarantee Act On Socio-Economic Conditions Of Tribals: A Case Study Of Nuapada District Ofodisha 260 Tapan Kumar Bihari 21. Forest Resources - An Ideal Altern Ative For Tribal Development And Health Care 284 Shivesh 22. Problems And Prospects Of Mainstreaming Gender In The Bangladesh Civil Service 290 Syed Muhammad Sajjad Kabir And Nazmunnessa Mahtab 23. Political Empowerment Of The Marginalised Groups In Nagaland: Emerging Alternatives 305 K. Vrdyasagar Reddy 24. Tribe-Caste Conflict : A Study Of Kandhmal Districts Of Odisha 323 Ganesh Digal 25. Movement And Politics Of St Reservation In Assam 331 Harsha. S. Index 341. Acknowledgements Foreword Introduction And Overview List Of Contributors 1. Tribal Education Of Karnataka: Attainments And Challenges Km. Metry 2. Salvation Army Boon Or Bane? A Critique Of Yerukula Reformation In Andhra Pradesh Malli Gandhi 3. Socio-Economic Conditions Of Tribals And Resulting Social Alienation Ramdas Rupavath 4. Gender Inequality And Development: A Study On The Toda Of Nilgiri Hills In Anthropological Perspective Jakka Parthasarathy 5. Tribal Development And Insurgency Movement In Tripura Harsha S And Antibum Ranglong 6. Voice Of Tribals Through Rti Act, In Contemporary Democracy: A Case Study Of Odisha Akshaya Kumar Nayak 7. Determinants Of Students Dropout In Indian Higher Education Bharat Chandra Rout 8. Education Status Of Scheduled Tribes In Andhra Pradesh: A Case Study Of Lambada Tribe Bikku 9. Development And Displacement-A Question Of Human Right: A Case Study Of Posco Project In Odisha Chitta Ranjan Mishra 10. Development Induced Displacement Of Tribals In Odisha: Issues And Concerns Dasarathi Bhuiyan 11 13 15 21 23 31 42 52 60 67 70 91 103 109 7 8 Democracy, Governance And Tribes In The Age Of Globalised India 11. Ramoshi The Denotified Tribe In India: Understanding Their Struggle And Politics Of Exclusion Dattatary Bhandalkar 12. Social Exclusion And Marginal Communities: Some Reflection On Development Induced Displacement In India Niharranjan Mishra And Dinabandhu Sahoo 13. Status Of Schedule Tribes In Andhra Pradesh: With Special Reference To Educational, Economical, Socio And Political Contexts- A Brief Review C. Rama Mohan Reddy And T. Sasikanth Reddy 14. Policies Against Tribals: A Study Of Displacement Through Development Projects Johani Xaxa 15. Tribal Land Alienation Palla Trinadha Rao 16. Governance In Tribal Areas In Contemporary Time: Tribal Peoples' Voice And Livelihood From Chhattisgarh Pradip Kumar Parida 17. Environmental Approach To Tribal Development Satchidananda Misra 18. Adivasis From Public Policy Perspective In India Satyam Sunkari 19. Awareness Of Human Rights Among Tribal And Non-Tribal Higher Secondary Students - A Comparative Study Kv Sridevi And Asha Bn 20. Working Of Civil Society Organisations For Development Of Tribals: A Study Bk Mahakul 21. Empowerment Of Tribal'S In Assam: Role Of Autonomous District Councils Girija Brahma 22. Politics Of Scs And Sts Conflict In Kandhamal: Failure Of Indian Secularism Himanshu Sekhar Mishra 23. Role Of Nyks On Tribal Youth Development: A Case Study Of Koraput District, Odisha Janmejay Sahu And Ashok Behera 24. Political Economy Of Tribal Development In Madhya Pradesh: The Case Of Korku Tribe Janmejaya Mishra 25. Land Alienation Of Tribals In Andhra Pradesh Justin Jos 122 132 144 150 157 171 178 190 211 218 232 237 247 257 266 Contents 9 26. Contesting Inclusive Development: Exclusion And Marginality Among Scheduled Tribes In North Coastal Andhra Pradesh Kr Rama Mohan 27. Trends In The Cropping Pattern And Its Impact On The
Read less
Other books by Ramdas Rupavath
Recommended Books for you - See all
Price
:
Rs. 2000
Rs.1360
You save: Rs.640
Vendor :
Gaurav Book Centre, delhi
FREE SHIPPING | Delivered in 5 working days
(Cash on delivery available)
Be assured. 7 days Return & Refund Policy.
Click here
3 offers starting from Rs. 1360
Rs.1360 FREE SHIPPING

In stock | Delivered in 5 working days

Gaurav Book Centre, delhi

Add to cart

Rs.1484 FREE SHIPPING

In stock | Delivered in 5 working days

Gyan Books Pvt.Ltd, Delhi

Add to cart

Rs.1978 FREE SHIPPING

In stock | Delivered in 5 working days

Anshika Books, Delhi

Add to cart