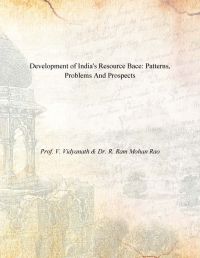 Development of India's Resource Bace: Patterns, Problems And Prospects
By: Prof. V. Vidyanath & Dr. R. Ram Mohan Rao
Product Details:
Share this by email:
ISBN:
9788121202107
Publisher
:
Gyan Publishing House
Year of publishing:
2013
Format:
Hardback
No of Pages:
520
Language
: English
Description Contents:- Contents # Preface vii: 1. Police Role in the Prevention of Atrocities: Against the Weaker Sections of the Society 1: 2. Indian Police and Organisational Stress 48: 3. Social Deviance,...
Read more
Description Contents:- Contents # Preface vii: 1. Police Role in the Prevention of Atrocities: Against the Weaker Sections of the Society 1: 2. Indian Police and Organisational Stress 48: 3. Social Deviance, Marginal Crime in Police: Organisations--How to Control the Police? 69: 4. Police and Human Rights Issues 87: 5. The Menance of Narcotics and Drug: Dependence 116: 6. Administering Elections in India 145: 7. Problems of Internal Security:: Some Futuristic Projections 167: 8. Obligations of the People to the Nation -State 192: 9. Developing Human Resources Through: Training--A Case Study of Police 213: 10. Preparing Indian Police for the 21st Century 240: Appendix A 291: Appendix B 297: Index 309Content:- Preface Vii: 1. Police Role In The Prevention Of Atrocities: Against The Weaker Sections Of The Society 1: 2. Indian Police And Organisational Stress 48: 3. Social Deviance, Marginal Crime In Police: Organisations--How To Control The Police? 69: 4. Police And Human Rights Issues 87: 5. The Menance Of Narcotics And Drug: Dependence 116: 6. Administering Elections In India 145: 7. Problems Of Internal Security:: Some Futuristic Projections 167: 8. Obligations Of The People To The Nation -State 192: 9. Developing Human Resources Through: Training--A Case Study Of Police 213: 10. Preparing Indian Police For The 21St Century 240: Appendix A 291: Appendix B 297: Index 309
Read less
Recommended Books for you - See all
Price
:
Rs. 1560
Rs.1157
You save: Rs.403
Vendor :
Gyan Books Pvt.Ltd, Delhi
FREE SHIPPING | Delivered in 5 working days
(Cash on delivery available)
Be assured. 7 days Return & Refund Policy.
Click here
2 offers starting from Rs. 1157
Rs.1157 FREE SHIPPING

In stock | Delivered in 5 working days

Gyan Books Pvt.Ltd, Delhi

Add to cart

Rs.1542 FREE SHIPPING

In stock | Delivered in 5 working days

Anshika Books, Delhi

Add to cart