Close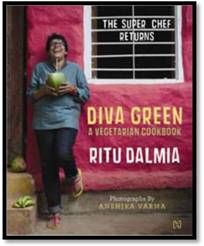 Enlarge
Price
:
Rs. 699
Rs. 518
You save : Rs. 181
Vendor :
India Book Distributors, Delhi
Product Details :
Share this by email:
2 offers starting from Rs. 518
Price

Delivery Information

Vendor Information

Rs. 518
FREE SHIPPING

In stock

Delivered in 4 working days
India Book Distributors

Delhi

Buy now

Rs. 630
FREE SHIPPING

In stock

Delivered in 4 working days
Bucketbolt Commerce pvt Ltd(Delhi)

delhi

Buy now
Overview
:
Diva Green: A Vegetarian's Cookbook
Award-winning chef and restaurateur, and bestselling author, Ritu Dalmia adds zest, spice and luscious twists to all things vegetarian in yet another mouth-watering collection of recipes. Take your pick from a perfectly seasoned Green Mango and Banana Flower Salad or Mushroom Ceviche; a fun combination of Grilled Eggplant with Pepper and Sesame; spicy, tangy Spinach with Sambal; a wholesome Tomato and Goat Cheese Tart; or a comforting Papaya Curry or Carrot and Ginger Soup. For those who prefer something sweet, there are delectable desserts from Apple Dumplings or a Pear Skillet Cake to Beetroot Souffl and Sweet Potato Cupcakes. And to add that special zing to any meal are a host of dips, sauces and condiments, and sure-fire suggestions for just the right accompaniments.

Uncommon yet easy-to-prepare, inventive and exciting, the recipes in Diva Green will reacquaint you with vegetables in all their flavour, colour and goodness, and have you cooking up an enviable feast in no time.
About the author
:
Ritu Dalmia
Other books by Ritu Dalmia
◀
▶
Rediff Books Recommends - See all
◀
▶