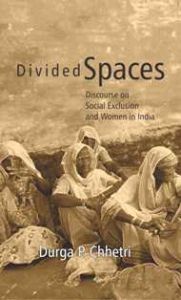 Divided Spaces: Discourse On Social Exclusion And Women In India
By: Durga P. Chhetri
Product Details:
Share this by email:
ISBN:
9788121212250
Publisher
:
Gyan Publishing House
Year of publishing:
2014
Format:
Hardback
No of Pages:
272
Language
: English
. He has research interests in decentralisation, governance, rural development, gender studies, and social exclusion/inclusion. His publications include Decentralised Governance and Development in India...
Read more
. He has research interests in decentralisation, governance, rural development, gender studies, and social exclusion/inclusion. His publications include Decentralised Governance and Development in India (2012); Politics, Society and Development: Insights from Sikkim (co-edited with M. Yasin 2012); and Sikkim Chronicle (2010). He has also published several articles on the subject of social protection/security, gender equality, rural development, decentralisation, rural/urban and e-governance, capacity building and politics of inclusion in national and international journals.Contents:- Contents, Preface, Acknowlegements, Abbreviations, List of Tables, List of Figures, List of Contributors, . Introduction, Durga P. Chhetri, . Social Ex(in)clusion and Women: An Indian, Perspective, Raghunath Ghosh, . A Jurisprudential Discussion on Social, Exclusion, Gangotri Chakraborty, . Exiled Indoors: Divine Discourses and Social, Ex(in)clusion of Women, Shelly Parul Bhadwal, . Conflict Induced Widowhood and the Right, to State Assistance: A Case Study of Manipur, Upasana Mahanta and Samrat Sinha 9 Divided Spaces, . Social Exclusion and the Tribes of Bankura, in West Bengal: A Note on Violation of, Human Rights, Sandip Kumar Ghatak, . The Confluence of Praxis: Ex/Inclusion,, Development and Gender, Priyanka Nandy, . Negotiating Gender: An Account on the, Struggles of Dalit Women Activists in Kerala, Deepika Rose Alex, 9. Narrations of 'Exclusion': The Autobiographical, Accounts by Women of, Alternative Orientations in Chhi! Tumi Naaki, Kaustav Chakraborty, . Portray of Women in Recent Mainstream, Hindi Films : A Case Study, Pallav Mukhopadhyaya, . Social Inclusion of Women and Decentralisation, Reforms: Evidence from India, Durga P. Chhetri, . Social Exclusion of Religious Minorities in, India, Pawan Gurung, . Empowerment of Women and Inclusive, Governance in India, Anil Rajak, IndexAbout The Book:- Social Exclusion Has Become One Of The Important Themes In Contemporary Social Policy Debates In Both The Developed And Developing Countries. It Has Become Central To Policy And Academic Discourse In Western Europe, And Increasingly In Other Parts Of The Globe. In India, The Exclusion Discourse Is Closely Linked With A Wide Range Of Socio-Economic Inequality. The Most Rigorous Form Of Exclusion Is Practiced By The Institution Of Caste, Followed By Religion, Ethnicity And Gender. The Contours Of The Exclusion Perpetuated By These Variables Constantly Change With The Context, Time And Space. Many Social Groups In India Have Been Experiencing Some Form Of Inequality Or Social Exclusion. Across Social Groups, Women Face Exclusion And Discrimination In Many Areas Of Life, Though Their Status Varies Significantly According To Their Social And Ethnic Backgrounds. The History Of Civilisation Shows That Women Were Excluded From The Public Sphere. There Are Separate Spaces For Women And Men. By Tradition Also, The Public Sphere Is Male Domain And Women Have Been Confined To Their Homes (Private Sphere) And Relegated To The Background. Divided Spaces: Discourse On Social Exclusion And Women In India Make A Unique Contribution To The Literature On Social Exclusion And Inclusion. This Book Explores Several Forms Of Social Exclusion In The Context Of India And Brings Together Leading Scholars From Several Of The Disciplines That Have Developed Concepts Of Exclusion And Various Dimensions Of Exclusion/Inclusion. It Is Hoped That This Volume Contributes To Our Understanding Of The Complexities Of Social Exclusion And Provide Policymakers With Guidance For Corrective Policies And Social Inclusion To Combat The Different Forms Of Social Exclusion. This Book Is Useful And Essential Reading For Students And Scholars Of Political Science, Sociology, Anthropology, History And Cultural Studies. It Will Also Strike Sparks With Those With A Professional Research Interest In Social Exclusion/Inclusion., About The Author:- Durga P Chhetri Is Assistant Professor In Political Science At Southfield College, Darjeeling, West Bengal. He Received M.A., M.Phil. And Ph.D. In Political Science From The University Of North Bengal. He Has Research Interests In Decentralisation, Governance, Rural Development, Gender Studies, And Social Exclusion/Inclusion. His Publications Include Decentralised Governance And Development In India (2012); Politics, Society And Development: Insights From Sikkim (Co-Edited With M. Yasin 2012); And Sikkim Chronicle (2010). He Has Also Published Several Articles On The Subject Of Social Protection/Security, Gender Equality, Rural Development, Decentralisation, Rural/Urban And E-Governance, Capacity Building And Politics Of Inclusion In National And International Journals., Content:- Contents, Preface, Acknowlegements, Abbreviations, List Of Tables, List Of Figures, List Of Contributors, . Introduction, Durga P. Chhetri, . Social Ex(In)Clusion And Women: An Indian, Perspective, Raghunath Ghosh, . A Jurisprudential Discussion On Social, Exclusion, Gangotri Chakraborty, . Exiled Indoors: Divine Discourses And Social, Ex(In)Clusion Of Women, Shelly Parul Bhadwal, . Conflict Induced Widowhood And The Right, To State Assistance: A Case Study Of Manipur, Upasana Mahanta And Samrat Sinha 9 Divided Spaces, . Social Exclusion And The Tribes Of Bankura, In West Bengal: A Note On Violation Of, Human Rights, Sandip Kumar Ghatak, . The Confluence Of Praxis: Ex/Inclusion,, Development And Gender, Priyanka Nandy, . Negotiating Gender: An Account On The, Struggles Of Dalit Women Activists In Kerala, Deepika Rose Alex, 9. Narrations Of 'Exclusion': The Autobiographical, Accounts By Women Of, Alternative Orientations In Chhi! Tumi Naaki, Kaustav Chakraborty, . Portray Of Women In Recent Mainstream, Hindi Films : A Case Study, Pallav Mukhopadhyaya, . Social Inclusion Of Women And Decentralisation, Reforms: Evidence From India, Durga P. Chhetri, . Social Exclusion Of Religious Minorities In, India, Pawan Gurung, . Empowerment Of Women And Inclusive, Governance In India, Anil Rajak, Index
Read less
Other books by Durga P. Chhetri
Recommended Books for you - See all
Price
:
Rs. 750
Rs.557
You save: Rs.193
Vendor :
Gyan Books Pvt.Ltd, Delhi
FREE SHIPPING | Delivered in 5 working days
(Cash on delivery available)
Be assured. 7 days Return & Refund Policy.
Click here
2 offers starting from Rs. 557
Rs.557 FREE SHIPPING

In stock | Delivered in 5 working days

Gyan Books Pvt.Ltd, Delhi

Add to cart

Rs.742 FREE SHIPPING

In stock | Delivered in 5 working days

Anshika Books, Delhi

Add to cart