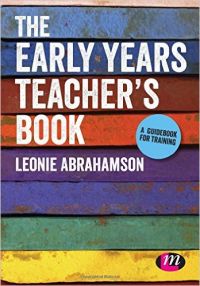 Early Years Teacher's Book
Product Details:
Share this by email:
ISBN:
9781473905726
Publisher
:
LEARNING MATTERS
Year of publishing:
2015
Format:
box
Language
: English
If you are an Early Years Teacher Trainee, this book is written for you. It will help you to successfully achieve your Early Years Teacher Status and practice with confidence. This book guides...
Read more
If you are an Early Years Teacher Trainee, this book is written for you. It will help you to successfully achieve your Early Years Teacher Status and practice with confidence. This book guides you through what you need to know about Early Years Teacher Status step-by-step. It explains how you can work to meet each of the Standards and assessment requirements. The author addresses trainees' common concerns about early years practice, study skills and meeting EYTS requirements, as well as giving many examples of the strategies that trainees found most helpful. The chapters explore each aspect of every Standard and indicator, with notes on theory, practical tips, case studies, activities and suggestions for further reading. This book helps you to: • understand all aspects of each Standard and indicator; • link your practice to the Standards; • understand the assessment requirements and how to strengthen your evidence; • plan and track your evidence; • complete your written assignments and create your portfolio with confidence; • develop the skills needed to take on a leadership role. This book also provides support for the mentor-mentee relationship and includes guidance for mentors, teaching activities for tutors and support for assessors. This book is a valuable resource for all those involved in EYTS and will be useful for: - EYTS trainees - their mentors - their placement tutors - course lecturers - EYTS assessors
Read less
Recommended Books for you - See all
Price
:
Rs.3166
Vendor :
Repro Knowledgecast Ltd, Mumbai
FREE SHIPPING | Delivered in 21 working days
(Cash on delivery not available)
Imported Edition
Be assured. 7 days Return & Refund Policy.
Click here