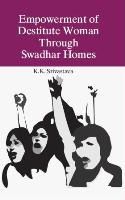 Empowerment of Destiute Women: Through Swadhar Homes[Pod]
Product Details:
Share this by email:
ISBN:
9789351280545
Publisher
:
Kalpaz Publications
Year of publishing:
2014
Format:
Hardback
No of Pages:
176
Language
: English
Description About The Author:- K.K. Srivastava was bornin Gonda district of UttarP r a d e s h s t a t e a n dcompleted his schoolingin Jarwal Road, Disttrict.Bahraich. He did his graduation andlater on Post...
Read more
Description About The Author:- K.K. Srivastava was bornin Gonda district of UttarP r a d e s h s t a t e a n dcompleted his schoolingin Jarwal Road, Disttrict.Bahraich. He did his graduation andlater on Post Graduation (M.A.(Public Administration) fromUniversity of Lucknow from wherelater on he obtained the Degree ofDoctor of Philosophy (Ph.D.). For thelast 23 years, Dr. Srivastava isactively engaged in teachingand research field of PublicAdministration in the University ofLucknow.So far, he had contributed twentysix articles in Public Administrationfield. He received financiala s s i s t anc e f rom ICSSR forconducting research studies.He successfully conducted eighttraining programmes on ResearchMe t h o d o l o g y a n d P r o j e c tFormulation sponsored by ICSSR,New Delhi.Dr. Srivastava is presentlyserving in Department of PublicAdministration, University ofLucknow, Lucknow. He is holdingan additional responsibility of Vice-President in a reputed NGOInstitute for Applied Research andDevelopment, based at Lucknow.Kauthor-About The Book:- Women's Empowerment Is Just Aword In Today's Context. Women Havecome A Long Way, And Are Activelyparticipating In The All Walks Of Life -Be It Education, Employment Orpolitics. The National Commissionfor Women Has Achieved A Lot Towardsthis. The Swadhar Scheme Waslaunched By The Central Governmentfor Providing Holistic And Integratedservices To Women In Difficultcircumstances, Such As Destitutewidows Deserted By Their Families Inreligious Places, Women Prisoners,Support Trafficked Women/Girls,Rescued Or Runaway From Brothels Orother Places Or Victims Of Sexualcrimes, And Mentally Challengedwomen.This Book Professes To Reviewpolicies, Programmes And Schemes Ofstate And Central Governments Fordevelopment And Empowerment Ofwomen In Their Distress To Examinethe Status Of Shelter Homes, Toexamine The Living Conditions Ofwomen In Selected Swadhar Homesand Finally To Suggest Policymeasures For Effective And Efficientfunctioning Of Swadhar Scheme., About The Author:- K.K. Srivastava Was Bornin Gonda District Of Uttarp R A D E S H S T A T E A N Dcompleted His Schoolingin Jarwal Road, Disttrict.Bahraich. He Did His Graduation Andlater On Post Graduation (M.A.(Public Administration) Fromuniversity Of Lucknow From Wherelater On He Obtained The Degree Ofdoctor Of Philosophy (Ph.D.). For Thelast 23 Years, Dr. Srivastava Isactively Engaged In Teachingand Research Field Of Publicadministration In The University Oflucknow.So Far, He Had Contributed Twentysix Articles In Public Administrationfield. He Received Financiala S S I S T Anc E F Rom Icssr Forconducting Research Studies.He Successfully Conducted Eighttraining Programmes On Researchme T H O D O L O G Y A N D P R O J E C Tformulation Sponsored By Icssr,New Delhi.Dr. Srivastava Is Presentlyserving In Department Of Publicadministration, University Oflucknow, Lucknow. He Is Holdingan Additional Responsibility Of Vice-President In A Reputed Ngoinstitute For Applied Research Anddevelopment, Based At Lucknow.Kauthor-,
Read less
Other books by Dr. K. K. Srivastava
Recommended Books for you - See all
Price
:
Rs. 525
Rs.389
You save: Rs.136
Vendor :
Gyan Books Pvt.Ltd, Delhi
Free Shipping on all orders of Rs.500 and above. Add Rs.30 otherwise. | Delivered in 5 working days
(Cash on delivery available)
Be assured. 7 days Return & Refund Policy.
Click here
2 offers starting from Rs. 389
Rs.389 + Rs.30 delivery charges

In stock | Delivered in 5 working days

Gyan Books Pvt.Ltd, Delhi

Add to cart

Rs.520 FREE SHIPPING

In stock | Delivered in 5 working days

Anshika Books, Delhi

Add to cart