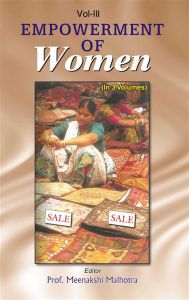 Empowerment of Women (Women In Rural Development), Vol. 3
Product Details:
Share this by email:
ISBN:
9788182050709
Publisher
:
Isha Books
Year of publishing:
2004
Format:
Hardback
No of Pages:
304
Language
: English
Description Contents:- Vol 3- Contents, Preface vii, 1. Role of Women in Rural Development 1, Women and Rural Labour Market; Vocational, and Personal Training; Rural Women Farmers;, Wasteland Development...
Read more
Description Contents:- Vol 3- Contents, Preface vii, 1. Role of Women in Rural Development 1, Women and Rural Labour Market; Vocational, and Personal Training; Rural Women Farmers;, Wasteland Development in India; Sharing of, Management; The New Forest Policy; Higher, Education for Rural Women; Implementation of, International Development Goals; Women in, Rural Economy; Household Food Security and, Gender Issues in Project; The Southern Regional, Agricultural Development Project; Women and, Small Business; Women and Environment; Role, of Women in Livestock Production; Women's, Savings., 2. Educational Progress of Women 69, Elementary and Secondary Education., 3. Technologies: Marginalisation to Mainstream 105, Women Empowerment through ICT;, Empowerment through Economic Activities;, Empowerment through Political Activities., 4. Achieving Gender Equality 133, Gender Equality in Trade Area; Violence Against, vi Women in Rural Development, Women: Threat to Gender Development;, Challenges for the Future; Human Rights, Framework., 5. Women and Health Conditions 196, Water Supply and Sanitation; The Projects:, Institutional Network; Role of Women in, Economic Growth; Prevalence of Anmemia., 6. Innovations for Empowering Women 259, Gender Perspective in Management., Bibliography 0, Index 0About The Book:- This Volume Of Three Books Concentrates On Rural Women Development Process. The Status Of Rural Women In Different Parts Of The World And Various Programmes Designed To Empower Them Are Described Elaborately In These Volumes. The Focus Is On Issues Like Gender Inequalities In Labour Market And In Entrepreneurship, Micro Finance Options For Women Empowerment. Microcredit Schemes For Rural Women And Micro Finance Movement In India Have Also Been Discussed Elaborately.,Content:- Vol 3- Contents, Preface Vii, 1. Role Of Women In Rural Development 1, Women And Rural Labour Market; Vocational, And Personal Training; Rural Women Farmers;, Wasteland Development In India; Sharing Of, Management; The New Forest Policy; Higher, Education For Rural Women; Implementation Of, International Development Goals; Women In, Rural Economy; Household Food Security And, Gender Issues In Project; The Southern Regional, Agricultural Development Project; Women And, Small Business; Women And Environment; Role, Of Women In Livestock Production; Women's, Savings., 2. Educational Progress Of Women 69, Elementary And Secondary Education., 3. Technologies: Marginalisation To Mainstream 105, Women Empowerment Through Ict;, Empowerment Through Economic Activities;, Empowerment Through Political Activities., 4. Achieving Gender Equality 133, Gender Equality In Trade Area; Violence Against, Vi Women In Rural Development, Women: Threat To Gender Development;, Challenges For The Future; Human Rights, Framework., 5. Women And Health Conditions 196, Water Supply And Sanitation; The Projects:, Institutional Network; Role Of Women In, Economic Growth; Prevalence Of Anmemia., 6. Innovations For Empowering Women 259, Gender Perspective In Management., Bibliography 0, Index 0
Read less
Other books by Meenakshi Malhotra
Recommended Books for you - See all
Price
:
Rs. 850
Rs.630
You save: Rs.220
Vendor :
Gyan Books Pvt.Ltd, Delhi
FREE SHIPPING | Delivered in 5 working days
(Cash on delivery available)
Be assured. 7 days Return & Refund Policy.
Click here
2 offers starting from Rs. 630
Rs.630 FREE SHIPPING

In stock | Delivered in 5 working days

Gyan Books Pvt.Ltd, Delhi

Add to cart

Rs.840 FREE SHIPPING

In stock | Delivered in 5 working days

Anshika Books, Delhi

Add to cart