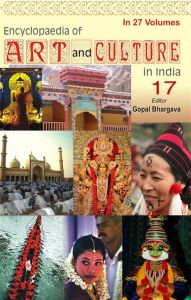 Encyclopaedia of Art And Culture In India (Bihar) 17Th Volume
Product Details:
Share this by email:
ISBN:
9788182054578
Publisher
:
Isha Books
Year of publishing:
2008
Format:
Hardback
No of Pages:
328
Language
: English
Description About The Author:- Gopal Bhargava, a prolific writer and education at Lucknow University. He is a senior official in Town and Country Planning Organization. He has contributed several research...
Read more
Description About The Author:- Gopal Bhargava, a prolific writer and education at Lucknow University. He is a senior official in Town and Country Planning Organization. He has contributed several research papers on urban development.Contents:- Contents, List of Photograph, Introduction, • Origin • Brief History • Legendary History of Bihar, • The Ancient Period • The Medieval Period • The, British Period • Bihar: Post Independence •, Geography • Climate • Physical Features of the Land, • Economy., 1. Cultural Changes Over Period of Time, • Change in Tribal Culture • Culture of the Tharus •, Educational Backwardness • General Social Changes, • Recent Changes., 2. Religions, • Early History of Vaishali • Early Religions • Pre-, Vedic and Vedic Religion • Jainism • Buddhism •, Religions in Medieval Times • Teachings of Ramanand, • Rath Jatra • Saktism and Saivism • Two Kinds of, Jogis • Islam • Sikhism • Later Period • Islamic, Practices • Religionwise Distribution of Population •, Tribal Religion: Maler, Mal Pahariya and Santhal •, Hinduism • Christianity • Islam., 3. Education and Learning, • Education in Past • Higher Education in Sanskrit •, Persian and Arabic Learning • Madrasas and Colleges, • Provision of Elementary Education • Female, 11, 13, 21, 32, 64, 6 Encyclopaedia of Art and Culture in India (Bihar), Education • Development of Education in Twentieth, Century • Illiteracy and Education • Primary, Education of Girls • Progress of Secondary Education, • Education at University Level • Female Education, • Tribal Education • Untouchables and Education., 4. Position of Women, • Tribal Women of Bihar • Birhor Women • Domestic, Role • Exclusion in Religious Functions • Women in, Political Sphere • Marriage Negotiations • Women, and Customs • Concubines for Rich • Divorce •, Marriage and Dowry • Child Marriage • Unmarried, Women • The Sarda Act and Child Marriage • Abolition, of Sati • The Barh Sati Case • Remarriage of Widows, • Inter-Caste Marriage • Birth Control •, Unequilibrium Marriage • Change in the Joint Family, System • Abolition of Purdah System • Gandhiji and, Women • Franchise for Women • The Mahila Samiti, • Bihar Women Council • Impact of War., 5. Society and Community Life, • Amusements • Casteism: A Feature in Bihar Life •, Social Evils: Untouchability • Bonded Labour •, Indebtedness: The Causes • Tribal Society: Material, Culture of Santals • Poverty and Inadequacy., 6. The Marriage System, • Marriage among Tribals of Bihar • The Santal, Marriage • Raibar Bapla • Sanga Bapla • Kudam, Bapla • Kiring-Jawae • The Dusadh Marriage • The, Ghasiya Marriage • Divorce • Widow Remarriage •, Other Marriages • The Dola Marriage • The Doms, Marriage., 7. Scholars and Their Works, • Ghias Ahmed Gaddi • Govindadasa (1971 -) •, Harinandana Thakur Saroja (1908-1945) • Muralidhar, Jha (1868-1929) • Parmesvar Jha (1856-1924) •, Rajeshwar Jha (1923-1977) • Ramakrishna Jha (1923-, 77, 93, 102, 115, Contents 7, 1970) • Ramanatha Jha (1906-1971) • Riddhinatha, Jha (1891-1981) • Sitaram Jha (d. 1975) • Surendra, 'Suman' Jha (1910-?) • Subhadra Jha (1909-?) •, Tantranath Jha (1904-1984) • Phanishwarnath Renu, (1921-1977) • Radhakrishnadas (1865-1907) •, Kashikant Mishra 'Madhupa (1906-1987) • Raja, Radhikaraman Prasad Singh (1890-1971) • Shivpujan, Sahay (1863-1963) • Scholars and Scholarly Literature, in Santal., 8. Paintings and Sculpture, • Pictures on Glass • Folk Paintings • Wall Paintings, • Act of Community • Designs on Clothes • Sculptures:, Buddhist Architecture • Amravati Art in Vaisali •, Elliptical Halls at Rajgir • Sculptural Evidence and, Sects • Theravada Doctrine., 9. Dance, • Chhau Dance • Fasting • Masks • Nautanki: Dance, and Drama • Decline of Tribal Dance • Factors of, Transformation • The Youth Factor • Christianity, and Oraon Dance., 10. Drama, • Maithili Drama• Modern Maithili Drama• Nautanki•, Nautanki Scripts• Three Traditions• Performance, Structure and Space• Lighting• Nautanki, Instruments• Dance• Theme of Plays., 11. Music, • Music: A Sadhna • Different Stages of Music in, Bihar • Group Song and Dances • Santal Music •, Musical Instruments• Music and Poetry., 12. Food Habits, • Food of Mithila Region • Food of Magahi Region •, Food of Bhojpuri Region • Food Habits of the Scheduled, Castes • The Santhal Food Habits • Common Dietary, Habits • Consumption of different varieties of Foodstuff, • Drinks • Infant Feeding., 137, 153, 164, 176, 185, 8 Encyclopaedia of Art and Culture in India (Bihar), 13. Dress and Ornaments, • Dress of Men • Dress of Women • Tribal Dresses of, Bihar • Ornaments Worn in Bihar • Ornaments of, Women • Worn in Bihar., 14. Depressed Class Culture, • The Chamar Customs • Death Rites • The Dom, Customs • Attending of Hindu Funerals • The Dusadh/, Dhari Customs • The Ghasi Customs • The Musahar, Customs., 15. Kinship Culture, • Exogamy and Endogamy • Prohibited Degree •, Family Groups • Non-Agnate Kinship Structure •, The Matamal • Matamal of the Spouse • Mother's, Brothers and Sisters • Wora-Matamal • Parental, 'Matamal' • Non-agnatic Kinship, 16. Language and Literature., • Bihari • Maithili or Tirahutiya • Southern Standard, Maithili • Eastern Maithili or Gaowari • Chhika-, Chhiki Boli • Magahi or Magadhi • Eastern Magahi •, Bhojpuri • Northern Standard Bhojpuri • Maithili, Literature • Poetry • Novel., 17. Archaeological and Anthropological Findings, • Akbarpur • Akorhi • Amethi • Baidyanath • Banjari, • Bhagwanpur • Bhagwanpur • Bhojpur Kadim •, Biniganj • Bodh Gaya • Brahampur • Chainpur •, Chargotia • Chati Gobindpur • Chausa • Darbhanga, • Deo Kund • Dharhara • Dharmaranya • Dumraon, • Gopalpur • Kawakole • Mangalgarh • Masurhi •, Nalanda • Naulgarh • Papaur • Patna • Pawapuri •, Rajgir • Ramgarh • Sanda • Sasaram • Shahkund •, Sugauli • Vaishali • Anthropological Finding • Racial, Composition in Bihar • Dilution of strain• Racial, Composition of The Non-Tribal Population in Bihar., 194, 202, 218, 232, 257, Contents 9, 18. Religious Centres, • Past References of Religious Centres • Existing, Religious Centres/Shrines • Amarpur • Apsarh •, Arrah • Bhaikh • Bhaisalotan (Balmikinagar) •, Biharsharif • Bodhgaya • Brahmpur • Chainpur •, Chanki • Darauli • Dumraon • Gaya City • Hajipur, • Jesth Gour Math • Kako • Lakri Dargah • Mahishi, • Mairwa • Munger • Narwan Chak Baidauliya •, Nawada • Patharghatta Hill • Patna City • Phulhar, • Rajgir • Sitamarhi • Vaishali • Muslim Shrines:, Dargahs of Patna • Maner • Phulwari Sharif • Patna, • Patna City • Jethuli., 19. Museums and Libraries, • Museums in Different Cities of Bihar • Darbhanga, • Gaya • Nalanda • Patna • Vaisali • Administrative, Setup in a Museum • The Technical Staff •, Administrative set-up • Aquisition of Exhibits •, Libraries • Khuda Baksh Oriental Library., 20. Fairs and Festivals, • Basant Panchmi Fair • Chhath Festival • Chhath, Purv • Gaya Jatra • Hanuman Jayanti Utsav • Indra, Puja Fair • Kartik Purnima Fair : Babhnaul • Kartik, Purnima Fair--Jazira Raili • Kartik Purnima Fair :, Tilauthu • Makar Sankranti Fair • Mahabiri Jhanda, Fair • Nag Panchmi Fair • Phulwari Sharif Urs •, Pawapuri Jatra • Ram Navami Fair • Shivratri or, Mahasiva Ratri • Holi • Sonepur Fair• Indigo Planters, and the Fair., 21. Customs, • Tribal Customs : Maler, Mal Pahariya and Santhal •, The Dusad Customs • Non-Tribes : Chamar Customs •, Adoption • The Lohar Customs • The Sangataras, Customs., 277, 300, 313, 326, 10 Encyclopaedia of Art and Culture in India (Bihar), 22. Folklore and Folkstories, • The Cruel Sisters-in-Law • The Jackal and the Kite, • The Wise Monkey • The Clever Monkey • The Clever, Boy • The Son-in-Law Who Was a Simpleton • The Two, Friends • The Old Couple • Tribal Folk-lore • The, Origin of Tobacco • The Transmigration of Souls • The, Next World • After Death • Hares and Men • A Legend, • Pregnant Women • The Influence of the Moon •, Illegitimate Children • The Dead • Hunting Custom., 23. Globalisation of Culture, • Ancient Linkages and Past Culture • Great University, of Nalanda • Buddhist Attractions • Attractive to, Muslims • Sikhs and Their Religious Shrine • Colourful, Cultural Life • Bodhgaya and Mahabodhi Temple •, Sonepur Cattle Fair • Diaspora • Casteism • Tribal, Culture • Serpent Worship • Various Godlings • Goreya-, Baba • Virkuar-hero Worship • Lurik • Witch-craft, Godlings • Sopra Baba • Other Factors., Bibliography, Index 377About The Book:- This Scientifically Researched 27 Volume Encyclopaedia Of Art And Culture In India Is A Vast Treasure Of Knowledge And Information On 28 States And Seven Union Territories. Each Volume Contains An Introduction On The Particular State Describing Its Origin, History, Geography, Economy, And 23 Chapters On Topics Ranging From The Cultural Change Over Period Of Time From The Very Early Period To The Modern Times To Religion, Pursuit Of Education, Position Of Women, Society And Community Life, The Marriage Systems, Scholars And Their Works, Paintings And Sculpture, Dance, Drama, Music, Food Habits, Dress And Ornaments, Depressed Class Culture, Kinship Relations, Language And Literature Archaeological And Anthropological Findings, Religious Centres, Museums, Archives, Libraries And Literary Societies, Fairs And Festivals, Custom Related To Birth And Death Rituals And Rites, Folklores, Folktales, Myths And Legends, And Globalization And Urbanization Of Culture. The Entire Mass Of Information And Knowledge Has Been Painstakingly Researched, Written And Edited With The Anthropological Point Of View, That Makes This Encyclopaedia All The More Valuable For Purpose Of Scholars In Different Disciplines, Social Scientists, Teacher And Students., About The Author:- Gopal Bhargava, A Prolific Writer And Education At Lucknow University. He Is A Senior Official In Town And Country Planning Organization. He Has Contributed Several Research Papers On Urban Development., Content:- Contents, List Of Photograph, Introduction, • Origin • Brief History • Legendary History Of Bihar, • The Ancient Period • The Medieval Period • The, British Period • Bihar: Post Independence •, Geography • Climate • Physical Features Of The Land, • Economy., 1. Cultural Changes Over Period Of Time, • Change In Tribal Culture • Culture Of The Tharus •, Educational Backwardness • General Social Changes, • Recent Changes., 2. Religions, • Early History Of Vaishali • Early Religions • Pre-, Vedic And Vedic Religion • Jainism • Buddhism •, Religions In Medieval Times • Teachings Of Ramanand, • Rath Jatra • Saktism And Saivism • Two Kinds Of, Jogis • Islam • Sikhism • Later Period • Islamic, Practices • Religionwise Distribution Of Population •, Tribal Religion: Maler, Mal Pahariya And Santhal •, Hinduism • Christianity • Islam., 3. Education And Learning, • Education In Past • Higher Education In Sanskrit •, Persian And Arabic Learning • Madrasas And Colleges, • Provision Of Elementary Education • Female, 11, 13, 21, 32, 64, 6 Encyclopaedia Of Art And Culture In India (Bihar), Education • Development Of Education In Twentieth, Century • Illiteracy And Education • Primary, Education Of Girls • Progress Of Secondary Education, • Education At University Level • Female Education, • Tribal Education • Untouchables And Education., 4. Position Of Women, • Tribal Women Of Bihar • Birhor Women • Domestic, Role • Exclusion In Religious Functions • Women In, Political Sphere • Marriage Negotiations • Women, And Customs • Concubines For Rich • Divorce •, Marriage And Dowry • Child Marriage • Unmarried, Women • The Sarda Act And Child Marriage • Abolition, Of Sati • The Barh Sati Case • Remarriage Of Widows, • Inter-Caste Marriage • Birth Control •, Unequilibrium Marriage • Change In The Joint Family, System • Abolition Of Purdah System • Gandhiji And, Women • Franchise For Women • The Mahila Samiti, • Bihar Women Council • Impact Of War., 5. Society And Community Life, • Amusements • Casteism: A Feature In Bihar Life •, Social Evils: Untouchability • Bonded Labour •, Indebtedness: The Causes • Tribal Society: Material, Culture Of Santals • Poverty And Inadequacy., 6. The Marriage System, • Marriage Among Tribals Of Bihar • The Santal, Marriage • Raibar Bapla • Sanga Bapla • Kudam, Bapla • Kiring-Jawae • The Dusadh Marriage • The, Ghasiya Marriage • Divorce • Widow Remarriage •, Other Marriages • The Dola Marriage • The Doms, Marriage., 7. Scholars And Their Works, • Ghias Ahmed Gaddi • Govindadasa (1971 -) •, Harinandana Thakur Saroja (1908-1945) • Muralidhar, Jha (1868-1929) • Parmesvar Jha (1856-1924) •, Rajeshwar Jha (1923-1977) • Ramakrishna Jha (1923-, 77, 93, 102, 115, Contents 7, 1970) • Ramanatha Jha (1906-1971) • Riddhinatha, Jha (1891-1981) • Sitaram Jha (D. 1975) • Surendra, 'Suman' Jha (1910-?) • Subhadra Jha (1909-?) •, Tantranath Jha (1904-1984) • Phanishwarnath Renu, (1921-1977) • Radhakrishnadas (1865-1907) •, Kashikant Mishra 'Madhupa (1906-1987) • Raja, Radhikaraman Prasad Singh (1890-1971) • Shivpujan, Sahay (1863-1963) • Scholars And Scholarly Literature, In Santal., 8. Paintings And Sculpture, • Pictures On Glass • Folk Paintings • Wall Paintings, • Act Of Community • Designs On Clothes • Sculptures:, Buddhist Architecture • Amravati Art In Vaisali •, Elliptical Halls At Rajgir • Sculptural Evidence And, Sects • Theravada Doctrine., 9. Dance, • Chhau Dance • Fasting • Masks • Nautanki: Dance, And Drama • Decline Of Tribal Dance • Factors Of, Transformation • The Youth Factor • Christianity, And Oraon Dance., 10. Drama, • Maithili Drama• Modern Maithili Drama• Nautanki•, Nautanki Scripts• Three Traditions• Performance, Structure And Space• Lighting• Nautanki, Instruments• Dance• Theme Of Plays., 11. Music, • Music: A Sadhna • Different Stages Of Music In, Bihar • Group Song And Dances • Santal Music •, Musical Instruments• Music And Poetry., 12. Food Habits, • Food Of Mithila Region • Food Of Magahi Region •, Food Of Bhojpuri Region • Food Habits Of The Scheduled, Castes • The Santhal Food Habits • Common Dietary, Habits • Consumption Of Different Varieties Of Foodstuff, • Drinks • Infant Feeding., 137, 153, 164, 176, 185, 8 Encyclopaedia Of Art And Culture In India (Bihar), 13. Dress And Ornaments, • Dress Of Men • Dress Of Women • Tribal Dresses Of, Bihar • Ornaments Worn In Bihar • Ornaments Of, Women • Worn In Bihar., 14. Depressed Class Culture, • The Chamar Customs • Death Rites • The Dom, Customs • Attending Of Hindu Funerals • The Dusadh/, Dhari Customs • The Ghasi Customs • The Musahar, Customs., 15. Kinship Culture, • Exogamy And Endogamy • Prohibited Degree •, Family Groups • Non-Agnate Kinship Structure •, The Matamal • Matamal Of The Spouse • Mother'S, Brothers And Sisters • Wora-Matamal • Parental, 'Matamal' • Non-Agnatic Kinship, 16. Language And Literature., • Bihari • Maithili Or Tirahutiya • Southern Standard, Maithili • Eastern Maithili Or Gaowari • Chhika-, Chhiki Boli • Magahi Or Magadhi • Eastern Magahi •, Bhojpuri • Northern Standard Bhojpuri • Maithili, Literature • Poetry • Novel., 17. Archaeological And Anthropological Findings, • Akbarpur • Akorhi • Amethi • Baidyanath • Banjari, • Bhagwanpur • Bhagwanpur • Bhojpur Kadim •, Biniganj • Bodh Gaya • Brahampur • Chainpur •, Chargotia • Chati Gobindpur • Chausa • Darbhanga, • Deo Kund • Dharhara • Dharmaranya • Dumraon, • Gopalpur • Kawakole • Mangalgarh • Masurhi •, Nalanda • Naulgarh • Papaur • Patna • Pawapuri •, Rajgir • Ramgarh • Sanda • Sasaram • Shahkund •, Sugauli • Vaishali • Anthropological Finding • Racial, Composition In Bihar • Dilution Of Strain• Racial, Composition Of The Non-Tribal Population In Bihar., 194, 202, 218, 232, 257, Contents 9, 18. Religious Centres, • Past References Of Religious Centres • Existing, Religious Centres/Shrines • Amarpur • Apsarh •, Arrah • Bhaikh • Bhaisalotan (Balmikinagar) •, Biharsharif • Bodhgaya • Brahmpur • Chainpur •, Chanki • Darauli • Dumraon • Gaya City • Hajipur, • Jesth Gour Math • Kako • Lakri Dargah • Mahishi, • Mairwa • Munger • Narwan Chak Baidauliya •, Nawada • Patharghatta Hill • Patna City • Phulhar, • Rajgir • Sitamarhi • Vaishali • Muslim Shrines:, Dargahs Of Patna • Maner • Phulwari Sharif • Patna, • Patna City • Jethuli., 19. Museums And Libraries, • Museums In Different Cities Of Bihar • Darbhanga, • Gaya • Nalanda • Patna • Vaisali • Administrative, Setup In A Museum • The Technical Staff •, Administrative Set-Up • Aquisition Of Exhibits •, Libraries • Khuda Baksh Oriental Library., 20. Fairs And Festivals, • Basant Panchmi Fair • Chhath Festival • Chhath, Purv • Gaya Jatra • Hanuman Jayanti Utsav • Indra, Puja Fair • Kartik Purnima Fair : Babhnaul • Kartik, Purnima Fair--Jazira Raili • Kartik Purnima Fair :, Tilauthu • Makar Sankranti Fair • Mahabiri Jhanda, Fair • Nag Panchmi Fair • Phulwari Sharif Urs •, Pawapuri Jatra • Ram Navami Fair • Shivratri Or, Mahasiva Ratri • Holi • Sonepur Fair• Indigo Planters, And The Fair., 21. Customs, • Tribal Customs : Maler, Mal Pahariya And Santhal •, The Dusad Customs • Non-Tribes : Chamar Customs •, Adoption • The Lohar Customs • The Sangataras, Customs., 277, 300, 313, 326, 10 Encyclopaedia Of Art And Culture In India (Bihar), 22. Folklore And Folkstories, • The Cruel Sisters-In-Law • The Jackal And The Kite, • The Wise Monkey • The Clever Monkey • The Clever, Boy • The Son-In-Law Who Was A Simpleton • The Two, Friends • The Old Couple • Tribal Folk-Lore • The, Origin Of Tobacco • The Transmigration Of Souls • The, Next World • After Death • Hares And Men • A Legend, • Pregnant Women • The Influence Of The Moon •, Illegitimate Children • The Dead • Hunting Custom., 23. Globalisation Of Culture, • Ancient Linkages And Past Culture • Great University, Of Nalanda • Buddhist Attractions • Attractive To, Muslims • Sikhs And Their Religious Shrine • Colourful, Cultural Life • Bodhgaya And Mahabodhi Temple •, Sonepur Cattle Fair • Diaspora • Casteism • Tribal, Culture • Serpent Worship • Various Godlings • Goreya-, Baba • Virkuar-Hero Worship • Lurik • Witch-Craft, Godlings • Sopra Baba • Other Factors., Bibliography, Index 377
Read less
Other books by Ed.Gopal Bhargava
Recommended Books for you - See all
Price
:
Rs. 1160
Rs.861
You save: Rs.299
Vendor :
Gyan Books Pvt.Ltd, Delhi
FREE SHIPPING | Delivered in 5 working days
(Cash on delivery available)
Be assured. 7 days Return & Refund Policy.
Click here
2 offers starting from Rs. 861
Rs.861 FREE SHIPPING

In stock | Delivered in 5 working days

Gyan Books Pvt.Ltd, Delhi

Add to cart

Rs.1148 FREE SHIPPING

In stock | Delivered in 5 working days

Anshika Books, Delhi

Add to cart