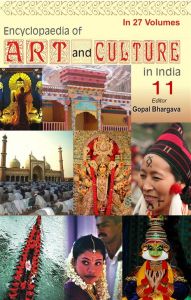 Encyclopaedia of Art And Culture In India (Chhattisgarh) 11Th Volume
Product Details:
Share this by email:
ISBN:
9788182054516
Publisher
:
Isha Books
Year of publishing:
2008
Format:
Hardback
No of Pages:
475
Language
: English
Description About The Author:- Gopal Bhargava, a prolific writer and education at Lucknow University. He is a senior official in Town and Country Planning Organization. He has contributed several research...
Read more
Description About The Author:- Gopal Bhargava, a prolific writer and education at Lucknow University. He is a senior official in Town and Country Planning Organization. He has contributed several research papers on urban development.Contents:- Contents, Introduction 9, Origin, History, Geography, Economy., 1. Cultural Change Over Period of Time 27, Ancient Times, Arrival of Aryas, Impact of, Brahmans, Varna System, Custom of Devadasis, Development of Arts, Religions Sects Advent of, Buddhism., 2. Religions 43, Brahmanical Hinduism, Buddhism, Jainism, Hindu Caste System, Other Miscellaneous Cults, Bhakti Movement, Kodaku Religion, the Pardhan, Religion, etc., 3. Education and Learning 61, Ancient Education, Education under Muslim Rule, Modern Times, Vidya Mandir Scheme, Tribal, Education, Girl Education., 4. Position of Women 77, General Condition, Practice of Sati, Custom of, Devadasi, Family Life, Memorials, Current, Scenario, state Government for Women Upliftment., 5. Society and Community Life 95, Society of Hindus, Local Society, Social, Characteristics, Tribals, List of Tribes, the Gond, the Oraon, the Halba., 6. The Marriage System 113, The Gond Marriage, Koshti marriage, Kodaku, Marriage Customs., 6 Encyclopaedia of Art and Culture in India (Chhattisgarh), 7. Scholars and Their Works 131, Vallabhacharya, Vithalnath, Gokalnath, Dharam Das, Kabirpanthi, Ghasi Das, Rajmohini Devi, Gahira, Guru., 8. Paintings and Sculpture 155, Ramgarh Hill Cave Paintings, Scenes in Frescos, Sculpture, Art under the Sarabhapuriyas and, Panduvamsis, Medieval Art, Modern Art., 9. Dance 172, Kathak Dance, Raigarh Gharana, Changes in, Kathak, Raigarh Gharana's Contribution, Folk, Dances : Karma Baiga Pardhaumi, Baiga Karm, Jhumar etc., 10. Drama 189, Ancient tradition in theatre, Ramgarh Hill cave, theatre of Surguja, Folk theatre, Bharata's Natya-, Shashtra, Glorious age of Sanskrit Drama., 11. Music 205, Folk Music, Field Songs; General Songs, Dance, Songs, Castes Songs, Ceremonial Songs, Special, Songs, Songs of Tribals, the Myth and Legends, Folk Songs and Cultural Heritage, Mirasis, Bhats., 12. Food Habits 222, Tribals : Korku Food, Compulsory Community, feasts, Penalty feasts, Communal Eatings., 13. Dress and Ornaments 236, Bhumia Male attire, women attire, Gond women, attire, Bhil dress, Bhil female dress, Kodaku Dress., Hair style, Female hairdos, Hygiene, Ornaments :, Bhil ornaments, Kodaku ornaments. Recent, Changes., 14. Depressed Class Culture 252, Atrocities on Chamars, Mehtars, Social reforms, Guru Ghasidas and Satnampanth, Ramnamis, Ramanandis, Raedasis, other Dalit reform, movements, the tribal's travails, Tribal Rebellinus., Contents 7, 15. Kinship Relations 268, Women in Tribal Society, Inheritance, Clan, Oda, or the family, Parent-child relations, kinship terms, conjugal relationship., 16. Language and Literature 284, Dialects, Tribal Dialects; Chhattisgarhi, Gondi, Halbi, Bhatari, Surgujea, Sadari Korba etc. Korwi dialect, Korwi oral literature, Literature : Brahman's, monopoly of sacred literature, Vallabhacharya, Folk, literature., 17. Archaeological and Anthropological Findings 305, Archaeological Findings in the Chhattisgarh, Ramgarh Hill Caves in Surguja, Anthropometric, Measurements of Kawar, Khairwar, Kodaku, Korwa, Nagesia, Paudo and Pardhan tribes., 18. Religious Centres 321, Hindu Shrines : Barsoor Temple ruins, Danteshwari, Temple, Dantewada, Ganga Maiya Temple, Kailash, Gufa, Laxman Temples and Gandheswar Temples, Sirpur, etc. Buddhist Viharas, Jain Temples, Tribal, Shrines, Kunkuri Cathedral, Sacred Places of, Ratanpur., 19. Museums and Libraries 341, Mahant Ghasi Das Museum, Human Science, Museum, Jagdal Pur, District Archaeological, Museum, Chitrakote Museum, Luxman Temple, Museum Sirpur, Sculptural Heritage, Libraries and, Literary Societies., 20. Fairs and Festivals 358, Hindu, Sikh, Jain, Buddhist, Muslim fairs : Bhagwati, Devi temple fair, Bilaimata Fair, Champajhar Fair, Khalari Devi Fair, Ragim Fair, etc., 21. Customs 380, Customs, rites and rituals related to pregnancy, birth, and death; customs of Chitari related to pregnancy, 8 Encyclopaedia of Art and Culture in India (Chhattisgarh), child-birth, evil-eye rearing of child, cradle songs, etc., child birth of Baiga, Banjara, Gond, etc. Death, rituals of Bania, Baiga, Banjara, Kolhatis, Korkus, and Brahmans etc., 22. Folklore and Folk Stories 398, Anthropological Importance of folklore, lore related, to magico-religious practices of Chhattisgarh, Tribals, Baiga and Mochi Legends; Folk Stories of, different tribes., 23. Globalisation of Culture 418, Attempts of Civilising the tribals in Chhattisgarh, the Korkus in Transition, Advanced Nagesia of, Surguja, Need of Socio-Cultural Change, Economy, and Education of Tribals, Conclusion., Index 441About The Book:- This Scientifically Researched 27 Volume Encyclopaedia Of Art And Culture In India Is A Vast Treasure Of Knowledge And Information On 28 States And Seven Union Territories. Each Volume Contains An Introduction On The Particular State Describing Its Origin, History, Geography, Economy, And 23 Chapters On Topics Ranging From The Cultural Change Over Period Of Time From The Very Early Period To The Modern Times To Religion, Pursuit Of Education, Position Of Women, Society And Community Life, The Marriage Systems, Scholars And Their Works, Paintings And Sculpture, Dance, Drama, Music, Food Habits, Dress And Ornaments, Depressed Class Culture, Kinship Relations, Language And Literature Archaeological And Anthropological Findings, Religious Centres, Museums, Archives, Libraries And Literary Societies, Fairs And Festivals, Custom Related To Birth And Death Rituals And Rites, Folklores, Folktales, Myths And Legends, And Globalization And Urbanization Of Culture. The Entire Mass Of Information And Knowledge Has Been Painstakingly Researched, Written And Edited With The Anthropological Point Of View, That Makes This Encyclopaedia All The More Valuable For Purpose Of Scholars In Different Disciplines, Social Scientists, Teacher And Students., About The Author:- Gopal Bhargava, A Prolific Writer And Education At Lucknow University. He Is A Senior Official In Town And Country Planning Organization. He Has Contributed Several Research Papers On Urban Development., Content:- Contents, Introduction 9, Origin, History, Geography, Economy., 1. Cultural Change Over Period Of Time 27, Ancient Times, Arrival Of Aryas, Impact Of, Brahmans, Varna System, Custom Of Devadasis, Development Of Arts, Religions Sects Advent Of, Buddhism., 2. Religions 43, Brahmanical Hinduism, Buddhism, Jainism, Hindu Caste System, Other Miscellaneous Cults, Bhakti Movement, Kodaku Religion, The Pardhan, Religion, Etc., 3. Education And Learning 61, Ancient Education, Education Under Muslim Rule, Modern Times, Vidya Mandir Scheme, Tribal, Education, Girl Education., 4. Position Of Women 77, General Condition, Practice Of Sati, Custom Of, Devadasi, Family Life, Memorials, Current, Scenario, State Government For Women Upliftment., 5. Society And Community Life 95, Society Of Hindus, Local Society, Social, Characteristics, Tribals, List Of Tribes, The Gond, The Oraon, The Halba., 6. The Marriage System 113, The Gond Marriage, Koshti Marriage, Kodaku, Marriage Customs., 6 Encyclopaedia Of Art And Culture In India (Chhattisgarh), 7. Scholars And Their Works 131, Vallabhacharya, Vithalnath, Gokalnath, Dharam Das, Kabirpanthi, Ghasi Das, Rajmohini Devi, Gahira, Guru., 8. Paintings And Sculpture 155, Ramgarh Hill Cave Paintings, Scenes In Frescos, Sculpture, Art Under The Sarabhapuriyas And, Panduvamsis, Medieval Art, Modern Art., 9. Dance 172, Kathak Dance, Raigarh Gharana, Changes In, Kathak, Raigarh Gharana'S Contribution, Folk, Dances : Karma Baiga Pardhaumi, Baiga Karm, Jhumar Etc., 10. Drama 189, Ancient Tradition In Theatre, Ramgarh Hill Cave, Theatre Of Surguja, Folk Theatre, Bharata'S Natya-, Shashtra, Glorious Age Of Sanskrit Drama., 11. Music 205, Folk Music, Field Songs; General Songs, Dance, Songs, Castes Songs, Ceremonial Songs, Special, Songs, Songs Of Tribals, The Myth And Legends, Folk Songs And Cultural Heritage, Mirasis, Bhats., 12. Food Habits 222, Tribals : Korku Food, Compulsory Community, Feasts, Penalty Feasts, Communal Eatings., 13. Dress And Ornaments 236, Bhumia Male Attire, Women Attire, Gond Women, Attire, Bhil Dress, Bhil Female Dress, Kodaku Dress., Hair Style, Female Hairdos, Hygiene, Ornaments :, Bhil Ornaments, Kodaku Ornaments. Recent, Changes., 14. Depressed Class Culture 252, Atrocities On Chamars, Mehtars, Social Reforms, Guru Ghasidas And Satnampanth, Ramnamis, Ramanandis, Raedasis, Other Dalit Reform, Movements, The Tribal'S Travails, Tribal Rebellinus., Contents 7, 15. Kinship Relations 268, Women In Tribal Society, Inheritance, Clan, Oda, Or The Family, Parent-Child Relations, Kinship Terms, Conjugal Relationship., 16. Language And Literature 284, Dialects, Tribal Dialects; Chhattisgarhi, Gondi, Halbi, Bhatari, Surgujea, Sadari Korba Etc. Korwi Dialect, Korwi Oral Literature, Literature : Brahman'S, Monopoly Of Sacred Literature, Vallabhacharya, Folk, Literature., 17. Archaeological And Anthropological Findings 305, Archaeological Findings In The Chhattisgarh, Ramgarh Hill Caves In Surguja, Anthropometric, Measurements Of Kawar, Khairwar, Kodaku, Korwa, Nagesia, Paudo And Pardhan Tribes., 18. Religious Centres 321, Hindu Shrines : Barsoor Temple Ruins, Danteshwari, Temple, Dantewada, Ganga Maiya Temple, Kailash, Gufa, Laxman Temples And Gandheswar Temples, Sirpur, Etc. Buddhist Viharas, Jain Temples, Tribal, Shrines, Kunkuri Cathedral, Sacred Places Of, Ratanpur., 19. Museums And Libraries 341, Mahant Ghasi Das Museum, Human Science, Museum, Jagdal Pur, District Archaeological, Museum, Chitrakote Museum, Luxman Temple, Museum Sirpur, Sculptural Heritage, Libraries And, Literary Societies., 20. Fairs And Festivals 358, Hindu, Sikh, Jain, Buddhist, Muslim Fairs : Bhagwati, Devi Temple Fair, Bilaimata Fair, Champajhar Fair, Khalari Devi Fair, Ragim Fair, Etc., 21. Customs 380, Customs, Rites And Rituals Related To Pregnancy, Birth, And Death; Customs Of Chitari Related To Pregnancy, 8 Encyclopaedia Of Art And Culture In India (Chhattisgarh), Child-Birth, Evil-Eye Rearing Of Child, Cradle Songs, Etc., Child Birth Of Baiga, Banjara, Gond, Etc. Death, Rituals Of Bania, Baiga, Banjara, Kolhatis, Korkus, And Brahmans Etc., 22. Folklore And Folk Stories 398, Anthropological Importance Of Folklore, Lore Related, To Magico-Religious Practices Of Chhattisgarh, Tribals, Baiga And Mochi Legends; Folk Stories Of, Different Tribes., 23. Globalisation Of Culture 418, Attempts Of Civilising The Tribals In Chhattisgarh, The Korkus In Transition, Advanced Nagesia Of, Surguja, Need Of Socio-Cultural Change, Economy, And Education Of Tribals, Conclusion., Index 441
Read less
Other books by Ed.Gopal Bhargava
Recommended Books for you - See all
Price
:
Rs. 1425
Rs.1058
You save: Rs.367
Vendor :
Gyan Books Pvt.Ltd, Delhi
FREE SHIPPING | Delivered in 5 working days
(Cash on delivery available)
Be assured. 7 days Return & Refund Policy.
Click here
2 offers starting from Rs. 1058
Rs.1058 FREE SHIPPING

In stock | Delivered in 5 working days

Gyan Books Pvt.Ltd, Delhi

Add to cart

Rs.1409 FREE SHIPPING

In stock | Delivered in 5 working days

Anshika Books, Delhi

Add to cart