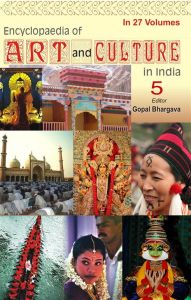 Encyclopaedia of Art And Culture In India (Haryana) 5Th Volume
Product Details:
Share this by email:
ISBN:
9788182054455
Publisher
:
Isha Books
Year of publishing:
2008
Format:
Hardback
No of Pages:
383
Language
: English
Description About The Author:- Gopal Bhargava, a prolific writer and education at Lucknow University. He is a senior official in Town and Country Planning Organization. He has contributed several research...
Read more
Description About The Author:- Gopal Bhargava, a prolific writer and education at Lucknow University. He is a senior official in Town and Country Planning Organization. He has contributed several research papers on urban development.Contents:- Contents, Introduction 11, Origin, History, Geography, Economy, 1. Cultural Changes over period of Time 25, Pre-historic times, Arrival of Muslim Invaders, Sikh Guru's, visits to Haryana, Developments in Architecture, Development and growth of Literature., 2. Religions 39, Religious Demography of Haryana, Hinduism, Sikhism, Jainism, Buddhism, Muslims, and Christians., 3. Education and Learning 53, Education in Ancient Times, Muslim Education, Modern, Education, Current Position, Women Education., 4. Position of Women 67, Jat women, Bura Brahman Women, Bisnoi Women, Bhat, Women, Meena Women, Jain Women, Bania Women and, other castes, Female Infanticide., 5. Society and Community Life 83, Society of Hindus, clan, Sib, village community, Hindu, castes, Muslim castes, Sikh castes, classes in Haryanavi, society., 6 Encyclopeadia of Art and Culture in India: Haryana, 6. Marriage System 99, Prevalence of different marriage systems in Haryana, Ahir, Marriage, Jat Marriage, Arora Marriage, Bania Marriage, Marriage in different castes-Bura Brahman, Christian, Bisnoi, Jain, Meenas etc., 7. Scholars and their Works 113, Altaf Hussain Hali, Malik Mohammad Jayasi, Thakur, Pheru, Balmukund Gupta, Madhav Prasad Gupta, Vishnu, Prabhakar, Bhadant Anand Kanuhalyanand etc., 8. Paintings and Sculpture 129, Paintings in early period, Miniatures, Murals, Paintings, during Medieval period, Folk paintings, Sanjhi Devi in, ritual art, Ritualstic embellishments, Wood-carving in, Haryana, creations in clay sculptures., 9. Dance 141, General features, Professional dances by troupes, groups, Sangis, folk dances-Holi dance, Ras Lila dance, Khoria, dance, Chhati dance., 10. Drama 155, Evoloution of Indian Theatre, Haryana's Sang, Sang, Scripts, works of Laxmi Chand, Behrupia's in Haryana., 11. Music 171, Classical Music-Khyal, Tarana, Trivata, Chaturanga, Saragama, Basir Khan and Inayat Hussain, works of, Taranas Khan, Haryanavi Folk music, Musical, instruments, devotional music., Contents 7, 12. Food Habits 185, Evolution of Haryanvi cuisine, Impact of Vaishanvism, Jains, Bishnoi's, Vegetarianism, non-vegetarian food; food, habits of castes - Arora, Ahir, Bania, Jain, Jat, Sangi, Sapera, etc., Colleen Taylor Sen, Food Culture in India, Greenwood, Press, Westport, USA, 2004., 13. Dress and Ornaments 197, Primitive dress, Haryanavi dress, Modern trends, Typical, dress and ornaments of different castes; Jat dress and, Ornaments, Jains, Ahir, Arora, Bisnois, Rajputs, Bura, Brahmans etc., 14. Depressed Class Culture 211, Oppressve Hindu Caste system, Pariah in Haryana, Unclean Professions, Evil designs by high castes, no, education for Shudras, Denying the social power, Living, at purlieus, suppression without end., 15. Kinship Relations 223, Haryanavi Family, Position of Women, Kinship, Consanguinity, Affinity, different caste family & kinships:, Ahirs, Jats, Jain, Bania, Meena, Jogi etc., 16. Language and Literature 237, Main Languages used by Haryanavi people, Haryanvi, dialects, Early writings, Urdu Literature, Hindi Literature, Medieval writings, Modern Literature, Punjabi Literature., 8 Encyclopeadia of Art and Culture in India: Haryana, 17. Archaeological and Anthropological Findings 251, Finding in early explorations and excavations, Find from, Raja Karna-ka-Kila, Anthropological Surveys of Haryana, Anthropometric measurements of the people of Haryana., 18. Religious Centres 265, Hindu, Religious Centres - Kurukshetra, Pinjore, Bhiwani, Suraj Kund etc., 19. Museums and Libraries 279, Museums of Haryana, Libraries, Newspapers and, Periodicals, State Archive of Haryana, Literary and, Cultural Societies., 20. Fairs and Festivals 293, General features, fairs of Hindus, Festivals: Suraj Kund, Fair, Vankhandeshwar Fair, Baba Mast Nath Fair, Baba, Rameshwar Dass Fair, Baba Shami Dayal Fair, Chaitra, Amavasya Fair, Chamunda Devi Fair, Kartika Cultural Fair, Animal Fair etc., 21. Customs 309, Hindu Customs relating to life-cycle ceremonies: Birth, Marriage, death, post-death rituals, customs prevailing, in different castes., 22. Folklore and Folk Stories 329, Folklore of the Alha-Udal, Tradition Ballads, Folk Stories, of Haryana., 23. Globalisation of Culture 345, Urbanisation of rustic Haryana, Fast-pace of, Contents 9, developmental activities, Factors responsible for, Globalisation, Education, Role of Middle Class, Hindu, Reform Movements, Muslim and Sikh Reform Movements, etc., Index 361, Bibliography 379About The Book:- This Scientifically Researched 27 Volume Encyclopaedia Of Art And Culture In India Is A Vast Treasure Of Knowledge And Information On 28 States And Seven Union Territories. Each Volume Contains An Introduction On The Particular State Describing Its Origin, History, Geography, Economy, And 23 Chapters On Topics Ranging From The Cultural Change Over Period Of Time From The Very Early Period To The Modern Times To Religion, Pursuit Of Education, Position Of Women, Society And Community Life, The Marriage Systems, Scholars And Their Works, Paintings And Sculpture, Dance, Drama, Music, Food Habits, Dress And Ornaments, Depressed Class Culture, Kinship Relations, Language And Literature Archaeological And Anthropological Findings, Religious Centres, Museums, Archives, Libraries And Literary Societies, Fairs And Festivals, Custom Related To Birth And Death Rituals And Rites, Folklores, Folktales, Myths And Legends, And Globalization And Urbanization Of Culture. The Entire Mass Of Information And Knowledge Has Been Painstakingly Researched, Written And Edited With The Anthropological Point Of View, That Makes This Encyclopaedia All The More Valuable For Purpose Of Scholars In Different Disciplines, Social Scientists, Teacher And Students., About The Author:- Gopal Bhargava, A Prolific Writer And Education At Lucknow University. He Is A Senior Official In Town And Country Planning Organization. He Has Contributed Several Research Papers On Urban Development., Content:- Contents, Introduction 11, Origin, History, Geography, Economy, 1. Cultural Changes Over Period Of Time 25, Pre-Historic Times, Arrival Of Muslim Invaders, Sikh Guru'S, Visits To Haryana, Developments In Architecture, Development And Growth Of Literature., 2. Religions 39, Religious Demography Of Haryana, Hinduism, Sikhism, Jainism, Buddhism, Muslims, And Christians., 3. Education And Learning 53, Education In Ancient Times, Muslim Education, Modern, Education, Current Position, Women Education., 4. Position Of Women 67, Jat Women, Bura Brahman Women, Bisnoi Women, Bhat, Women, Meena Women, Jain Women, Bania Women And, Other Castes, Female Infanticide., 5. Society And Community Life 83, Society Of Hindus, Clan, Sib, Village Community, Hindu, Castes, Muslim Castes, Sikh Castes, Classes In Haryanavi, Society., 6 Encyclopeadia Of Art And Culture In India: Haryana, 6. Marriage System 99, Prevalence Of Different Marriage Systems In Haryana, Ahir, Marriage, Jat Marriage, Arora Marriage, Bania Marriage, Marriage In Different Castes-Bura Brahman, Christian, Bisnoi, Jain, Meenas Etc., 7. Scholars And Their Works 113, Altaf Hussain Hali, Malik Mohammad Jayasi, Thakur, Pheru, Balmukund Gupta, Madhav Prasad Gupta, Vishnu, Prabhakar, Bhadant Anand Kanuhalyanand Etc., 8. Paintings And Sculpture 129, Paintings In Early Period, Miniatures, Murals, Paintings, During Medieval Period, Folk Paintings, Sanjhi Devi In, Ritual Art, Ritualstic Embellishments, Wood-Carving In, Haryana, Creations In Clay Sculptures., 9. Dance 141, General Features, Professional Dances By Troupes, Groups, Sangis, Folk Dances-Holi Dance, Ras Lila Dance, Khoria, Dance, Chhati Dance., 10. Drama 155, Evoloution Of Indian Theatre, Haryana'S Sang, Sang, Scripts, Works Of Laxmi Chand, Behrupia'S In Haryana., 11. Music 171, Classical Music-Khyal, Tarana, Trivata, Chaturanga, Saragama, Basir Khan And Inayat Hussain, Works Of, Taranas Khan, Haryanavi Folk Music, Musical, Instruments, Devotional Music., Contents 7, 12. Food Habits 185, Evolution Of Haryanvi Cuisine, Impact Of Vaishanvism, Jains, Bishnoi'S, Vegetarianism, Non-Vegetarian Food; Food, Habits Of Castes - Arora, Ahir, Bania, Jain, Jat, Sangi, Sapera, Etc., Colleen Taylor Sen, Food Culture In India, Greenwood, Press, Westport, Usa, 2004., 13. Dress And Ornaments 197, Primitive Dress, Haryanavi Dress, Modern Trends, Typical, Dress And Ornaments Of Different Castes; Jat Dress And, Ornaments, Jains, Ahir, Arora, Bisnois, Rajputs, Bura, Brahmans Etc., 14. Depressed Class Culture 211, Oppressve Hindu Caste System, Pariah In Haryana, Unclean Professions, Evil Designs By High Castes, No, Education For Shudras, Denying The Social Power, Living, At Purlieus, Suppression Without End., 15. Kinship Relations 223, Haryanavi Family, Position Of Women, Kinship, Consanguinity, Affinity, Different Caste Family & Kinships:, Ahirs, Jats, Jain, Bania, Meena, Jogi Etc., 16. Language And Literature 237, Main Languages Used By Haryanavi People, Haryanvi, Dialects, Early Writings, Urdu Literature, Hindi Literature, Medieval Writings, Modern Literature, Punjabi Literature., 8 Encyclopeadia Of Art And Culture In India: Haryana, 17. Archaeological And Anthropological Findings 251, Finding In Early Explorations And Excavations, Find From, Raja Karna-Ka-Kila, Anthropological Surveys Of Haryana, Anthropometric Measurements Of The People Of Haryana., 18. Religious Centres 265, Hindu, Religious Centres - Kurukshetra, Pinjore, Bhiwani, Suraj Kund Etc., 19. Museums And Libraries 279, Museums Of Haryana, Libraries, Newspapers And, Periodicals, State Archive Of Haryana, Literary And, Cultural Societies., 20. Fairs And Festivals 293, General Features, Fairs Of Hindus, Festivals: Suraj Kund, Fair, Vankhandeshwar Fair, Baba Mast Nath Fair, Baba, Rameshwar Dass Fair, Baba Shami Dayal Fair, Chaitra, Amavasya Fair, Chamunda Devi Fair, Kartika Cultural Fair, Animal Fair Etc., 21. Customs 309, Hindu Customs Relating To Life-Cycle Ceremonies: Birth, Marriage, Death, Post-Death Rituals, Customs Prevailing, In Different Castes., 22. Folklore And Folk Stories 329, Folklore Of The Alha-Udal, Tradition Ballads, Folk Stories, Of Haryana., 23. Globalisation Of Culture 345, Urbanisation Of Rustic Haryana, Fast-Pace Of, Contents 9, Developmental Activities, Factors Responsible For, Globalisation, Education, Role Of Middle Class, Hindu, Reform Movements, Muslim And Sikh Reform Movements, Etc., Index 361, Bibliography 379
Read less
Other books by Ed.Gopal Bhargava
Recommended Books for you - See all
Price
:
Rs. 1150
Rs.854
You save: Rs.296
Vendor :
Gyan Books Pvt.Ltd, Delhi
FREE SHIPPING | Delivered in 5 working days
(Cash on delivery available)
Be assured. 7 days Return & Refund Policy.
Click here
2 offers starting from Rs. 854
Rs.854 FREE SHIPPING

In stock | Delivered in 5 working days

Gyan Books Pvt.Ltd, Delhi

Add to cart

Rs.1138 FREE SHIPPING

In stock | Delivered in 5 working days

Anshika Books, Delhi

Add to cart