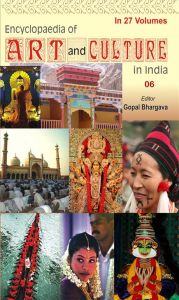 Encyclopaedia of Art And Culture In India (Himachal Pradesh) 6Th Volume
Product Details:
Share this by email:
ISBN:
9788182054462
Publisher
:
Isha Books
Year of publishing:
2008
Format:
Hardback
No of Pages:
361
Language
: English
Description About The Author:- Gopal Bhargava, a prolific writer and education at Lucknow University. He is a senior official in Town and Country Planning Organization. He has contributed several research...
Read more
Description About The Author:- Gopal Bhargava, a prolific writer and education at Lucknow University. He is a senior official in Town and Country Planning Organization. He has contributed several research papers on urban development.Contents:- Contents, Introduction, • Origin • Brief History • Geography • Climate • Economy, 1. Cultural Changes Over Period of Time, • Changes among the Pangwals • Life of Panwals: A Closed, System • Dress and Ornaments • Food habits • Positive and, Negative Attitudinal Changes • Changes amount the People, of Kinnaur and Spiti • Changes Observed in Kinnaur • Changes, Observed in Spiti • Social Hierarchies • Changing Customs, 2. Religions, • Observed in Spiti • Social Hierarchies • Changing Customs, • Hinduism • Buddhism • Buddhism in Kinnaur and Spiti •, Four Sects of Tibetan Buddhism • Bodhisattvas • Mantra for, Virtue • Moatery and Temple • Jainism • Sikhism • Islam •, Religious Beliefs of Gaddis • Spirits • Bangalouds • Rituals, and Sacrifices, 3. Educational and Learning, • Education in Bilaspur • Education in Chamba • Education, in Hamirpur • Education in Kangra • Education in Kullu Region, • Education in Mandi • Government Programmes and Tribal, Education • Unsuitable Curriculum • Changing Education and, Society • Fillip to Tribal Language • Pleasures of Tribal Life, and Learning • Oral and Written Cultures • Superstitions •, New Skills and Technologies • New Skills and Technologies, 4. Position of Women, • Himachal's Tantric Buddhist Women • Women of Kullu, Region • The Bangali in Himachal Pradesh • The Bansi • The, Batwal • The Bhisti • The Bodh • The Chanal • The Christian, • The Dagoli • The Dosali • The Gaddi Brahman • The Gaddi, Rajput • The Gaur Brahman • The Ghai • The Gosain • The, Gujjar (Hindu) • The Hali • The Jheewar • Social Status of, Women in Brahampur Village, 9, 15, 29, 41, 67, 6 Encyclopaedia of Art and Culture in India (Himachal Pradesh), 5. Social and Community Life, • The Gujjar: A Pastoral Tribe • The Gaddis • The Ashvamukha, Kinners • Music Song and Dance, 6. The Marriage System, • The Gaddi Marriage • Marriage Rules • Kinds of Marriages, • Marriage Ceremonies • Departure to Bride's House • At the, Entrance of Bride's Place • Kanyadan • Completion • Marriage, in Kullu--Lahaul-Spiti Region • Kullu Marriage • Widows •, Betrothal and Marriage Ceremonies • Lahaul Marriage • Spiti, Marriage, 7. Scholars and theire Works, • Religion • Physical Features • Residential Pattern • Dress, • Utensils • Social and Cultural Life • Fairs and Festivals •, Beliefs and Superstitions • Devi Chandika Tample (Kothi) •, General Superstitions • Evil Spirits • Untouchability and Social, Status of Women, 8. Paintings and Sculpture, • Kangra School of Paintings • Artists of Kangra Style of, Paintings• Miniature Paintings of Guler School • The Chamba, School of Paintings • Tantrik School of Paintings • Himachal, Murals • Akhand Chandi Palace, Chamba Town • Shakti Devi, Temple, Chhatrari • Braj Raj Dihari Temple, Nurpur •, Narbadeshvar Temple, Tira Sujanpur • Sivalaya Temple, in the, Palace at Nandaun, 9. Dance, • Dandaras Dance • Phual Dance • Chhatrari Dance • Sikri, Dance • Churah Dance • Ghurain Dance • Kinner Dances •, The Lama Devil Dance • Jhanjar Dance • Gaddi Dance • Shun, and Shaboo Dances • Japro Dance • Dodra Kawar Dance •, Kulu Valley Dances • Some Dance Songs • Dance Song •, Festivals and Dance • Dance in Chamba Hills, 10. Drama, • Dance and Drama in Folklore • Nati: Dance-Drama • Two, Groups Dances • Masked Dance • Kirtan and Tamasha • The, Poet-singer (Shabir) Tradition • Tamasha, 11. Music, • Gaddi Music • Music • Tribal Music Instruments • Folk, Songs • Features of Gaddi Music • Mythological Traditions, • Kinners and Music • Details of Musical Instruments • Details, of Musical Instruments • Chordo-Phonic Instruments • Aero-, Phonic Instruments • Idio-Phonic Instruments • Ghanta •, 67, 83, 97, 117, 129, 139, 153, Contents 7, Membrano-Phonic Instruments • Rhythm • Tala, Laya and, Chhand • Kirtan and Tamasha • The Poet-singer (Shabir), Tradition • Tamasha, 12. Food Habits, • Food Habits of People of Kinnaur and Spiti Region • Regional, Changes • Liquor • Food in Lahul Region • Food of Various, Communities • The Bazigar • The Beda (Bodh) • The Bharare, • The Bhojki • The Daule • The Dumna/Bhanjra • The Gaddi, Brahman • The Ghirath • The Jat • The Kayastha • Khatri • The, Labana • The Megh • The Nalband • Food and Drinks • Wine, • Smoking, 13. Dress and Ornaments, • Clothing and Ornaments • Costumes of Pangwalas (Men) •, Costumes of Pangwalans (Women) • Dress of Gaddis, 14. Depressed Class Culture, • The Bangali • The Bansi • The Barwalas and Batwals • The, Chuhra • Betrothal • The Dagi • The Gaderiya • The Julaha, • The Lohar, 15. Kinship Relations, • Kinship in India • Levels of Family Entities • Shrinkage of, Family • Kinship and Social Structure in Himachal • Family, Organisation • Gaddi Tribes • Woman • Posthumous Children, (Chakandu) • Inheritance • Adoption • Kinship Organisation, • Behaviour Between Relatives • Senior Relatives • Junior, Relatives. • Joking Relationship • Lineage and Clan, 16. Language and Literature, • Pahari Dialects • Kinnauri Dialect • Dogri Language •, Literature in Dogri • Creative Writing • Novels • Prose •, Literary Criticism • Growth of Literature • Translation of Literary, Works • Pattas in Dogri • Court Language, 17. Archaeological and Anthropological Findingss, • Temple Types • The Shikhara Temples • The Hill Temples •, Temples of Kulu, Spiti and Lahul • The Bajaura Temple • Stone, and Wood Temples • Archaeology in Kangra Region •, Anthropological Findings, 18. Religious Centres, • Baijnath • Bajaura • Bhimakali • Bhuntar • Bilaspur• Chamba, • Dadh • Daulatpur • Dhungri Van Vihar • Guling • Jawalamukhi, • Kangra • Kangra Valley • Kaza • Keylong • Khajiar •, Khirganga • Kullu • Lahul Valley • Manali • Mandi • Manikaran, 167, 183, 191, 219, 233, 245, 257, 8 Encyclopaedia of Art and Culture in India (Himachal Pradesh), • Masroor • McLeod Ganj • Muhala • Nurpur • Pandoh •, Paonta Saheb • Pattan Valley • Rawalsar Lake • Sainj Valley, • Shimla • Tarna Hill • Tupchiling • Vashishth, 19. Museums and Libraries, • Museums • Chamba: Bhuri Singh Museum, Chamba •, Mandi • Naggar: Himalayan Folk Art Museum • Palampur:, Museum of Agriculture• Shimla, 20. Fairs and Festivals, • Sui Fair • Lavi Fair • Brahmaur-Jatra • Renuka Fair • Kullu, Dussehra • Kangra Fairs • Koti Fair • Nahan Fair • Shivratri, Fair • Nalwari Fair • Jawalamukhi Fair • Natwar Fair, • Festivals • Role of Festivals • Important Festivals • Navratras, • Baisakhi • Haryali • Rakhpunya or Rakhi • Chrewal • Jagra, • Phulech • Sair • Dussehra and Diwali • Lohri • Shivratri, • Nawala, 21. Customs, • Marriage Customs • Marriage Procession • Death Rituals, • Erection of Dhaj • Some Festivals of Pangwals • Lahula, Customs Connected with Birth, Marriage and Death • Betrothal, • Food • Housing and Lifestyle • Ancient Belief in Lahul, • Religion • Peculiar Customs and Behaviour • Halda Festival, • Mass Celebration of Children's Birth in Lahul • Kamgochi, • Mystic Devices to Find Stolen Objects, 22. Folklore and Folk Stories, • Folk Stories • The Story of Ghose • The Vizier's Son and The, Rajah's Son • The Rajah's Son and The Vizier's Son • Bey, Huslo • Result of an Act of Kindness • Folk Songs • Songs, for Social Ceremonies • Birth Songs • Sacred Thread Ceremony, Songs • Marriage Songs, 23. Globalisation of Culture, • Marriage Customs • Globalization and Rate of Change • Ills, of Globalization • Culture Shock • Cultural Capital • Culture in, the Context of Globalization • Globalization of Himachal, Culture • Wealth of Tourism • Temples • Monasteries, • Religious Tourism or Pilgrimage • Powerful Dam: Bhakra, • Shimla and Around • Architectural Heritage • Dalhousie, • Dharamsala • Jagatsukh • Kangra • Kullu • Manali • Masrur, • Shimla, Index, 275, 279, 291, 307, 323, 337About The Book:- This Scientifically Researched 27 Volume Encyclopaedia Of Art And Culture In India Is A Vast Treasure Of Knowledge And Information On 28 States And Seven Union Territories. Each Volume Contains An Introduction On The Particular State Describing Its Origin, History, Geography, Economy, And 23 Chapters On Topics Ranging From The Cultural Change Over Period Of Time From The Very Early Period To The Modern Times To Religion, Pursuit Of Education, Position Of Women, Society And Community Life, The Marriage Systems, Scholars And Their Works, Paintings And Sculpture, Dance, Drama, Music, Food Habits, Dress And Ornaments, Depressed Class Culture, Kinship Relations, Language And Literature Archaeological And Anthropological Findings, Religious Centres, Museums, Archives, Libraries And Literary Societies, Fairs And Festivals, Custom Related To Birth And Death Rituals And Rites, Folklores, Folktales, Myths And Legends, And Globalization And Urbanization Of Culture. The Entire Mass Of Information And Knowledge Has Been Painstakingly Researched, Written And Edited With The Anthropological Point Of View, That Makes This Encyclopaedia All The More Valuable For Purpose Of Scholars In Different Disciplines, Social Scientists, Teacher And Students., About The Author:- Gopal Bhargava, A Prolific Writer And Education At Lucknow University. He Is A Senior Official In Town And Country Planning Organization. He Has Contributed Several Research Papers On Urban Development., Content:- Contents, Introduction, • Origin • Brief History • Geography • Climate • Economy, 1. Cultural Changes Over Period Of Time, • Changes Among The Pangwals • Life Of Panwals: A Closed, System • Dress And Ornaments • Food Habits • Positive And, Negative Attitudinal Changes • Changes Amount The People, Of Kinnaur And Spiti • Changes Observed In Kinnaur • Changes, Observed In Spiti • Social Hierarchies • Changing Customs, 2. Religions, • Observed In Spiti • Social Hierarchies • Changing Customs, • Hinduism • Buddhism • Buddhism In Kinnaur And Spiti •, Four Sects Of Tibetan Buddhism • Bodhisattvas • Mantra For, Virtue • Moatery And Temple • Jainism • Sikhism • Islam •, Religious Beliefs Of Gaddis • Spirits • Bangalouds • Rituals, And Sacrifices, 3. Educational And Learning, • Education In Bilaspur • Education In Chamba • Education, In Hamirpur • Education In Kangra • Education In Kullu Region, • Education In Mandi • Government Programmes And Tribal, Education • Unsuitable Curriculum • Changing Education And, Society • Fillip To Tribal Language • Pleasures Of Tribal Life, And Learning • Oral And Written Cultures • Superstitions •, New Skills And Technologies • New Skills And Technologies, 4. Position Of Women, • Himachal'S Tantric Buddhist Women • Women Of Kullu, Region • The Bangali In Himachal Pradesh • The Bansi • The, Batwal • The Bhisti • The Bodh • The Chanal • The Christian, • The Dagoli • The Dosali • The Gaddi Brahman • The Gaddi, Rajput • The Gaur Brahman • The Ghai • The Gosain • The, Gujjar (Hindu) • The Hali • The Jheewar • Social Status Of, Women In Brahampur Village, 9, 15, 29, 41, 67, 6 Encyclopaedia Of Art And Culture In India (Himachal Pradesh), 5. Social And Community Life, • The Gujjar: A Pastoral Tribe • The Gaddis • The Ashvamukha, Kinners • Music Song And Dance, 6. The Marriage System, • The Gaddi Marriage • Marriage Rules • Kinds Of Marriages, • Marriage Ceremonies • Departure To Bride'S House • At The, Entrance Of Bride'S Place • Kanyadan • Completion • Marriage, In Kullu--Lahaul-Spiti Region • Kullu Marriage • Widows •, Betrothal And Marriage Ceremonies • Lahaul Marriage • Spiti, Marriage, 7. Scholars And Theire Works, • Religion • Physical Features • Residential Pattern • Dress, • Utensils • Social And Cultural Life • Fairs And Festivals •, Beliefs And Superstitions • Devi Chandika Tample (Kothi) •, General Superstitions • Evil Spirits • Untouchability And Social, Status Of Women, 8. Paintings And Sculpture, • Kangra School Of Paintings • Artists Of Kangra Style Of, Paintings• Miniature Paintings Of Guler School • The Chamba, School Of Paintings • Tantrik School Of Paintings • Himachal, Murals • Akhand Chandi Palace, Chamba Town • Shakti Devi, Temple, Chhatrari • Braj Raj Dihari Temple, Nurpur •, Narbadeshvar Temple, Tira Sujanpur • Sivalaya Temple, In The, Palace At Nandaun, 9. Dance, • Dandaras Dance • Phual Dance • Chhatrari Dance • Sikri, Dance • Churah Dance • Ghurain Dance • Kinner Dances •, The Lama Devil Dance • Jhanjar Dance • Gaddi Dance • Shun, And Shaboo Dances • Japro Dance • Dodra Kawar Dance •, Kulu Valley Dances • Some Dance Songs • Dance Song •, Festivals And Dance • Dance In Chamba Hills, 10. Drama, • Dance And Drama In Folklore • Nati: Dance-Drama • Two, Groups Dances • Masked Dance • Kirtan And Tamasha • The, Poet-Singer (Shabir) Tradition • Tamasha, 11. Music, • Gaddi Music • Music • Tribal Music Instruments • Folk, Songs • Features Of Gaddi Music • Mythological Traditions, • Kinners And Music • Details Of Musical Instruments • Details, Of Musical Instruments • Chordo-Phonic Instruments • Aero-, Phonic Instruments • Idio-Phonic Instruments • Ghanta •, 67, 83, 97, 117, 129, 139, 153, Contents 7, Membrano-Phonic Instruments • Rhythm • Tala, Laya And, Chhand • Kirtan And Tamasha • The Poet-Singer (Shabir), Tradition • Tamasha, 12. Food Habits, • Food Habits Of People Of Kinnaur And Spiti Region • Regional, Changes • Liquor • Food In Lahul Region • Food Of Various, Communities • The Bazigar • The Beda (Bodh) • The Bharare, • The Bhojki • The Daule • The Dumna/Bhanjra • The Gaddi, Brahman • The Ghirath • The Jat • The Kayastha • Khatri • The, Labana • The Megh • The Nalband • Food And Drinks • Wine, • Smoking, 13. Dress And Ornaments, • Clothing And Ornaments • Costumes Of Pangwalas (Men) •, Costumes Of Pangwalans (Women) • Dress Of Gaddis, 14. Depressed Class Culture, • The Bangali • The Bansi • The Barwalas And Batwals • The, Chuhra • Betrothal • The Dagi • The Gaderiya • The Julaha, • The Lohar, 15. Kinship Relations, • Kinship In India • Levels Of Family Entities • Shrinkage Of, Family • Kinship And Social Structure In Himachal • Family, Organisation • Gaddi Tribes • Woman • Posthumous Children, (Chakandu) • Inheritance • Adoption • Kinship Organisation, • Behaviour Between Relatives • Senior Relatives • Junior, Relatives. • Joking Relationship • Lineage And Clan, 16. Language And Literature, • Pahari Dialects • Kinnauri Dialect • Dogri Language •, Literature In Dogri • Creative Writing • Novels • Prose •, Literary Criticism • Growth Of Literature • Translation Of Literary, Works • Pattas In Dogri • Court Language, 17. Archaeological And Anthropological Findingss, • Temple Types • The Shikhara Temples • The Hill Temples •, Temples Of Kulu, Spiti And Lahul • The Bajaura Temple • Stone, And Wood Temples • Archaeology In Kangra Region •, Anthropological Findings, 18. Religious Centres, • Baijnath • Bajaura • Bhimakali • Bhuntar • Bilaspur• Chamba, • Dadh • Daulatpur • Dhungri Van Vihar • Guling • Jawalamukhi, • Kangra • Kangra Valley • Kaza • Keylong • Khajiar •, Khirganga • Kullu • Lahul Valley • Manali • Mandi • Manikaran, 167, 183, 191, 219, 233, 245, 257, 8 Encyclopaedia Of Art And Culture In India (Himachal Pradesh), • Masroor • Mcleod Ganj • Muhala • Nurpur • Pandoh •, Paonta Saheb • Pattan Valley • Rawalsar Lake • Sainj Valley, • Shimla • Tarna Hill • Tupchiling • Vashishth, 19. Museums And Libraries, • Museums • Chamba: Bhuri Singh Museum, Chamba •, Mandi • Naggar: Himalayan Folk Art Museum • Palampur:, Museum Of Agriculture• Shimla, 20. Fairs And Festivals, • Sui Fair • Lavi Fair • Brahmaur-Jatra • Renuka Fair • Kullu, Dussehra • Kangra Fairs • Koti Fair • Nahan Fair • Shivratri, Fair • Nalwari Fair • Jawalamukhi Fair • Natwar Fair, • Festivals • Role Of Festivals • Important Festivals • Navratras, • Baisakhi • Haryali • Rakhpunya Or Rakhi • Chrewal • Jagra, • Phulech • Sair • Dussehra And Diwali • Lohri • Shivratri, • Nawala, 21. Customs, • Marriage Customs • Marriage Procession • Death Rituals, • Erection Of Dhaj • Some Festivals Of Pangwals • Lahula, Customs Connected With Birth, Marriage And Death • Betrothal, • Food • Housing And Lifestyle • Ancient Belief In Lahul, • Religion • Peculiar Customs And Behaviour • Halda Festival, • Mass Celebration Of Children'S Birth In Lahul • Kamgochi, • Mystic Devices To Find Stolen Objects, 22. Folklore And Folk Stories, • Folk Stories • The Story Of Ghose • The Vizier'S Son And The, Rajah'S Son • The Rajah'S Son And The Vizier'S Son • Bey, Huslo • Result Of An Act Of Kindness • Folk Songs • Songs, For Social Ceremonies • Birth Songs • Sacred Thread Ceremony, Songs • Marriage Songs, 23. Globalisation Of Culture, • Marriage Customs • Globalization And Rate Of Change • Ills, Of Globalization • Culture Shock • Cultural Capital • Culture In, The Context Of Globalization • Globalization Of Himachal, Culture • Wealth Of Tourism • Temples • Monasteries, • Religious Tourism Or Pilgrimage • Powerful Dam: Bhakra, • Shimla And Around • Architectural Heritage • Dalhousie, • Dharamsala • Jagatsukh • Kangra • Kullu • Manali • Masrur, • Shimla, Index, 275, 279, 291, 307, 323, 337
Read less
Other books by Ed.Gopal Bhargava
Recommended Books for you - See all
Price
:
Rs. 1080
Rs.801
You save: Rs.279
Vendor :
Gyan Books Pvt.Ltd, Delhi
FREE SHIPPING | Delivered in 5 working days
(Cash on delivery available)
Be assured. 7 days Return & Refund Policy.
Click here
2 offers starting from Rs. 801
Rs.801 FREE SHIPPING

In stock | Delivered in 5 working days

Gyan Books Pvt.Ltd, Delhi

Add to cart

Rs.1068 FREE SHIPPING

In stock | Delivered in 5 working days

Anshika Books, Delhi

Add to cart