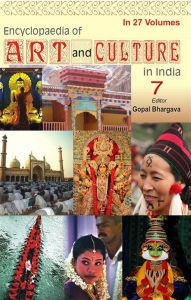 Encyclopaedia of Art And Culture In India (Jammu & Kashmir) 7Th Volume
Product Details:
Share this by email:
ISBN:
9788182054479
Publisher
:
Isha Books
Year of publishing:
2008
Format:
Hardback
No of Pages:
418
Language
: English
Description About The Author:- Gopal Bhargava, a prolific writer and education at Lucknow University. He is a senior official in Town and Country Planning Organization. He has contributed several research...
Read more
Description About The Author:- Gopal Bhargava, a prolific writer and education at Lucknow University. He is a senior official in Town and Country Planning Organization. He has contributed several research papers on urban development.Contents:- Contents, Introduction, Origin, History, Geography, Economy, Agriculture, Low Per Capita Income, Handicrafts., 1. Cultural Change Over Period of Time 25, Pre-historic Times, Kanishka Rule, Kashmir Shaiva, Philosophy, Arrival of Islam, Kashmiri Arts, Kashmiri, Language, Literature, Changes in Modern Times., 2. Religions 37, Hinduism, Islam, Buddhism, Christianity, Sikhism, Religous, demography of the State, Advent of Islam, Conversion to, Islam, arrival of sufis from Central Asia, Gyalpo Rinchana, Hinduism, Rishis., 3. Education and Learning 53, Ancient Education, Medieval Education, Persian, Urdu and, Sanskrit Education, Modern Education, Human Resource, Development., 4. Position of Women 67, Women's sorry tale of Woe, Widowhood and other plights, under Impact of Terrorism, Lack of education, Inheritance., 5. Society and Community Life 83, Character of Kashmiri People, Social Structure, Kashmiri, Community influx, Society in Ladakh., 6. The Marriage System 99, Marriage in Kashmiri Muslims, Marriage of Pandits, Marriage, in Jammu, Marriage Ladakh, Gardi Marriage, Beda Marriage, Bazigar Marriage, etc. Dowry and Bride-price System., 7. Scholars and Their Works 115, Poet Kahana, Lal Ded, Nand Rishi, Brihmanand Tirth, Lala, Lakhman, and their works., 8. Paintings and Sculpture 131, Paintings in Jammu Region, Kashmir Region, Folk Paintings, in Kashmir, Miniatures, Calligraphy, Sculpture., 9. Dance 145, Folk Dances of Hindus and Muslims, Buddhists mystery, Dance-plays in Ladakh., 10. Drama 159, Kashmiri Theatre, The Folk Entertainers--Bhands, Tradition, of Kashmiri Plays and Music., 11. Music 175, Ancient Music, Impact of Islam on Hindu Musical Tradition, Sufiana Mauseeq, Musical Instruments, Dongri Lyrics, Kashmiri Lyrics, Folk Songs., 12. Food Habits 191, Staple Food of Jammu, Kashmir and Ladakh, Changing Food, Habits, Tradition of the Wazwan, Commensal Relations Among, Different Social Groups., 13. Dress and Ornaments 207, Tradition Dress, Head Gear, Kangri in Pherans, Dress in, Jammu Region, Sacred Thread, Footwear, Ladakhi Dress, Ornaments., 14. Depressed Class Culture 219, Harijan Outcastes, Scheduled Tribes, Other Backward Castes, Atrocities on Dalits, Suppression of Beda and Mons in, Ladakhi Society, Suppression of Gardis in Jammu., 15. Kinship Relations 237, Family Kinship in Muslim Society, Pandit Caste; Sub-castes, and Clans; Kinship and Marriage, Marriage, Adoption, Inheritance and Death, Parent-Child Relations, Grand Parents, and Children., 16. Language and Literature 253, Dogri Language, Kashmiri Language, Literature, Origin of, Masnavi, Muslim Elegy, Modern Literary Movements., 17. Archaeological and Anthropological Findings 273, Early Excavations under the British Rule, Excavations at, Burzahom, Srinagar, Excavations Relating to Indus Valley, and, Harappans, Archaeological Remains, Bio-Anthropological, Measurements and other Anthropological Findings., 18. Religons Centres 287, Islamic, Hindu and Buddhist Shrines : Hazratbal and other, Shrines, Shrine of Bab Zain-ud-din, etc. Holy cave of Sri, Amarnath, other Hindu Shrines, Buddhist Gompas in Ladakh., 19. Museums and Libraries 303, Museums in Kashmir and Jammu, Libraries, Literary Societies, Jammu & Kashmir Academy of Arts, Culture and Language, Other Institutions., 20. Fairs and Festivals 321, Festivals of Hindus, Muslim Fairs and Festivals, Festivals of, Kashmiri Pandits, Sikh and Christian Festivals., 21. Customs 339, Hindu Birth Rituals in Kashmir, Muslim Birth Rituals, Buddhist, Rituals, other Rituals Relating to Death in Kashmir, Jammu, and Ladakh in Different Religions and Castes, like Beda, Chibs, Dogra, Bhat Muslims etc., 22. Folklore and Folk Stories 355, History of Kashmiri Folklore, Contributions to Buddhist Jatak, Kathas, Panchtantra, and Kathasaritsagara, Researches on, Kashmiri Folklore and Tales, Folk Songs, Kashmiri Proverbs., 23. Globalisation of Culture 367, Modern Trend of Urbanisation and Globalisation in Society, Education, Dress, Agriculture and Economy, Modernisation, of Kashmiri Pandits, Jain, Chibs, Mughal, Saiyids and other, Low Caste Groups in Kashmir, Jammu and Ladakh Regions, Civilising Effects on Tribals, Globalisation of Culture through, Television, Radio and Newspapers, and Western Education;, Impact of Foreign Terrorism, Islamisation of Culture Threat, of Violence., Index 385About The Book:- This Scientifically Researched 27 Volume Encyclopaedia Of Art And Culture In India Is A Vast Treasure Of Knowledge And Information On 28 States And Seven Union Territories. Each Volume Contains An Introduction On The Particular State Describing Its Origin, History, Geography, Economy, And 23 Chapters On Topics Ranging From The Cultural Change Over Period Of Time From The Very Early Period To The Modern Times To Religion, Pursuit Of Education, Position Of Women, Society And Community Life, The Marriage Systems, Scholars And Their Works, Paintings And Sculpture, Dance, Drama, Music, Food Habits, Dress And Ornaments, Depressed Class Culture, Kinship Relations, Language And Literature Archaeological And Anthropological Findings, Religious Centres, Museums, Archives, Libraries And Literary Societies, Fairs And Festivals, Custom Related To Birth And Death Rituals And Rites, Folklores, Folktales, Myths And Legends, And Globalization And Urbanization Of Culture. The Entire Mass Of Information And Knowledge Has Been Painstakingly Researched, Written And Edited With The Anthropological Point Of View, That Makes This Encyclopaedia All The More Valuable For Purpose Of Scholars In Different Disciplines, Social Scientists, Teacher And Students., About The Author:- Gopal Bhargava, A Prolific Writer And Education At Lucknow University. He Is A Senior Official In Town And Country Planning Organization. He Has Contributed Several Research Papers On Urban Development., Content:- Contents, Introduction, Origin, History, Geography, Economy, Agriculture, Low Per Capita Income, Handicrafts., 1. Cultural Change Over Period Of Time 25, Pre-Historic Times, Kanishka Rule, Kashmir Shaiva, Philosophy, Arrival Of Islam, Kashmiri Arts, Kashmiri, Language, Literature, Changes In Modern Times., 2. Religions 37, Hinduism, Islam, Buddhism, Christianity, Sikhism, Religous, Demography Of The State, Advent Of Islam, Conversion To, Islam, Arrival Of Sufis From Central Asia, Gyalpo Rinchana, Hinduism, Rishis., 3. Education And Learning 53, Ancient Education, Medieval Education, Persian, Urdu And, Sanskrit Education, Modern Education, Human Resource, Development., 4. Position Of Women 67, Women'S Sorry Tale Of Woe, Widowhood And Other Plights, Under Impact Of Terrorism, Lack Of Education, Inheritance., 5. Society And Community Life 83, Character Of Kashmiri People, Social Structure, Kashmiri, Community Influx, Society In Ladakh., 6. The Marriage System 99, Marriage In Kashmiri Muslims, Marriage Of Pandits, Marriage, In Jammu, Marriage Ladakh, Gardi Marriage, Beda Marriage, Bazigar Marriage, Etc. Dowry And Bride-Price System., 7. Scholars And Their Works 115, Poet Kahana, Lal Ded, Nand Rishi, Brihmanand Tirth, Lala, Lakhman, And Their Works., 8. Paintings And Sculpture 131, Paintings In Jammu Region, Kashmir Region, Folk Paintings, In Kashmir, Miniatures, Calligraphy, Sculpture., 9. Dance 145, Folk Dances Of Hindus And Muslims, Buddhists Mystery, Dance-Plays In Ladakh., 10. Drama 159, Kashmiri Theatre, The Folk Entertainers--Bhands, Tradition, Of Kashmiri Plays And Music., 11. Music 175, Ancient Music, Impact Of Islam On Hindu Musical Tradition, Sufiana Mauseeq, Musical Instruments, Dongri Lyrics, Kashmiri Lyrics, Folk Songs., 12. Food Habits 191, Staple Food Of Jammu, Kashmir And Ladakh, Changing Food, Habits, Tradition Of The Wazwan, Commensal Relations Among, Different Social Groups., 13. Dress And Ornaments 207, Tradition Dress, Head Gear, Kangri In Pherans, Dress In, Jammu Region, Sacred Thread, Footwear, Ladakhi Dress, Ornaments., 14. Depressed Class Culture 219, Harijan Outcastes, Scheduled Tribes, Other Backward Castes, Atrocities On Dalits, Suppression Of Beda And Mons In, Ladakhi Society, Suppression Of Gardis In Jammu., 15. Kinship Relations 237, Family Kinship In Muslim Society, Pandit Caste; Sub-Castes, And Clans; Kinship And Marriage, Marriage, Adoption, Inheritance And Death, Parent-Child Relations, Grand Parents, And Children., 16. Language And Literature 253, Dogri Language, Kashmiri Language, Literature, Origin Of, Masnavi, Muslim Elegy, Modern Literary Movements., 17. Archaeological And Anthropological Findings 273, Early Excavations Under The British Rule, Excavations At, Burzahom, Srinagar, Excavations Relating To Indus Valley, And, Harappans, Archaeological Remains, Bio-Anthropological, Measurements And Other Anthropological Findings., 18. Religons Centres 287, Islamic, Hindu And Buddhist Shrines : Hazratbal And Other, Shrines, Shrine Of Bab Zain-Ud-Din, Etc. Holy Cave Of Sri, Amarnath, Other Hindu Shrines, Buddhist Gompas In Ladakh., 19. Museums And Libraries 303, Museums In Kashmir And Jammu, Libraries, Literary Societies, Jammu & Kashmir Academy Of Arts, Culture And Language, Other Institutions., 20. Fairs And Festivals 321, Festivals Of Hindus, Muslim Fairs And Festivals, Festivals Of, Kashmiri Pandits, Sikh And Christian Festivals., 21. Customs 339, Hindu Birth Rituals In Kashmir, Muslim Birth Rituals, Buddhist, Rituals, Other Rituals Relating To Death In Kashmir, Jammu, And Ladakh In Different Religions And Castes, Like Beda, Chibs, Dogra, Bhat Muslims Etc., 22. Folklore And Folk Stories 355, History Of Kashmiri Folklore, Contributions To Buddhist Jatak, Kathas, Panchtantra, And Kathasaritsagara, Researches On, Kashmiri Folklore And Tales, Folk Songs, Kashmiri Proverbs., 23. Globalisation Of Culture 367, Modern Trend Of Urbanisation And Globalisation In Society, Education, Dress, Agriculture And Economy, Modernisation, Of Kashmiri Pandits, Jain, Chibs, Mughal, Saiyids And Other, Low Caste Groups In Kashmir, Jammu And Ladakh Regions, Civilising Effects On Tribals, Globalisation Of Culture Through, Television, Radio And Newspapers, And Western Education;, Impact Of Foreign Terrorism, Islamisation Of Culture Threat, Of Violence., Index 385
Read less
Other books by Ed.Gopal Bhargava
Recommended Books for you - See all
Price
:
Rs. 1250
Rs.927
You save: Rs.323
Vendor :
Gyan Books Pvt.Ltd, Delhi
FREE SHIPPING | Delivered in 5 working days
(Cash on delivery available)
Be assured. 7 days Return & Refund Policy.
Click here
2 offers starting from Rs. 927
Rs.927 FREE SHIPPING

In stock | Delivered in 5 working days

Gyan Books Pvt.Ltd, Delhi

Add to cart

Rs.1236 FREE SHIPPING

In stock | Delivered in 5 working days

Anshika Books, Delhi

Add to cart