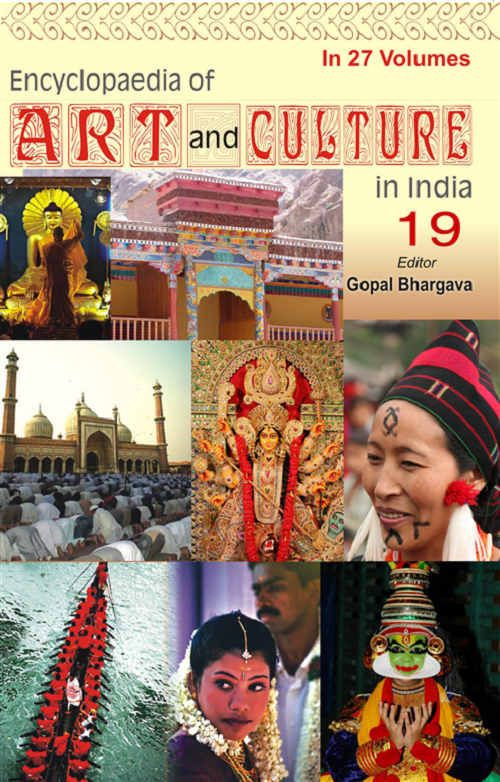 Encyclopaedia of Art And Culture In India (Orissa) 19Th Volume
Product Details:
Share this by email:
ISBN:
9788182054592
Publisher
:
Isha Books
Year of publishing:
2008
Format:
Hardback
No of Pages:
348
Language
: English
Description About The Author:- Gopal Bhargava, a prolific writer and education at Lucknow University. He is a senior official in Town and Country Planning Organization. He has contributed several research...
Read more
Description About The Author:- Gopal Bhargava, a prolific writer and education at Lucknow University. He is a senior official in Town and Country Planning Organization. He has contributed several research papers on urban development.Contents:- Contents, Introduction 9, Origin • Brief History • The Hindu Rule : Its End • The Mughal, Empire in Orissa • Rule of Marathas • The British Entry in, Orissa • Freedom Movement • Geography • Physical Features, of the Land • Economy., 1. Cultural Changes over Period of Time 15, Changes and Reasons • Problems of Tribals • Cultural, Intercourse • Changes in Tribal Religious System • Sociocultural, Changes in British Times • Change--A Continuous, Process., 2. Religions 31, Jainism • Buddhism • Patronage to Buddhism, • Tantric Buddhism • Sakti Cult • The Jagannath Cult, • Christianity., 3. Education and Learning 53, Village Pathshala System of Bhudeb Mukherjee • Primary, Education : Campbell's Scheme • Scheme of Vernacular, Education • Industrial Education • Woman Education, • Indigenous System of Education • Muslim Education, • Higher Education., 4. Position of Women 67, Domestic Duties • Fading Charms • Women of Kongoda in, Sailodbhavas Times • Social Transition • Problems of the, Aged Women • The Aged Women and Health • The Santhal, Women • Effects of Ageing on Body System • Health Care, Provision • Need for Special Attention., 6 Encyclopaedia of Art and Culture in India (Orissa), 5. Society and Community Life 75, Social Life in Kongoda in Early Times • Tantric Art, • Amusements • Tribal Life., 6. The Marriage System 89, Polygamy and Monogamy • Different Forms of Marriage, • High Sexual Morality • The Bhuiya Marriage • The Juang, Marriage • Infant and Adult Marriage • The Hindu Marriage, in Ancient Times • Contributions of Local Customs • Present, Hindu Marriage Norms., 7. Scholars and Their Works 105, Sarala Das • Akhil Mohan Patnaik (1927-1982) • Ananta, Pattanaik (b. 1914) • Baikunthanath Pattanayak (1901-1979) •, Basanta Kumari Pattanayak (b. 1923) • Bhanja Kishore, Pattanayak (b. 1922) • Bibhuti Pattanayak (b. 1939), • Deviprasanna Pattanayak (b. 1931) • Gopala Krishna, Pattanayak (1784-1862) • Krishnachandra Panigrahi (1909-, 1987) • Artaballava Mohanty (1887-1963) • Gopinatha, Mohanty (1914) • Guruprasad Mohanty (b. 1924), • Anantaprasad Panda (b. 1906) • Rajendra Panda (b. 1944) •, Srichandana Partha (16th century) • Ratnakara Pati (1881-, 1969) • Upendra Bhanja (17th century)., 8. Paintings and Sculpture 125, Medieval Evidence • Palm Leaf Etching • Some Orissa Murals, : Location and Style • The Sculptures., 9. Dance 137, Orissa's Contribution to Dance Art • Character of Folk-dance, • Odissi Dance., 10. Drama 149, Four Different Models • Dramatists and their Works • Two, Powerful Dramatists • Actor and Playwright • Srujani : The, Theatre Group • Jatra : Traditional Theatre of Orissa • The, Technique of Production., 11. Music 165, Growth of Music in Past • Patronage of Ganga Emperors, • Evolution of Odissi Music • A Form of Indian Classical, 7, Music • Language of Expression • Main Ingredients of Indian, Classical Music • Ancient Vocal Instrumental Music • Music, and Sculptures • Music in Villages • Udra Paddhati • Musical, Technique., 12. Food and Habits 181, Milk Preparations • Beverages • Popular Foods of other States, • Food Habits of Santhals • Animal Flesh • Infant Food ., 13. Dress and Ornaments 191, Dresses of Men • Dresses of Women • Special Dresses, • Dress of the Hos • Change in Dress Pattern in Modern, Times • Dress of Juang • Dress of the Kondh • Dress of, Mundas • Dress of the Oraons., 14. Depressed Class Culture 201, Social Life and Culture • Amusements • Songs and Dances, • Rites, Beliefs and Taboos • Polytheism • Birth Related, Ceremonies • Death Rituals., 15. Kinship Relations 217, Family and Kinship in India • Joint Family in India • The, Implications of Multicultural Society • Future Outlook, • Kinship and Clans in Orissan Communities., 16. Language and Literature 229, Early Literature • Influence of Saktism • The Middle Period, Literature • Literature in Modern Times • Satyavadi Yuga, • Sabuja Yuga • Literature Post-Independence • Rare Palm, Leaf Manuscripts., 17. Archaeological and Anthropological Findings 247, Pre-historic Sites • Microlith Tools • Jaina Architecture, • The Caves • Bronze Images • Buddhist Architecture, • Remains in Jajpur Town • Brahmanical Temple Art • The, Temples of Bhauma-kara Period • Fortified Township, • Anthropological Findings • Racial Element • Languages, and Customs as Cultural Linkages., 18. Religious Centres 261, Saivism and Siva Temples • Popular Religious Centres, • Aradi • Baidyanath • Bargarh • Bhubaneshwar, • Budhikomna • Chandikhol • Cuttack • Deulajhari • Devagiri, Contents, 8 Encyclopaedia of Art and Culture in India (Orissa), • Dhenkanal • Ghatagaon Tarini • Huma • Jharsuguda, • Joranda • Junagarh • Kakatpur • Kapilas • Nirmaljhar, • Patnagarh • Pipli • Puri • Ranipur-Jharial • Remuna, • Sambalpur • Sonepur • Vedavyas., 19. Museums, Archives and Libraries 277, Museums • Libraries • Information Technology and Libraries, • Cultural and Literary Societies., 20. Fairs and Festivals 285, Baseli Puja • Baitarani Jatra • Baruni Jatra • Durga Puja Festival, • Huma Jatra • Jagannatha Temple Festivals • Kartika Purnima, • Mahashivaratri or Jagara • Ratha Yatra • Basanta Panchami, • Khandagiri Jatra • Ratnagiri Jatra • Samalia Puja • Festivities, of Tribals., 21. Customs 305, Crisis Rites • Birth Rites • Pubescent Rites • Marriage Rites •, Funeral Rites • Annual Cycle of Rituals/Cyclical Group Rites, • The Practice of Infanticide • Gender and Infanticide • Strange, Belief., 22. Folklore and Folk Stories 317, Folk Songs • Chaitaparva Songs • Dalkhai • Rasarkeli and, Mayal Jada Songs • Halia Songs • Bullock-cart Related Songs, • Folk Tales • The Jackal and The Tigers • The Wild Buffaloes, • The Grateful Cow • Folk Drama., 23. Globalisation of Culture 329, The Cult of Jagannath • The Black Pagoda • The Odissi, Dance • Mineral Wealth., Index 339About The Book:- This Scientifically Researched 27 Volume Encyclopaedia Of Art And Culture In India Is A Vast Treasure Of Knowledge And Information On 28 States And Seven Union Territories. Each Volume Contains An Introduction On The Particular State Describing Its Origin, History, Geography, Economy, And 23 Chapters On Topics Ranging From The Cultural Change Over Period Of Time From The Very Early Period To The Modern Times To Religion, Pursuit Of Education, Position Of Women, Society And Community Life, The Marriage Systems, Scholars And Their Works, Paintings And Sculpture, Dance, Drama, Music, Food Habits, Dress And Ornaments, Depressed Class Culture, Kinship Relations, Language And Literature Archaeological And Anthropological Findings, Religious Centres, Museums, Archives, Libraries And Literary Societies, Fairs And Festivals, Custom Related To Birth And Death Rituals And Rites, Folklores, Folktales, Myths And Legends, And Globalization And Urbanization Of Culture. The Entire Mass Of Information And Knowledge Has Been Painstakingly Researched, Written And Edited With The Anthropological Point Of View, That Makes This Encyclopaedia All The More Valuable For Purpose Of Scholars In Different Disciplines, Social Scientists, Teacher And Students., About The Author:- Gopal Bhargava, A Prolific Writer And Education At Lucknow University. He Is A Senior Official In Town And Country Planning Organization. He Has Contributed Several Research Papers On Urban Development., Content:- Contents, Introduction 9, Origin • Brief History • The Hindu Rule : Its End • The Mughal, Empire In Orissa • Rule Of Marathas • The British Entry In, Orissa • Freedom Movement • Geography • Physical Features, Of The Land • Economy., 1. Cultural Changes Over Period Of Time 15, Changes And Reasons • Problems Of Tribals • Cultural, Intercourse • Changes In Tribal Religious System • Sociocultural, Changes In British Times • Change--A Continuous, Process., 2. Religions 31, Jainism • Buddhism • Patronage To Buddhism, • Tantric Buddhism • Sakti Cult • The Jagannath Cult, • Christianity., 3. Education And Learning 53, Village Pathshala System Of Bhudeb Mukherjee • Primary, Education : Campbell'S Scheme • Scheme Of Vernacular, Education • Industrial Education • Woman Education, • Indigenous System Of Education • Muslim Education, • Higher Education., 4. Position Of Women 67, Domestic Duties • Fading Charms • Women Of Kongoda In, Sailodbhavas Times • Social Transition • Problems Of The, Aged Women • The Aged Women And Health • The Santhal, Women • Effects Of Ageing On Body System • Health Care, Provision • Need For Special Attention., 6 Encyclopaedia Of Art And Culture In India (Orissa), 5. Society And Community Life 75, Social Life In Kongoda In Early Times • Tantric Art, • Amusements • Tribal Life., 6. The Marriage System 89, Polygamy And Monogamy • Different Forms Of Marriage, • High Sexual Morality • The Bhuiya Marriage • The Juang, Marriage • Infant And Adult Marriage • The Hindu Marriage, In Ancient Times • Contributions Of Local Customs • Present, Hindu Marriage Norms., 7. Scholars And Their Works 105, Sarala Das • Akhil Mohan Patnaik (1927-1982) • Ananta, Pattanaik (B. 1914) • Baikunthanath Pattanayak (1901-1979) •, Basanta Kumari Pattanayak (B. 1923) • Bhanja Kishore, Pattanayak (B. 1922) • Bibhuti Pattanayak (B. 1939), • Deviprasanna Pattanayak (B. 1931) • Gopala Krishna, Pattanayak (1784-1862) • Krishnachandra Panigrahi (1909-, 1987) • Artaballava Mohanty (1887-1963) • Gopinatha, Mohanty (1914) • Guruprasad Mohanty (B. 1924), • Anantaprasad Panda (B. 1906) • Rajendra Panda (B. 1944) •, Srichandana Partha (16Th Century) • Ratnakara Pati (1881-, 1969) • Upendra Bhanja (17Th Century)., 8. Paintings And Sculpture 125, Medieval Evidence • Palm Leaf Etching • Some Orissa Murals, : Location And Style • The Sculptures., 9. Dance 137, Orissa'S Contribution To Dance Art • Character Of Folk-Dance, • Odissi Dance., 10. Drama 149, Four Different Models • Dramatists And Their Works • Two, Powerful Dramatists • Actor And Playwright • Srujani : The, Theatre Group • Jatra : Traditional Theatre Of Orissa • The, Technique Of Production., 11. Music 165, Growth Of Music In Past • Patronage Of Ganga Emperors, • Evolution Of Odissi Music • A Form Of Indian Classical, 7, Music • Language Of Expression • Main Ingredients Of Indian, Classical Music • Ancient Vocal Instrumental Music • Music, And Sculptures • Music In Villages • Udra Paddhati • Musical, Technique., 12. Food And Habits 181, Milk Preparations • Beverages • Popular Foods Of Other States, • Food Habits Of Santhals • Animal Flesh • Infant Food ., 13. Dress And Ornaments 191, Dresses Of Men • Dresses Of Women • Special Dresses, • Dress Of The Hos • Change In Dress Pattern In Modern, Times • Dress Of Juang • Dress Of The Kondh • Dress Of, Mundas • Dress Of The Oraons., 14. Depressed Class Culture 201, Social Life And Culture • Amusements • Songs And Dances, • Rites, Beliefs And Taboos • Polytheism • Birth Related, Ceremonies • Death Rituals., 15. Kinship Relations 217, Family And Kinship In India • Joint Family In India • The, Implications Of Multicultural Society • Future Outlook, • Kinship And Clans In Orissan Communities., 16. Language And Literature 229, Early Literature • Influence Of Saktism • The Middle Period, Literature • Literature In Modern Times • Satyavadi Yuga, • Sabuja Yuga • Literature Post-Independence • Rare Palm, Leaf Manuscripts., 17. Archaeological And Anthropological Findings 247, Pre-Historic Sites • Microlith Tools • Jaina Architecture, • The Caves • Bronze Images • Buddhist Architecture, • Remains In Jajpur Town • Brahmanical Temple Art • The, Temples Of Bhauma-Kara Period • Fortified Township, • Anthropological Findings • Racial Element • Languages, And Customs As Cultural Linkages., 18. Religious Centres 261, Saivism And Siva Temples • Popular Religious Centres, • Aradi • Baidyanath • Bargarh • Bhubaneshwar, • Budhikomna • Chandikhol • Cuttack • Deulajhari • Devagiri, Contents, 8 Encyclopaedia Of Art And Culture In India (Orissa), • Dhenkanal • Ghatagaon Tarini • Huma • Jharsuguda, • Joranda • Junagarh • Kakatpur • Kapilas • Nirmaljhar, • Patnagarh • Pipli • Puri • Ranipur-Jharial • Remuna, • Sambalpur • Sonepur • Vedavyas., 19. Museums, Archives And Libraries 277, Museums • Libraries • Information Technology And Libraries, • Cultural And Literary Societies., 20. Fairs And Festivals 285, Baseli Puja • Baitarani Jatra • Baruni Jatra • Durga Puja Festival, • Huma Jatra • Jagannatha Temple Festivals • Kartika Purnima, • Mahashivaratri Or Jagara • Ratha Yatra • Basanta Panchami, • Khandagiri Jatra • Ratnagiri Jatra • Samalia Puja • Festivities, Of Tribals., 21. Customs 305, Crisis Rites • Birth Rites • Pubescent Rites • Marriage Rites •, Funeral Rites • Annual Cycle Of Rituals/Cyclical Group Rites, • The Practice Of Infanticide • Gender And Infanticide • Strange, Belief., 22. Folklore And Folk Stories 317, Folk Songs • Chaitaparva Songs • Dalkhai • Rasarkeli And, Mayal Jada Songs • Halia Songs • Bullock-Cart Related Songs, • Folk Tales • The Jackal And The Tigers • The Wild Buffaloes, • The Grateful Cow • Folk Drama., 23. Globalisation Of Culture 329, The Cult Of Jagannath • The Black Pagoda • The Odissi, Dance • Mineral Wealth., Index 339
Read less
Other books by Ed.Gopal Bhargava
Recommended Books for you - See all
Price
:
Rs. 1050
Rs.779
You save: Rs.271
Vendor :
Gyan Books Pvt.Ltd, Delhi
FREE SHIPPING | Delivered in 5 working days
(Cash on delivery available)
Be assured. 7 days Return & Refund Policy.
Click here
2 offers starting from Rs. 779
Rs.779 FREE SHIPPING

In stock | Delivered in 5 working days

Gyan Books Pvt.Ltd, Delhi

Add to cart

Rs.1038 FREE SHIPPING

In stock | Delivered in 5 working days

Anshika Books, Delhi

Add to cart