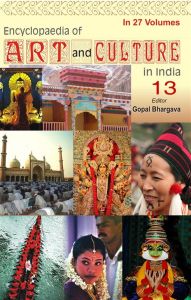 Encyclopaedia of Art And Culture In India (Uttarkhand) 13Th Volume
Product Details:
Share this by email:
ISBN:
9788182054530
Publisher
:
Isha Books
Year of publishing:
2008
Format:
Hardback
No of Pages:
337
Language
: English
Description About The Author:- Gopal Bhargava, a prolific writer and education at Lucknow University. He is a senior official in Town and Country Planning Organization. He has contributed several research...
Read more
Description About The Author:- Gopal Bhargava, a prolific writer and education at Lucknow University. He is a senior official in Town and Country Planning Organization. He has contributed several research papers on urban development.Contents:- Contents, Introduction 9, Origin, Geography, Early History, The Kindom of Garhwal, Kumaon, Rulers, Gorkha's Inversion, Economy, 1. Cultural Change over Period of Time 23, Tea Plantation, Iron, Industries, International Trade, Agricultureal, Reform, Forest, Tillers became Owners, Other Cultural Changes, Rise of Political Aspirations, Agitation for A Seperate State, 2. Religions 35, Re-emergence of Brahmanism, Lord Shiva, Sun-Worshipping, Worship of Duryodhan, Other Sundry Gods, Minor Deities, Paswa, (the Vehicle of deity), Deity's Kinship, Superstitions, Demon-, Worship, Ghata or divine intervention, Human Sacrifice, Sikhism, Muslims, Christians, 3. Education and Learning 47, Education during the British Period, Higher Education, Engineering, College in Tents, Difficulty in Teaching Village Children, Tharu, Education, Buxa Education, Bhotiya's Education, The Modern Times, 4. Position of Women 59, Custom of Sati, Polyandry and Polygynandry, Women vis-a-vis, Husbands, Discrimination Against Girl Child, The Double Role of, Women, Tharu Women, New Awareness, 5. Society and Community Life 69, Ancient Times, Brahmins, Thakurs or Rajputs, Shilpkars, Kols or, Koltas or Doms, Tribals, Tharus, Buxas, Van Gujjars, Rajis, Jaunsaris, Bhotias, Johar Valley, Jadhs, 6. Marriage System 83, Bhotia Marriage, Tharus Marriage, The Legend behind the Marriage, by Capture, Common Marriage, Marriage with widows, Gharbaitha, 6 Encyclopaedia of Art and Culture in India (Uttarakhand), Marriage, Junior Levirate, Urari (or the marriage of divorces), Dola, (virtual sale of girl), Junior Sororate, 7. Scholars and their Works 95, Badri Dutt Pandey, Chander Singh Garhwali, Victor Mohan Joshi, Shri Dev Suman, Anusuya Prasad Bahuguna, Maharaja Kirti Shah, Govind Ballabh Pant, Jogmohan Singh Negi, Mola Ram, Sumitra, Nandan Pant, Dr. Ghanand Pande, Dr. Pitambar Dutt Barthwal, Sukhdev Pande, Ranbir Singh Bisht, Kunwar Singh (Padmashree), Negi, 8. Paintings and Sculptures 109, Stone-age Cave Paintings, Modern Paintings, Pahari Paintings of, Kangra School, Garhwal School of Paintings, Folk Art, Alpana-- or, Floor Decorations, Bar Boond -- or Wall pattern, Patta and Jyonti --, or Figure Drawings, Dikara -- or Clay Images, Sculptures, Temples, Surya Temples, Katyuri Sikhara, 9. Dance 119, Folk Lore, Folk Music and Dance, Four Types of Folk Dances, Professional Performers, Bhotiyas' Dhurang Dance, Dances of the, Possessed, 10. Drama 129, Pandava Lila, A Roaring Success, Art of Garhwal and Kumaon, Mask, Plays, Garhwali Theatre, Jagwal - First Garhwali Movie, Megha AA, - First Kumaoni Movie, 11. Music 141, Musical Lores of Kumaon, May the Goddess of Light Bless You, Songs related to the life cycle rituals, The Festival Songs, Singing to, God, Songs of Love, Sundry Songs, Sweet Melodies, Love for Music, and Art, Musical Instruments, 12. Food Habits 151, Garhwali Food and Diet, Jaunsari Food and Diet, A Lavish Dinner, Buxa Food and Diet, Tharus, Food and Diet, Drinking of Liquor, Rajis' Food, Malnutrition, 13. Dress and Ornaments 163, Male Dress, Female dress, Children's Wear, Tharu Dress, Tharu Males, Garhwali Ornaments, Tharu Ornaments, Buxas' adornment, Personal, Hygiene and Washing of Clothes, Introduction 7, 14. Depressed Class Culture 175, Slaves of Uttarakhand, Koltas - the Bonded Labours, 15. Kinship Relations 185, Marriage Regulations, Divorce and Remarriage, Adoption of Child, Rearing of Child, Interaction in a Family, Polygynous Family, Kinship, Groups, Non-kins addressed by kin Terms, 16. Language and Literature 203, Dialects, Folk Literature, Shivani, Jungle Lore, 17. Archaeological and Anthropological Findings 213, Recent Excavations, Excavations of Mysterious Cist and Urn Burials, Architecture, Anthropology, Homivid and Homo Hominis in, Uttarakhand, Anthropometrical Measurements, 18. Religious Centres 227, Shrine or Kedarnath, Shrine of Gangotri, Shrine of Yomunotri, Pancha-, Prayag, Win Holy Cities of Rishikesh and Hardwar, Jageshwar, Dwarhat, Piran Kaliyar, Shrine of Guru Ram Rai, 19. Museums and Libraries 239, History of Museum in India, Uttarakhand Museums, University of, Roorkee, Archives, Cultural and Literary Societies, Regional Archive, Nainital, The Archive of Dehradun, 20. Fairs and Festivals 251, Nature of Processional Journeys, Other Jaat Performances, Kauthik, Thaul and Ausar, Bissu Festival, Government-sponsored Fairs, Annual Fairs in Kumaon, Bagwal fair at Devidhoora, Mond Festival, Khataruwa, Khyo or Hal-joti, Festival of Haryala, 21. Customs 263, Marriage Types, Bride-Price Marriage, The Marriage Ceremony, Brahminical Ceremony, Hill-Style Ceremony, Marriage of divorcees, or widows, Birth and Childhood Ceremonies, Death Rituals, The, Cremation Rite, Post-Cremation Rites and Rituals, 22. Folklore and Folk Stories 281, Jaunsari Folk Tale, Cracking of Kunckles, Retrieval of Ox, The Fox, and the Bear, Bhotia Tales: A dutiful Bhotia Son, Rai Bahadur-The, Brave Man, The Mother's Councel, The Size of Mango, Tharu Folk, Tales: Encounter with the Demon, Luck Failed the Barber, Poor, 8 Encyclopaedia of Art and Culture in India (Uttarakhand), Brahmin Hits a Jack Pot, Buxa FolkTales: The Jackpot and the Cure, A Failed Trick, Role of Luck, 23. Globalisation of Culture 293, The Socio- Cultural 'Onslaught', Threat to the Himalayas, Index 309About The Book:- This Scientifically Researched 27 Volume Encyclopaedia Of Art And Culture In India Is A Vast Treasure Of Knowledge And Information On 28 States And Seven Union Territories. Each Volume Contains An Introduction On The Particular State Describing Its Origin, History, Geography, Economy, And 23 Chapters On Topics Ranging From The Cultural Change Over Period Of Time From The Very Early Period To The Modern Times To Religion, Pursuit Of Education, Position Of Women, Society And Community Life, The Marriage Systems, Scholars And Their Works, Paintings And Sculpture, Dance, Drama, Music, Food Habits, Dress And Ornaments, Depressed Class Culture, Kinship Relations, Language And Literature Archaeological And Anthropological Findings, Religious Centres, Museums, Archives, Libraries And Literary Societies, Fairs And Festivals, Custom Related To Birth And Death Rituals And Rites, Folklores, Folktales, Myths And Legends, And Globalization And Urbanization Of Culture. The Entire Mass Of Information And Knowledge Has Been Painstakingly Researched, Written And Edited With The Anthropological Point Of View, That Makes This Encyclopaedia All The More Valuable For Purpose Of Scholars In Different Disciplines, Social Scientists, Teacher And Students., About The Author:- Gopal Bhargava, A Prolific Writer And Education At Lucknow University. He Is A Senior Official In Town And Country Planning Organization. He Has Contributed Several Research Papers On Urban Development., Content:- Contents, Introduction 9, Origin, Geography, Early History, The Kindom Of Garhwal, Kumaon, Rulers, Gorkha'S Inversion, Economy, 1. Cultural Change Over Period Of Time 23, Tea Plantation, Iron, Industries, International Trade, Agricultureal, Reform, Forest, Tillers Became Owners, Other Cultural Changes, Rise Of Political Aspirations, Agitation For A Seperate State, 2. Religions 35, Re-Emergence Of Brahmanism, Lord Shiva, Sun-Worshipping, Worship Of Duryodhan, Other Sundry Gods, Minor Deities, Paswa, (The Vehicle Of Deity), Deity'S Kinship, Superstitions, Demon-, Worship, Ghata Or Divine Intervention, Human Sacrifice, Sikhism, Muslims, Christians, 3. Education And Learning 47, Education During The British Period, Higher Education, Engineering, College In Tents, Difficulty In Teaching Village Children, Tharu, Education, Buxa Education, Bhotiya'S Education, The Modern Times, 4. Position Of Women 59, Custom Of Sati, Polyandry And Polygynandry, Women Vis-A-Vis, Husbands, Discrimination Against Girl Child, The Double Role Of, Women, Tharu Women, New Awareness, 5. Society And Community Life 69, Ancient Times, Brahmins, Thakurs Or Rajputs, Shilpkars, Kols Or, Koltas Or Doms, Tribals, Tharus, Buxas, Van Gujjars, Rajis, Jaunsaris, Bhotias, Johar Valley, Jadhs, 6. Marriage System 83, Bhotia Marriage, Tharus Marriage, The Legend Behind The Marriage, By Capture, Common Marriage, Marriage With Widows, Gharbaitha, 6 Encyclopaedia Of Art And Culture In India (Uttarakhand), Marriage, Junior Levirate, Urari (Or The Marriage Of Divorces), Dola, (Virtual Sale Of Girl), Junior Sororate, 7. Scholars And Their Works 95, Badri Dutt Pandey, Chander Singh Garhwali, Victor Mohan Joshi, Shri Dev Suman, Anusuya Prasad Bahuguna, Maharaja Kirti Shah, Govind Ballabh Pant, Jogmohan Singh Negi, Mola Ram, Sumitra, Nandan Pant, Dr. Ghanand Pande, Dr. Pitambar Dutt Barthwal, Sukhdev Pande, Ranbir Singh Bisht, Kunwar Singh (Padmashree), Negi, 8. Paintings And Sculptures 109, Stone-Age Cave Paintings, Modern Paintings, Pahari Paintings Of, Kangra School, Garhwal School Of Paintings, Folk Art, Alpana-- Or, Floor Decorations, Bar Boond -- Or Wall Pattern, Patta And Jyonti --, Or Figure Drawings, Dikara -- Or Clay Images, Sculptures, Temples, Surya Temples, Katyuri Sikhara, 9. Dance 119, Folk Lore, Folk Music And Dance, Four Types Of Folk Dances, Professional Performers, Bhotiyas' Dhurang Dance, Dances Of The, Possessed, 10. Drama 129, Pandava Lila, A Roaring Success, Art Of Garhwal And Kumaon, Mask, Plays, Garhwali Theatre, Jagwal - First Garhwali Movie, Megha Aa, - First Kumaoni Movie, 11. Music 141, Musical Lores Of Kumaon, May The Goddess Of Light Bless You, Songs Related To The Life Cycle Rituals, The Festival Songs, Singing To, God, Songs Of Love, Sundry Songs, Sweet Melodies, Love For Music, And Art, Musical Instruments, 12. Food Habits 151, Garhwali Food And Diet, Jaunsari Food And Diet, A Lavish Dinner, Buxa Food And Diet, Tharus, Food And Diet, Drinking Of Liquor, Rajis' Food, Malnutrition, 13. Dress And Ornaments 163, Male Dress, Female Dress, Children'S Wear, Tharu Dress, Tharu Males, Garhwali Ornaments, Tharu Ornaments, Buxas' Adornment, Personal, Hygiene And Washing Of Clothes, Introduction 7, 14. Depressed Class Culture 175, Slaves Of Uttarakhand, Koltas - The Bonded Labours, 15. Kinship Relations 185, Marriage Regulations, Divorce And Remarriage, Adoption Of Child, Rearing Of Child, Interaction In A Family, Polygynous Family, Kinship, Groups, Non-Kins Addressed By Kin Terms, 16. Language And Literature 203, Dialects, Folk Literature, Shivani, Jungle Lore, 17. Archaeological And Anthropological Findings 213, Recent Excavations, Excavations Of Mysterious Cist And Urn Burials, Architecture, Anthropology, Homivid And Homo Hominis In, Uttarakhand, Anthropometrical Measurements, 18. Religious Centres 227, Shrine Or Kedarnath, Shrine Of Gangotri, Shrine Of Yomunotri, Pancha-, Prayag, Win Holy Cities Of Rishikesh And Hardwar, Jageshwar, Dwarhat, Piran Kaliyar, Shrine Of Guru Ram Rai, 19. Museums And Libraries 239, History Of Museum In India, Uttarakhand Museums, University Of, Roorkee, Archives, Cultural And Literary Societies, Regional Archive, Nainital, The Archive Of Dehradun, 20. Fairs And Festivals 251, Nature Of Processional Journeys, Other Jaat Performances, Kauthik, Thaul And Ausar, Bissu Festival, Government-Sponsored Fairs, Annual Fairs In Kumaon, Bagwal Fair At Devidhoora, Mond Festival, Khataruwa, Khyo Or Hal-Joti, Festival Of Haryala, 21. Customs 263, Marriage Types, Bride-Price Marriage, The Marriage Ceremony, Brahminical Ceremony, Hill-Style Ceremony, Marriage Of Divorcees, Or Widows, Birth And Childhood Ceremonies, Death Rituals, The, Cremation Rite, Post-Cremation Rites And Rituals, 22. Folklore And Folk Stories 281, Jaunsari Folk Tale, Cracking Of Kunckles, Retrieval Of Ox, The Fox, And The Bear, Bhotia Tales: A Dutiful Bhotia Son, Rai Bahadur-The, Brave Man, The Mother'S Councel, The Size Of Mango, Tharu Folk, Tales: Encounter With The Demon, Luck Failed The Barber, Poor, 8 Encyclopaedia Of Art And Culture In India (Uttarakhand), Brahmin Hits A Jack Pot, Buxa Folktales: The Jackpot And The Cure, A Failed Trick, Role Of Luck, 23. Globalisation Of Culture 293, The Socio- Cultural 'Onslaught', Threat To The Himalayas, Index 309
Read less
Other books by Ed.Gopal Bhargava
Recommended Books for you - See all
Price
:
Rs. 1025
Rs.760
You save: Rs.265
Vendor :
Gyan Books Pvt.Ltd, Delhi
FREE SHIPPING | Delivered in 5 working days
(Cash on delivery available)
Be assured. 7 days Return & Refund Policy.
Click here
2 offers starting from Rs. 760
Rs.760 FREE SHIPPING

In stock | Delivered in 5 working days

Gyan Books Pvt.Ltd, Delhi

Add to cart

Rs.1014 FREE SHIPPING

In stock | Delivered in 5 working days

Anshika Books, Delhi

Add to cart