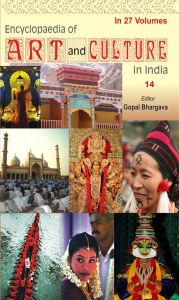 Encyclopaedia of Art And Culture In India (West Bengal) 20Th Volume
Product Details:
Share this by email:
ISBN:
9788182054608
Publisher
:
Isha Books
Year of publishing:
2008
Format:
Hardback
No of Pages:
508
Language
: English
Description About The Author:- Gopal Bhargava, a prolific writer and education at Lucknow University. He is a senior official in Town and Country Planning Organization. He has contributed several research...
Read more
Description About The Author:- Gopal Bhargava, a prolific writer and education at Lucknow University. He is a senior official in Town and Country Planning Organization. He has contributed several research papers on urban development.Contents:- Introduction • Cultural Changes in Kerala Over Period of Time • Religions • Education and Learning • Position of Women • Society and Community Life • Marriage Customs • Scholars and their Works • Paintings and Sculptures • Dance • Drama • Music • Food Culture • Dresses and Ornaments • Depressed Class Culture • Kinship Relations • Language and Literature • Archeology and Anthropological Findings • Religious Centres • Museums and Libraries • Fairs and Festivals • Customs • Folklores and Folkstories • Globalisation of Culture • IndexAbout The Book:- This Scientifically Researched 27 Volume Encyclopaedia Of Art And Culture In India Is A Vast Treasure Of Knowledge And Information On 28 States And Seven Union Territories. Each Volume Contains An Introduction On The Particular State Describing Its Origin, History, Geography, Economy, And 23 Chapters On Topics Ranging From The Cultural Change Over Period Of Time From The Very Early Period To The Modern Times To Religion, Pursuit Of Education, Position Of Women, Society And Community Life, The Marriage Systems, Scholars And Their Works, Paintings And Sculpture, Dance, Drama, Music, Food Habits, Dress And Ornaments, Depressed Class Culture, Kinship Relations, Language And Literature Archaeological And Anthropological Findings, Religious Centres, Museums, Archives, Libraries And Literary Societies, Fairs And Festivals, Custom Related To Birth And Death Rituals And Rites, Folklores, Folktales, Myths And Legends, And Globalization And Urbanization Of Culture. The Entire Mass Of Information And Knowledge Has Been Painstakingly Researched, Written And Edited With The Anthropological Point Of View, That Makes This Encyclopaedia All The More Valuable For Purpose Of Scholars In Different Disciplines, Social Scientists, Teacher And Students., About The Author:- Gopal Bhargava, A Prolific Writer And Education At Lucknow University. He Is A Senior Official In Town And Country Planning Organization. He Has Contributed Several Research Papers On Urban Development., Content:- Introduction • Cultural Changes In Kerala Over Period Of Time • Religions • Education And Learning • Position Of Women • Society And Community Life • Marriage Customs • Scholars And Their Works • Paintings And Sculptures • Dance • Drama • Music • Food Culture • Dresses And Ornaments • Depressed Class Culture • Kinship Relations • Language And Literature • Archeology And Anthropological Findings • Religious Centres • Museums And Libraries • Fairs And Festivals • Customs • Folklores And Folkstories • Globalisation Of Culture • Index
Read less
Other books by Ed.Gopal Bhargava
Recommended Books for you - See all
Price
:
Rs. 1520
Rs.1127
You save: Rs.393
Vendor :
Gyan Books Pvt.Ltd, Delhi
FREE SHIPPING | Delivered in 5 working days
(Cash on delivery available)
Be assured. 7 days Return & Refund Policy.
Click here
2 offers starting from Rs. 1127
Rs.1127 FREE SHIPPING

In stock | Delivered in 5 working days

Gyan Books Pvt.Ltd, Delhi

Add to cart

Rs.1503 FREE SHIPPING

In stock | Delivered in 5 working days

Anshika Books, Delhi

Add to cart