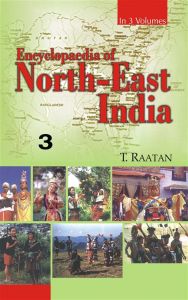 Encyclopaedia of North-East India (Sikkim, Nagaland, Tripura) Vol.3
By: T. Raatan
Product Details:
Share this by email:
ISBN:
9788178352756
Publisher
:
Kalpaz Publications
Year of publishing:
2006
Format:
Hardback
No of Pages:
229
Language
: English
Description About The Author:- T.Raatan is Director of Public Libraries, Itanagar. Well-conversant with the library science and originally from Arunachal, he has put in his sincere efforts in popularizing...
Read more
Description About The Author:- T.Raatan is Director of Public Libraries, Itanagar. Well-conversant with the library science and originally from Arunachal, he has put in his sincere efforts in popularizing this subjects.Contents:- Vol 3- Contents, Preface 7, Introduction 9, Section-I, SIKKIM, 1. Land and the People 17, Demographical Details • Various Ethnic Groups • Monastery and, the Religion of Lamaism• Agricultural and Industrial Development., 2. Socio-cultural and Linguistic Set-up of Sikkim 27, Linguistic aspects • Social Life., 3. Political and Administrative Developments 35, Pre-merger Times • Development in the Post-merger Period., 4. Background and Post-Merger Achievements in Education 43, Background • State of Literacy • Facilities Regarding Education, • Institutions/Agencies of Education • Educational Set up, • Schooling at Primary Level • Schooling at Secondary Level, • Teaching Staff • Achievement in the Field of Education, • Educational Details of Scheduled Castes and Scheduled Tribes, Students • State of Higher Education in Sikkim • Current Position., 5. Emergence of a New Class 51, I. Theories of Class II. Emergence of New Class III. • Old Class, Structure • Modern Class • New Class Hierarchy • Involvement of, New Class in Politics., Section-II, NAGALAND, 6. Land and the People 77, (a) Formation of State, (b) Background and Geographical Set Up, (c) Various Districts of the State • Education • Language •, Agricultural and Industrial Developments • Religion., 7. Pre- and Post-Reorganisation Era 93, British Penetration into Nagaland • After Independence, Developments • Creation of Nagaland as a State • Development of, the State • Administration of the State., 6 Encyclopaedia of North-East India, 8. Society and Customs 101, I. Culture II. Customs about Marriages • Tradition of Head Hunting, • Background., 9. Women in Naga Tribal Society 113, Introduction • I. Social Status II.Women Leadership • Jungle Stay, and Arrest • Release from the Jail • Social Reforms of Gandhiji., 10. Naga Festivals and Songs 127, I. Festivals II. Songs and Folks III. Folk Stories., 11. New Planning in 2001 137, Section-III, TRIPURA, 12. Land and the People 141, I. Ancient Period • Medieval Period III. Modern Period • The, Janamangal Samity • Language • Education • Status of Women., 13. Measures for Land Reforms and Their Implementation 171, Elimination of Intermediaries • ReformRelated to Tenancy • Ceiling, over Land-holdings • Prevention of Fragmentation of Land • Special, Provisions for Scheduled Tribes Category • Land Records ofRights., 14. Mythology and Archaeology 183, (A) Vaisnavism (B) Saivism in Tripura (C) Worship of Sakti (D), Small Sects (E) IconWorship (F) Cult of Vishnu Images (G) Icons, of Saiva (H) Images of Sakti (I)Miscellaneous Images (J) Buddhism, (K) Viharas in Archaeology • Stupas • Iconography., 15. Rich Land and Other Resources 195, (A) Distribution of Area and Population in Districts (B) Districtbased, Distribution of Land Resources in the State (C) Livestock, Population (D) Fisheries Business (E) Forests (F) Shifting, Cultivation vis-a-vis Soil Conservation (G) North Eastern Council, (NEC) Scheme of Fifth Plan (H) Power/Energy (I) Human, Resources in the State., 16. New Planning 205, (A) Agriculture (B) Industry (C) Transport and Communications, (D) Social Services (E) The Bane of Unemployment • Tripura's, Five Year Plan (A) The Perspective on the Plan (B) The Approach, to Future Planning., Index 221About The Book:- The Far-Flung Region Of North-East Remained Neglected From Centuries In The Pre-Independence Era. However An Attempt Has Been Made By The Government To Bifurcate It Into Eight States Which Have Been Dealt With In These Three Volumes.
The Contents Have Deep Bearing On The Land And The People, Production And Mineral Resources, Economy And Trade, Education And Efforts To Promote Literacy, Enrolment Of Students Both Boys And Girls, Administrative And Political Struggle, Principal Deities In The State, Pofur Dances, Art And Music, The Economic Development, Relief Measures And Developmental Schemes Being Implemented By The Government, Postal Services And Communication And Last But Not The Least The Provision Of Basic Facilities Like Drinking Water And Medical.
These Volumes Will Be Useful For Teachers, Statesmen Scholars And Students Interested In Deep Details On North-East Region., About The Author:- T.Raatan Is Director Of Public Libraries, Itanagar. Well-Conversant With The Library Science And Originally From Arunachal, He Has Put In His Sincere Efforts In Popularizing This Subjects., Content:- Vol 3- Contents, Preface 7, Introduction 9, Section-I, Sikkim, 1. Land And The People 17, Demographical Details • Various Ethnic Groups • Monastery And, The Religion Of Lamaism• Agricultural And Industrial Development., 2. Socio-Cultural And Linguistic Set-Up Of Sikkim 27, Linguistic Aspects • Social Life., 3. Political And Administrative Developments 35, Pre-Merger Times • Development In The Post-Merger Period., 4. Background And Post-Merger Achievements In Education 43, Background • State Of Literacy • Facilities Regarding Education, • Institutions/Agencies Of Education • Educational Set Up, • Schooling At Primary Level • Schooling At Secondary Level, • Teaching Staff • Achievement In The Field Of Education, • Educational Details Of Scheduled Castes And Scheduled Tribes, Students • State Of Higher Education In Sikkim • Current Position., 5. Emergence Of A New Class 51, I. Theories Of Class Ii. Emergence Of New Class Iii. • Old Class, Structure • Modern Class • New Class Hierarchy • Involvement Of, New Class In Politics., Section-Ii, Nagaland, 6. Land And The People 77, (A) Formation Of State, (B) Background And Geographical Set Up, (C) Various Districts Of The State • Education • Language •, Agricultural And Industrial Developments • Religion., 7. Pre- And Post-Reorganisation Era 93, British Penetration Into Nagaland • After Independence, Developments • Creation Of Nagaland As A State • Development Of, The State • Administration Of The State., 6 Encyclopaedia Of North-East India, 8. Society And Customs 101, I. Culture Ii. Customs About Marriages • Tradition Of Head Hunting, • Background., 9. Women In Naga Tribal Society 113, Introduction • I. Social Status Ii.Women Leadership • Jungle Stay, And Arrest • Release From The Jail • Social Reforms Of Gandhiji., 10. Naga Festivals And Songs 127, I. Festivals Ii. Songs And Folks Iii. Folk Stories., 11. New Planning In 2001 137, Section-Iii, Tripura, 12. Land And The People 141, I. Ancient Period • Medieval Period Iii. Modern Period • The, Janamangal Samity • Language • Education • Status Of Women., 13. Measures For Land Reforms And Their Implementation 171, Elimination Of Intermediaries • Reformrelated To Tenancy • Ceiling, Over Land-Holdings • Prevention Of Fragmentation Of Land • Special, Provisions For Scheduled Tribes Category • Land Records Ofrights., 14. Mythology And Archaeology 183, (A) Vaisnavism (B) Saivism In Tripura (C) Worship Of Sakti (D), Small Sects (E) Iconworship (F) Cult Of Vishnu Images (G) Icons, Of Saiva (H) Images Of Sakti (I)Miscellaneous Images (J) Buddhism, (K) Viharas In Archaeology • Stupas • Iconography., 15. Rich Land And Other Resources 195, (A) Distribution Of Area And Population In Districts (B) Districtbased, Distribution Of Land Resources In The State (C) Livestock, Population (D) Fisheries Business (E) Forests (F) Shifting, Cultivation Vis-A-Vis Soil Conservation (G) North Eastern Council, (Nec) Scheme Of Fifth Plan (H) Power/Energy (I) Human, Resources In The State., 16. New Planning 205, (A) Agriculture (B) Industry (C) Transport And Communications, (D) Social Services (E) The Bane Of Unemployment • Tripura'S, Five Year Plan (A) The Perspective On The Plan (B) The Approach, To Future Planning., Index 221
Read less
Other books by T. Raatan
Recommended Books for you - See all
Price
:
Rs. 750
Rs.557
You save: Rs.193
Vendor :
Gyan Books Pvt.Ltd, Delhi
FREE SHIPPING | Delivered in 5 working days
(Cash on delivery available)
Be assured. 7 days Return & Refund Policy.
Click here
2 offers starting from Rs. 557
Rs.557 FREE SHIPPING

In stock | Delivered in 5 working days

Gyan Books Pvt.Ltd, Delhi

Add to cart

Rs.742 FREE SHIPPING

In stock | Delivered in 5 working days

Anshika Books, Delhi

Add to cart