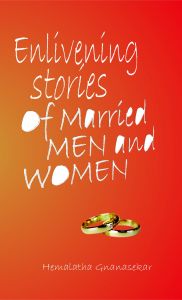 Enlivening Stories For Married Man And Women
Product Details:
Share this by email:
ISBN:
9788178358338
Publisher
:
Kalpaz Publications
Year of publishing:
2010
Format:
Hardback
No of Pages:
294
Language
: English
Description About The Author:- Hemalatha Gnanasekar is living in Chennai with her husband and two children. She is working as Secretary in M/s. Hindusthan Petroleum Corporation Limited in Chennai. Being...
Read more
Description About The Author:- Hemalatha Gnanasekar is living in Chennai with her husband and two children. She is working as Secretary in M/s. Hindusthan Petroleum Corporation Limited in Chennai. Being an avid reader, she slowly got hooked on to the habit of writing. Despite a busy life juggling between family and work, she manages to write a few pages everyday. She has already written a book "Women Home Excelled Men" and this is her second book. Her third book "Guilt is Alive" will be published shortly. The author plans to continue writing more books, especially involving women and their problems.Contents:- Contents Preface 1. The Fraud , 2. Grandma's Advice, 3. The Embarrassment, 4. The Beauty Queen, 5. Another Love Story, 6. The Obliging Husband, 7. The Prediction, 8. The Cage Bird, 9. The Spy, 10. The Refreshing Drink, 11. The Grand Fall, 12. The Boss, 13. The Silent Killer, 14. The Tormentor, 15. The Loving Sister, 16. The Cyber Husband, 17. A Leap in the Dark, 18. The Pampered Child, 19. The Immatured Girl, 20. The Modern Wife, 21. The Proud Father, IndexAbout The Book:- The Western Culture Of Divorce Is Slowly Creeping Into Our Society. Nowadays, People No Longer Feel Shy To Utter The Word Divorce, Which Is Becoming Very Common. But Hardly Do They Realize That It Is The Solution To End Marital Conflicts For It Only Makes Your Life More Miserable. This Book Of Short Stories Depicts Characters Who Are Wise Enough. They Learn To Be Cheerful And Contented With Their Lot In Life And Do Not Kick Against The Pricks. They Are Good Listeners, Respect One Another, Have A Good Sense Of Humour And Are Willing To Adapt And Also Accept The Fact That You Can'T Change Your Partner. In Fact Through Their Actions, They Teach You That For A Happy Marriage, It Is Not Enough To Simply Adhere To The "Give And Take Policy". They Tell You That You Need To Go A Step Further And "Give And Only Give" These Stories Are Sure To Enrich And Enliven Your Married Life., About The Author:- Hemalatha Gnanasekar Is Living In Chennai With Her Husband And Two Children. She Is Working As Secretary In M/S. Hindusthan Petroleum Corporation Limited In Chennai. Being An Avid Reader, She Slowly Got Hooked On To The Habit Of Writing. Despite A Busy Life Juggling Between Family And Work, She Manages To Write A Few Pages Everyday. She Has Already Written A Book "Women Home Excelled Men" And This Is Her Second Book. Her Third Book "Guilt Is Alive" Will Be Published Shortly. The Author Plans To Continue Writing More Books, Especially Involving Women And Their Problems., Content:- Contents,Preface,1. The Fraud , 2. Grandma'S Advice, 3. The Embarrassment, 4. The Beauty Queen, 5. Another Love Story, 6. The Obliging Husband, 7. The Prediction, 8. The Cage Bird, 9. The Spy, 10. The Refreshing Drink, 11. The Grand Fall, 12. The Boss, 13. The Silent Killer, 14. The Tormentor, 15. The Loving Sister, 16. The Cyber Husband, 17. A Leap In The Dark, 18. The Pampered Child, 19. The Immatured Girl, 20. The Modern Wife, 21. The Proud Father, Index
Read less
Recommended Books for you - See all
Price
:
Rs. 750
Rs.557
You save: Rs.193
Vendor :
Gyan Books Pvt.Ltd, Delhi
FREE SHIPPING | Delivered in 5 working days
(Cash on delivery available)
Be assured. 7 days Return & Refund Policy.
Click here
2 offers starting from Rs. 557
Rs.557 FREE SHIPPING

In stock | Delivered in 5 working days

Gyan Books Pvt.Ltd, Delhi

Add to cart

Rs.742 FREE SHIPPING

In stock | Delivered in 5 working days

Anshika Books, Delhi

Add to cart