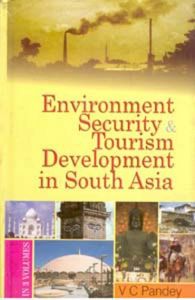 Environment, Security And Tourism In South Asia (Tourism Development In South Asia), 3Rd Vol.
By: V. C. Pandey
Product Details:
Share this by email:
ISBN:
9788182051393
Publisher
:
Isha Books
Year of publishing:
2004
Format:
Hardback
No of Pages:
316
Language
: English
Description About The Author:- V. C. Pandey, a Civil Servant (DANICS) and a brilliant academic from Lucknow University has held several administrative positions under the NCT, Delhi. A reputed expert in the field...
Read more
Description About The Author:- V. C. Pandey, a Civil Servant (DANICS) and a brilliant academic from Lucknow University has held several administrative positions under the NCT, Delhi. A reputed expert in the field of education, he has shown actively participation in several seminars. Besides he introduced various vocational schemes. He is the author of several works on various phases of Education. At present Shri Pandey is Additional Secretary in Ministry of Education and Transport and is in charge of the Departments of Tourist, Art, Culture and Language in the Government of NCT.Contents:- Volumes-III • Preface • Tourism of India • Tourism in Pakistan • Tourism in Bangladesh • Tourism in Nepal • Tourism in Bhutan • Tourism in Sri Lanka • Tourism in Maldives • Sustainable Tourism and Natural Resource Management • Tourism Development : Issues and Opportunities • Governance of Tourism • Tourism and Employment: Trends in Asia and Pacific • Biography • IndexAbout The Book:- The Present Study Focuses On South Asia--An Emerging Region In The World. Editor Has Encompossed Three Gigantic Facets Of Environment, Security And Tourism In This Region.These Facets Have Been Dealt In Three Different Volumes. Each Volume Comprehensively Deals With Each Facet. It Discusses Environmental Problems In South Asia, Climate Changes, Sustainable Development, Tourism In India, And Focuses Primary Attractions In Saarc Countries And Security In South Asia. The Set Will Prove A Bible And A Valuable Reform Tools For Policy Makers, Researchers, Students, Scholars, Tourism Developers And Environmentalists Of South Asia And Other Parts Of The Globe, About The Author:- V. C. Pandey, A Civil Servant (Danics) And A Brilliant Academic From Lucknow University Has Held Several Administrative Positions Under The Nct, Delhi. A Reputed Expert In The Field Of Education, He Has Shown Actively Participation In Several Seminars. Besides He Introduced Various Vocational Schemes. He Is The Author Of Several Works On Various Phases Of Education. At Present Shri Pandey Is Additional Secretary In Ministry Of Education And Transport And Is In Charge Of The Departments Of Tourist, Art, Culture And Language In The Government Of Nct., Content:- Volumes-Iii • Preface • Tourism Of India • Tourism In Pakistan • Tourism In Bangladesh • Tourism In Nepal • Tourism In Bhutan • Tourism In Sri Lanka • Tourism In Maldives • Sustainable Tourism And Natural Resource Management • Tourism Development : Issues And Opportunities • Governance Of Tourism • Tourism And Employment: Trends In Asia And Pacific • Biography • Index
Read less
Other books by V. C. Pandey
Recommended Books for you - See all
Price
:
Rs. 950
Rs.705
You save: Rs.245
Vendor :
Gyan Books Pvt.Ltd, Delhi
FREE SHIPPING | Delivered in 5 working days
(Cash on delivery available)
Be assured. 7 days Return & Refund Policy.
Click here
2 offers starting from Rs. 705
Rs.705 FREE SHIPPING

In stock | Delivered in 5 working days

Gyan Books Pvt.Ltd, Delhi

Add to cart

Rs.940 FREE SHIPPING

In stock | Delivered in 5 working days

Anshika Books, Delhi

Add to cart