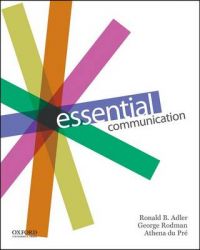 Essential Communication
By: Ronald Adler, B (SANTA BARBARA CITY COLLEGE)
Product Details: Share this by email:
ISBN:
9780199342365
Publisher
:
Oxford University Press, USA
Year of publishing:
2015
Format:
Paperback / softback
No of Pages:
448 pp
Language
: English
Review
:
Everything that I've been searching for to motivate my students more!"--Frederick Shorter, Bainbridge College"I have wanted something like this for a long time. In an age of information overload,...
Read more
Everything that I've been searching for to motivate my students more!"--Frederick Shorter, Bainbridge College"I have wanted something like this for a long time. In an age of information overload, this is fabulous. This is modern. The combination of the persuasive and informative chapters is the best textbook idea I've heard in ages. It makes so much sense!"--Nancy J. Willets, Cape Cod Community College"I appreciate that a need for improvement in connecting with our students has been recognized. This book would be a good fit for my students because it is affordable and an investment in absorbing the essential need to understand human communication. I teach my students that it is not just a course, but a life course that only serves to benefit them."--James Keller, Lone Star College"The organization is strong, as is the inclusion of a chapter dealing with the mediated world. This is such a factor in student learning, and they need to recognize the pitfalls and strengths of growing as students in a sound-byte-information age."-Erin Perry, NHTI, Concord's Community College"Essential Communication is just that--the essentials of human communication. It covers the basics of communication with an emphasis on interpersonal processes rather than public speaking. There are in-text questionnaires and discussion prompts that would make journaling and in-class discussions interesting."--Laura Beth Daws, Southern Polytechnic State University "A refreshingly modern introductory course for communication that maintains the classic fundamentals without diminishing the integrity of the discipline."--Paige C. Davis, Lone Star College, Cyfair"This new textbook is attempting to boil the textual component of the survey course down to its most essential components. This produces a distilled, practical application focused text that will give the students what they need while saving them time and money."--Steve A. Stuglin, Georgia HighlandsCollege"This is a student friendly book, that is affordable and covers all information needed in an Oral Communication course. This text is well researched and written for an entry level communication course. There is great depth to each topic covered."--Kim G. Smith, Bishop State Community College
Read less
Recommended Books for you - See all
Price
:
Rs. 10571
Rs.9514
You save: Rs.1057
Vendor :
Booyah Chicago (Books), Delhi
FREE SHIPPING | Delivered in 21 working days
(Cash on delivery not available)
Imported Edition
Be assured. 7 days Return & Refund Policy.
Click here