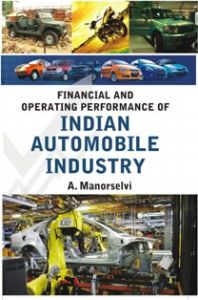 Financial And Operating Performance of Indian Automobile Industry
By: A Manor Selvi
Product Details:
Share this by email:
ISBN:
9788121210638
Publisher
:
Gyan Publishing House
Year of publishing:
2010
Format:
Hardback
No of Pages:
418
Language
: English
Description About The Author:- A. Manor Selvi is a Lecturer in the Faculty of Commerce, M.G.R. College, Hosur. She completed post-grduate course in the Department of Commerce, Alamalcu Angappan College,...
Read more
Description About The Author:- A. Manor Selvi is a Lecturer in the Faculty of Commerce, M.G.R. College, Hosur. She completed post-grduate course in the Department of Commerce, Alamalcu Angappan College, affiliated to Periyar University, Salem, in the year 2002. She got her M.Phil. degree in 2004 and Ph.D. degree in 2007 in the Research Department of Commerce, Erode arts College, Erode affiliated to Bharathiar University under the guidance of Dr.A.Vijayakumar, Associate Professor in Commerce, Erode Arts College, Erode. She has published three research papers in the national level journals. She has guided two M.Phil. project so far. Further, she has participated in more than 20 National and International level conference and presented papers in various topics.Contents:- Contents, Foreword, Preface, Acknowledgements, List of Tables, List of Figures, 1. Introduction, • Meaning and Concept of Financial Appraisal • Need, and Aims of Financial Analysis • Tools and, Techniques for Analysis of Financial Statements •, Scope of the Study • Statement of the Problem •, Selection of Automobile Industry • Significance of the, Study, 2. Review of Literature, 3. Methodology, • Objectives of the Study• Hypothesis • Research, Design • Limitations of the Study • Chapter Scheme, 4. Analysis of Production and Sales Trend of, Indian Automobiles, • Analysis of production Trend • Capacity Utilisation, of Automobile Industry • Analysis of Sales Trend •, Analysis of Market Share, 1, 3, 7, 9, 13, 15, 27, 69, 89, ii Financial and Operating Performance of Indian Automobile Industry, 5. Profitability Analysis, • Analysis of Profit Margin • Analysis of Return on, Investment • Analysis of Other Profitability Ratios •, Profitability Trends • Determinants of profitability., 6. Analysis of Financial Structure and Financial, Strength, • Analysis of Financial Structure • Analysis of, Financial Strength • Assessment of Financial Health, of Indian • Automobile Industry., 7. Analysis of Economic Value Added (EVA) and, Market Value Added (MVA), 8. Findings and Conclusion, Appendices, Profile of the Indian Automobile Industry, Bibliography, Index, 137, 189, 241, 279, 295, 383, 391, 407About The Book:- Organisations Exist To Attain Certain Goals And Objectives Through Unified Team Efforts Of Management And Executives. Some Form Of Control And Co-Ordination Is Needed To Facilitate The Achievement Of Such Goals. Control Devices In The Form Of Performance Appraisal Help The Corporate World To Accomplish Their Professed Objectives. Performance Appraisal Is A Critical Assessment Of Various Activities In Different Areas Of The Operations Of An Enterprise. It Includes Evaluation Of Planning And Control Devices Of The Enterprise And Concludes On The Quality Of Performance. Further, It Is A Process Of Evaluating The Efficiency And Effectiveness Of An Organisation. All Active Participants (I.E., Owners, Employees, Customers, Society, Government, Suppliers Etc.) Have Interested In Varying Degree In The Performance Of An Enterprise. Performance Of A Business Or A Company Is An Amalgam Of Various Activities Performed By It In Different Areas Of Operations. While Appraising Or Assessing The Performance Of The Company, A Fair Evaluation Should Be Made Regarding The Efficiency And Effectiveness Of The Concern In These Areas Operations. The Important Areas Of Performance Appraisal Includes: Production, Cost Trends And Sales, Profitability, Funds Management, Financial Strength, Working Capital, Value Added, Fixed Assets, Social Performance, Liquidity And Productivity. Financial And Operating Performance Of Indian Automobile Industry Present Thought - Provoking Research In The Field Of Corporate Performance Evaluation. The Subject Matter Of The Book Is Structured The Most Important Areas Of Performance Appraisal, Which Can Be Advantageously Used By Research Scholars, Teachers, Financial Managers, Creditors And Businessman. The Book Provides Multidirectional And Multidimensional Investigation Of Various Aspects Of Corporate Performance Evaluation With Reference To Indian Automobile Industry. Apart From Its Extensive Coverage And Lucid Presentation, The Strength Of The Book Lies In Its Indian Background. This Book Will Be Of Immense Use Particularly To University And College Teachers, Chartered Accountants, Company Secretaries, M.Com., B.Com., And Mba Students And Other Professional Courses. In Addition, It Would Be A Useful Reference Book For Researchers And Financial Managers. Its., About The Author:- A. Manor Selvi Is A Lecturer In The Faculty Of Commerce, M.G.R. College, Hosur. She Completed Post-Grduate Course In The Department Of Commerce, Alamalcu Angappan College, Affiliated To Periyar University, Salem, In The Year 2002. She Got Her M.Phil. Degree In 2004 And Ph.D. Degree In 2007 In The Research Department Of Commerce, Erode Arts College, Erode Affiliated To Bharathiar University Under The Guidance Of Dr.A.Vijayakumar, Associate Professor In Commerce, Erode Arts College, Erode. She Has Published Three Research Papers In The National Level Journals. She Has Guided Two M.Phil. Project So Far. Further, She Has Participated In More Than 20 National And International Level Conference And Presented Papers In Various Topics., Content:- Contents, Foreword, Preface, Acknowledgements, List Of Tables, List Of Figures, 1. Introduction, • Meaning And Concept Of Financial Appraisal • Need, And Aims Of Financial Analysis • Tools And, Techniques For Analysis Of Financial Statements •, Scope Of The Study • Statement Of The Problem •, Selection Of Automobile Industry • Significance Of The, Study, 2. Review Of Literature, 3. Methodology, • Objectives Of The Study• Hypothesis • Research, Design • Limitations Of The Study • Chapter Scheme, 4. Analysis Of Production And Sales Trend Of, Indian Automobiles, • Analysis Of Production Trend • Capacity Utilisation, Of Automobile Industry • Analysis Of Sales Trend •, Analysis Of Market Share, 1, 3, 7, 9, 13, 15, 27, 69, 89, Ii Financial And Operating Performance Of Indian Automobile Industry, 5. Profitability Analysis, • Analysis Of Profit Margin • Analysis Of Return On, Investment • Analysis Of Other Profitability Ratios •, Profitability Trends • Determinants Of Profitability., 6. Analysis Of Financial Structure And Financial, Strength, • Analysis Of Financial Structure • Analysis Of, Financial Strength • Assessment Of Financial Health, Of Indian • Automobile Industry., 7. Analysis Of Economic Value Added (Eva) And, Market Value Added (Mva), 8. Findings And Conclusion, Appendices, Profile Of The Indian Automobile Industry, Bibliography, Index, 137, 189, 241, 279, 295, 383, 391, 407
Read less
Recommended Books for you - See all
Price
:
Rs. 700
Rs.520
You save: Rs.180
Vendor :
Gyan Books Pvt.Ltd, Delhi
FREE SHIPPING | Delivered in 5 working days
(Cash on delivery available)
Be assured. 7 days Return & Refund Policy.
Click here
2 offers starting from Rs. 520
Rs.520 FREE SHIPPING

In stock | Delivered in 5 working days

Gyan Books Pvt.Ltd, Delhi

Add to cart

Rs.693 FREE SHIPPING

In stock | Delivered in 5 working days

Anshika Books, Delhi

Add to cart