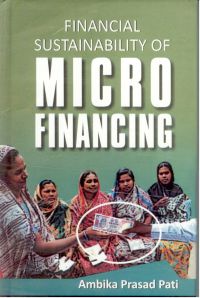 Financial Sustainability of Micro Financing
Product Details:
Share this by email:
ISBN:
9788121210430
Publisher
:
Gyan Publishing House
Year of publishing:
2010
Format:
Hardback
No of Pages:
290
Language
: English
Description About The Author:- Ambika Prasad Pati (b. 1969) is a Post Graduate in Commerce from Utkal University. Also completed his M.Phil., LLB and Ph.D. from the same University. He is an Associate...
Read more
Description About The Author:- Ambika Prasad Pati (b. 1969) is a Post Graduate in Commerce from Utkal University. Also completed his M.Phil., LLB and Ph.D. from the same University. He is an Associate Member of the Institute of Cost and Works Accountants of India, Calcutta and Diploma holder in Business Finance from ICFAI, Hyderabad. He is a scholar in the finance areas, particularly working on Banking and Micro Finance. He has published more than 30 articles in these areas in national and international journals of repute and presented equal number of research papers in seminars/conferences in India and abroad. He has completed two projects one each from UGC and ICSSR. Under his supervision three research scholars have completed their Ph.D. works. For the last 18 years he has been actively engaged in teaching and research and presently working as an Associate Professor in the Department of Commerce, North Eastern Hill University, Shillong.About The Book:- S A Tool Of Economic Development Of The Poor People Living Below Poverty Line, Micro Finance Has Been A Tremendous Success In Recent Years. In Developing Economies Including India This Is In Vogue For Quite Some Time. Its Success Is Vindicated By The Conferment Of Noble Prize On The Pioneer, Dr. Mohammad Yunus And Has Ignited Serious Thinking By Academicians, Researchers, Practitioners And Policy Makers. Recent Years Have Seen A Plethora Of Research Works On This Subject - Its Effectiveness, Outreach, Sustainability, Impact, Regulation Etc. Most Importantly The Sustainability Aspect Is Highly Emphasised As The Outreach Has Reached A Sizeable Number Of Households, Particularly In India. This Book Precisely Delves Into The Aspect Of Sustainability Of Self Help Groups (Shgs) And Of The Most Acclaimed Programme Of Micro Financing, I.E., Shg-Bank Linkage Programme (Sblp) Launched By Nabard In Early Nineties. The Primary Data Base For This Work Is From A Most Micro Finance Deserving States Of North East India, I.E., Meghalaya Where More Than 80 Percent Of Population Lives In Rural Areas And More Than One-Third Lives Below Poverty Line. From A Survey Of Credit Linked Shgs Sustainability Variables Of Shgs, Its Linked Banks And Of The Sblp Have Been Identified And Finally An Index Has Been Prepared To Scale The Sustainability Of The Programme As A Whole. This Type Of Work Particularly On Grassroots Organisations Like Shgs Is Very Scanty. In North East This Is The First Of Its Kind Which Provides A Detailed Picture About The Financial Conditions Of Shgs And Their Long-Term Prospects. This Work Is A Supplement To Further Research Work As The Sblp Programme, About The Author:- Ambika Prasad Pati (B. 1969) Is A Post Graduate In Commerce From Utkal University. Also Completed His M.Phil., Llb And Ph.D. From The Same University. He Is An Associate Member Of The Institute Of Cost And Works Accountants Of India, Calcutta And Diploma Holder In Business Finance From Icfai, Hyderabad. He Is A Scholar In The Finance Areas, Particularly Working On Banking And Micro Finance. He Has Published More Than 30 Articles In These Areas In National And International Journals Of Repute And Presented Equal Number Of Research Papers In Seminars/Conferences In India And Abroad. He Has Completed Two Projects One Each From Ugc And Icssr. Under His Supervision Three Research Scholars Have Completed Their Ph.D. Works. For The Last 18 Years He Has Been Actively Engaged In Teaching And Research And Presently Working As An Associate Professor In The Department Of Commerce, North Eastern Hill University, Shillong.,
Read less
Recommended Books for you - See all
Price
:
Rs. 400
Rs.297
You save: Rs.103
Vendor :
Gyan Books Pvt.Ltd, Delhi
Free Shipping on all orders of Rs.500 and above. Add Rs.30 otherwise. | Delivered in 5 working days
(Cash on delivery available)
Be assured. 7 days Return & Refund Policy.
Click here
2 offers starting from Rs. 297
Rs.297 + Rs.30 delivery charges

In stock | Delivered in 5 working days

Gyan Books Pvt.Ltd, Delhi

Add to cart

Rs.396 + Rs.30 delivery charges

In stock | Delivered in 5 working days

Anshika Books, Delhi

Add to cart