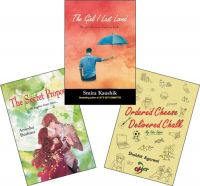 GP Combo (Set of 3 New Books)
By: Smita Kaushik , Aniesha Brahma , Shobhit Agarwal
Product Details:
Share this by email:
ISBN:
9789380914299
Publisher
:
General Press
Year of publishing:
2012
Format:
Paperback
No of Pages:
616
1.) The Girl I Last Loved
Love is all about flowers, gifts, movie nights, first kiss and then many more. Or is it? Then what about one sided love...
Being friends in spite of knowing your true feelings...
The...
Read more
1.) The Girl I Last Loved
Love is all about flowers, gifts, movie nights, first kiss and then many more. Or is it? Then what about one sided love...
Being friends in spite of knowing your true feelings...
The incapability to read eyes...
Don't frustration, pain and loneliness lie on the other side of love?
Meet Akash, an over achiever, who aims to conquer it all but is unable to love.
Kasam, a girl beyond his reach.
Though destiny keeps bringing them together, their world seldom collides.
When he was a nave geek, she was the Style Diva.
And now when he is a corporate junkie, where faces are masked. She is a professional motivator, who sees even beyond the faces.
Two people.
Single love story revisited three times.
Four proposals.
A ten year journey of finding and losing love.
Countless moments of serendipity.
Yet not a single moment of confession.
He lived all his life fighting love...
Will he ever fight for love?
About the Author
Smita Kaushik became author by chance and is now pursuing it by choice. Her first novel Lets Get Committed not only created waves among the young generation but also pitched some notes with others as well. Though her forte lies in romance with hint of comedy, she sometimes tries to lay hands on philosophy. An ex-DPSite, she did her graduation from KIIT University and is currently based in Hyderabad. Always a creativity inclined person, she has excelled in different art forms like contemporary, madhubani & warli and has won many national level art competitions. For fun she likes to watch rom-com and read novels.
2.) The Secret Proposal
Twenty-one year old Larissa Chakroborty (better known as Jasmine) has been forced into the company of her parents' friends' son, twenty-five year old Tanveer Bhattacharya (aka Veer) ever since she was thirteen and he was seventeen.
Jasmine found herself slowly getting drawn towards this teenage boy and harbours an unrequited crush on him, long after he disappears from her life in order to pursue a college degree. Eight years later Veer returns. Jasmine finds herself going to his welcome home party, and neither of them recognises each other on the first meeting. Upon discovering that Jasmine is now a Master's student in a reputed college, Veer makes her a rather strange proposal. He wants her to pretend that they're in love and would eventually settle down in life, for he wishes to avoid tying the knot with a girl of his parents' choice.
The constant ego battle between the two, the love-hate relationship, break ups and realisations is what The Secret Proposal is all about, wherein love would eventually find a way.
Coupled with birthday parties, engagement announcements, Durga Pujos, weddings, the harrowing rituals, Christmas time fun, the crazy duo have a long way to go before they realise what their act would eventually cost them.
Is it enough to get your long time love to be in a 'pretense relationship' with you?
Does one grand gesture convince you that you've found your knight in shining armour?
And why is it that when you have someone, you don't want them and when you lose them, you want them back?
Is Veer merely pretending to be in love with Jasmine? And will Jasmine ever get over her undying love for Veer?
About the Athor
Aniesha Brahma currently a Masters student in Jadavpur University, is pursuing a degree in Comparative Literature. She was born and brought up in Kolkata, West Bengal. She is an ex-student of Dolna Day School, where she first discovered her passion for writing. She firmly believes that anything is possible if you put your mind to it, and 'you should never give up on the one thing that you cannot go a day without thinking about'. She likes making movies on Windows Movie Maker, dabbling in arguments on the online writing communities and in between is learning to play the guitar. Also, she is incredibly fond of the rain, hanging out with her group of friends and is always looking for different kinds of stories to tell the world.
The Secret Proposal is her debut novel. She currently lives in Kolkata.
3.) Ordered Cheese, Delivered Chalk
We all have heard and read about the adventures that unfold in an IITian's life, but seldom have we come across a student's pre-IIT days. With all the focus diverted to life on the campus at India's most prestigious engineering institute, the fight and perseverance that goes into making the ranks is somehow never given due attention.
Armed with a suitcase and a hand bag, sixteen-year-old Sameer Mittal from Siliguri lands in Bansal Classes, Kota, looking to fulfil his dream of gaining entry into the Indian Institute of Technology (IIT). Sameer is your stereotype teenager confused, raw and bewildered, but with high hopes and aspirations of making it big.
Fast forward to the time he leaves Kota Sameer has transformed into this clear-headed, fearless young adult, who couldn't care less about making it to the IIT, or for that matter, any other premier engineering college in the country.
What is it that brings about such a drastic change in his mindset?
The scenario was simple, right? Enrol yourself into the most prominent coaching institute in Kota, slog for fifteen to sixteen hours a day like a robot, become alien to terms like 'merriment', 'fun' and 'joy' and have textbooks as your only confidants.
But in all his calculations, Sameer forgot to take into account a few 'minor' factors like love at first sight, depression, joys of counter-strike and long-distance relationship biting the dust, an overtly-friendly Kuldeep's nextdoor neighbour, a re-introduced schoolmate and the highs of teenage love.
Ordered Cheese, Delivered Chalk narrates the story of Sameer and his (mis)adventures during his stay at Kota. It takes you through the journey of a teenager who makes the transition into a young adult.
About the Author
Shobhit Agarwal is a final-year engineering student at the P.E.S. Institute of Technology, Bangalore. A writer by chance, he realised the power of the pen, when out of boredom during college lectures, he decided to scribble down his thoughts on a notebook, meant to be filled with engineering theories and designs. Slowly he developed a passion for this hobby of his and by the end of second year, he had more notebooks filled with articles and poems on his bookshelf than with the ones having engineering knowledge.
Apart from writing, he has a penchant for philanthropy, co-founding a social club The iCare Group. You can find him on Facebook (@shobhit.aga) or follow him on twitter (@sho_ag).
Read less
About the author:
Smita Kaushik , Aniesha Brahma , Shobhit Agarwal
Other books by Smita Kaushik , Aniesha Brahma , Shobhit Agarwal

Rs. 101
BUY NOW
Recommended Books for you - See all
OUT OF STOCK
Looks like the book you were looking for is currently not in stock with us. Please leave us your email and phone number.
We will get back to you as soon as it's available.
Your email

Phone No.

Enter characters from image