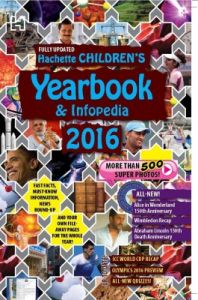 Hachette Children's Yearbook and Infopedia 2016 (English) (Paperback)
Product Details:
Share this by email:
ISBN:
9789351950400
Publisher
:
Hachette India
Year of publishing:
2015
Format:
Paperback
No of Pages:
256
Language
: English
It's a fact-finder, it's an almanac, it's a G.K. book, it's a notable notes diary. . . Yes. It's indispensable for every student who wants to know what in the world is going on. The Hachette Children's...
Read more
It's a fact-finder, it's an almanac, it's a G.K. book, it's a notable notes diary. . . Yes. It's indispensable for every student who wants to know what in the world is going on. The Hachette Children's Yearbook and Infopedia 2016 is a ready reference book packed with essential information. It's the perfect tool for homework and projects for every student. And that's not all! There's a special section on the newsmakers of 2015 with unique illustrations to help you boost your general knowledge. The book covers a range of topics: * News: India & World News Round-up * People to Remember * * Countries Fact Files: Location * Capital * Area * Main Religion * Currency * Literacy Rate * Life Expectancy * Time Zone * Head of State/Head of Government * GDP per Capita * Population * ISD Code * Internet TLD * Earth: The Structure of the Earth * The Continents * Seasons * Making Sense of Climate Change * Geographical Records * States and Union Territories of India Fact Files: Capital * Location * No. of Districts * Area * Population * Main Languages * Literacy Rate * Governor/Chief Minister * Festivals * Tourist Attractions * History * and much, much more... * Sports: ICC World Cup 2015 Recap* Sports Highlights * Sneak-peek at the Olympic Games 2016 * Wimbledon 2015 recap * Literature: Major Genres of the Novel, Poetry and Classical Drama * From Books to the Screen * Origins of Words Quiz * Movies: 100 Must-Watch Movies * Movie Soundtracks Quiz * Awards and Winners: Most Important Achievers of the Year * The Most Prestigious Awards, Both Nationally, and Across the World * Commonwealth Awards, Grammy Awards, Oscars, Filmfare Awards, Pulitzer Prize and many more. . . * History: Timeline of World History * Timeline of Indian History Including Major Political Events * History of India Quiz * Science & Technology: Branches of Science * Basic Physics * Basic Chemistry * Basic Biology * Internet Timeline * Conversion Tables * Robotics Round-Up * The New Digital Age * Divisions of Science * Branches of Science Quiz * Space: * Our Universe * Our Solar System * Planets Fact File * Missions To Mars * Life on a Space Station * Space Quiz * PLUS! 150 Years of Alice in Wonderland * Abraham Lincoln's 150th Death Anniversary* All-New Quizzes*Technology for the future
Read less
Recommended Books for you - See all
Price
:
Rs. 600
Rs.476
You save: Rs.124
Vendor :
S.V. Enterprise., Mumbai
Free Shipping on all orders of Rs.500 and above. Add Rs.30 otherwise. | Delivered in 5 working days
(Cash on delivery available)
Be assured. 7 days Return & Refund Policy.
Click here