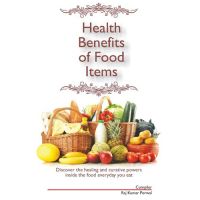 Health Benefits of Food Items
By: Raj Kumar Porwal
Product Details:
Share this by email:
ISBN:
9788192841700
Publisher
:
Raj Kumar Porwal
Year of publishing:
2014
Format:
Perfect Binding
No of Pages:
196
Language
: English
Eat Healthy, Be Healthy & Fight the Disease By Right Diet." Health is Wealth" and "No Gains No pains" is clearly guided in this book written, compiled and nourished by Mr. Raj Kumar Porwal.This book has easily...
Read more
Eat Healthy, Be Healthy & Fight the Disease By Right Diet." Health is Wealth" and "No Gains No pains" is clearly guided in this book written, compiled and nourished by Mr. Raj Kumar Porwal.This book has easily and brilliantly encapsulated all the benefits and advantages of food around us with ease. One of the simplest and most handy information available.Our nation is struggling to tackle the increased incidence of life threatening diseases such as heart diseases, strokes, diabetes, cancer, kidney failure, etc. These diseases can be controlled and prevented by taking required precautionary measures.Such as incorporating a healthy diet, yoga, meditation and regular Exercise. Eating a nutritious, well balanced diet offers one of the simplest most effective ways of reducing the risk of heart diseases, diabetes, cancer, cholesterol control, kidney diseases and poor immunity. Example: Tomato - Study has found that Lycopene (the antioxidant red compound in tomato skin) stops cholesterol buildup. The pill made from it could stop stroke by simply cleaning up the fat - clogged arteries. Tomato detoxifies the liver, purifies blood, improve digestion and fights cancer. Lycopene present helps stop blood becoming sticky and forming the clots that cause potentially fatal blockages in arteries and veins. Turmeric - Eating fresh turmeric can prevent heart attack and stroke by preventing the buildup of arterial plaque. It reduces triglyceride level.Garlic - Mainly used for its medicinal purpose since as early 3000 BC. It contain more than 100 biologically useful chemicals, it contains anti-bacterial and anti-fungal properties. Allicin in garlic lowers LDL (bad) Cholesterol and triglycerides. It raises HDL (good) Cholesterol level. Onion - Contains 50 different phyto chemicals, which helps to build resistance to disease. It helps to lower high cholesterol level, increase HDL cholesterol, posses blood thinning properties. Walnut - It is very good for controlling cholesterol, heart disease, cancer and boosting memory. It is rich source of OMEGA-3 fatty acid, helps in lowering LDL (bad) cholesterol and increase good cholesterol HDL. It prevents blood from clumping together and many more benefits. By keeping into mind about maintaining good health by good dietary habits.The book is divided mainly into three parts: Part A : Role of important ingredients, nutrients, vitamins, in maintaining good human health. Part B : The details of curative and nutritional properties of food items. Part C : Usefulness of food items for controlling and curing of main diseases such as heart disease, blood pressure, high cholesterol, clot formation, diabetes, kidney disease, cancer, headache, migraine, depression, dementia, obesity, anemia, poor immunity, etc. It is hoped that book will definitely to be useful for the human society for maintaining good health, which is needed for healthy and prosperous nation. Also, the book may serve as an ideal gift for your near and dear one. The best way to enjoy this masterpiece is by following it and sharing it with our near and dear ones. Imbibe the tips mentioned in it and you will see a better you. Buying this book will remind you of two things. First-author who has the courage to go through dialysis and still be motivated to share his immense knowledge. And second thing is to understand the benefits of healthy food and means to follow it. About the Author: Author Mr. Raj Kumar Porwal is M. Tech (Dairy and Food Engineering) from I.I.T.Kharapur (1979 Batch). After passing M. Tech, he has served Dairy and food Industry for almost 30 years and has done lot of work in the field of Energy Conservation and cost savings. He has published many papers covering articles on Energy conservation and Management aspects in leading magazines. He has also received number of awards for his significant work and achievement in the field of Energy Conservation and Management studies. He has been selected THE BEST CITIZENS OF INDIA AWARD 1998 for outstanding contributions in the field of energy conservation that resulted in an increase in productivity in dairy industry with which he is associated since 1979. He is suffering from kidney failure and undergoing dialysis thrice a week has shown what positivity can do to such life threatening diseases. He has been a fighter and with that spirit he has also complied a book. The purpose of compiling and sharing the information about healthy diet and its benefits is to make maximum number of persons to know and adopt it by incorporating in their diet, so as to get required benefits. It is very easy to reduce risk, but most of us have" chalta hai attitude "which is required to be changed.
Read less
Recommended Books for you - See all
Price
:
Rs. 649
Rs.599
You save: Rs.50
Vendor :
Lemon Corporate Gifting, Mumbai
FREE SHIPPING | Delivered in 5 working days
(Cash on delivery available)
Be assured. 7 days Return & Refund Policy.
Click here