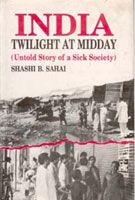 India: Twilight At Midday: Untold Story of A Sick Society
By: Shashi B. Sahai
Product Details:
Share this by email:
ISBN:
9788121205320
Publisher
:
Gyan Publishing House
Year of publishing:
1997
Format:
Hardback
No of Pages:
288
Language
: English
ope and America, he brings about a refreshing world view to bear upon his writings which is highly stimulating. He made hgis mark as a powerful writer. in a delightful racy style of his own, with his thought-provoking...
Read more
ope and America, he brings about a refreshing world view to bear upon his writings which is highly stimulating. He made hgis mark as a powerful writer. in a delightful racy style of his own, with his thought-provoking book Politics of Corruption: the Goddess that Failed. It has been acclaimed as as authentic account of India's steep slide down into the morass of corruption and criminalisation after Independence.Contents:- Preface • An Explanation • We The People of India: A Flawed Republic • The Intelligentsia and Intellectuals • Bland Intellectuality: 1990 • The Prodigals of Gandhiana • The Belly Culture • Our Aesthetic Non-sense • The Indian Sexuality • Our Hallowed NGO's • Corruption Explosion • Dialectical United-Frontism • Selected Book References • IndexAbout The Book:- All That Is Ugly About India Is The Theme Of This Study. Dictatorship Via Emergency To A Series Of Corruption, Every Facet Of Our Decaying Society Has Been Brilliantly Brought Out In The Book. It May Irritate,Annoy And At Times Anger The Reader, But Cannot Fail To Grip His Mind, Excite And Stimulate To An Unprecedented Degree., About The Author:- Shashi B. Shahi, A Former Ips Officer Who Rose To The Top Position In His Cadre, Has Had A Life-Long Passion For Reading And Writing. His Long Stint In The Police Coupled With Extraodinarily Observant Eyes And Ears Equipped Him With A Rare Insight Into All Facets Of Indian Life, Including Human Conduct At Its Worst. A Voracious Reaeder And Prolific Writer, His Wide-Ranging Intellectual Quests Took Him To Numerous Seminars And Symposia In India And Abroad, In Which He Contributed Papers On Subjects Ranging From Criminology To Economic Development, Youth Affairs And World Peace. His Article On Diverse Topics Of National Interest Have Been Published In Dailies, Periodicals And Journals From Time To Time. He Is Also Closely Associated With The Publication Of A Magazine Denouement As A Member Of Its Editorial Board. Widely Travelled Through Europe And America, He Brings About A Refreshing World View To Bear Upon His Writings Which Is Highly Stimulating. He Made Hgis Mark As A Powerful Writer. In A Delightful Racy Style Of His Own, With His Thought-Provoking Book Politics Of Corruption: The Goddess That Failed. It Has Been Acclaimed As As Authentic Account Of India's Steep Slide Down Into The Morass Of Corruption And Criminalisation After Independence., Content:- Preface • An Explanation • We The People Of India: A Flawed Republic • The Intelligentsia And Intellectuals • Bland Intellectuality: 1990 • The Prodigals Of Gandhiana • The Belly Culture • Our Aesthetic Non-Sense • The Indian Sexuality • Our Hallowed Ngo's • Corruption Explosion • Dialectical United-Frontism • Selected Book References • Index
Read less
Other books by Shashi B. Sahai
Recommended Books for you - See all
Price
:
Rs. 470
Rs.348
You save: Rs.122
Vendor :
Gyan Books Pvt.Ltd, Delhi
Free Shipping on all orders of Rs.500 and above. Add Rs.30 otherwise. | Delivered in 5 working days
(Cash on delivery available)
Be assured. 7 days Return & Refund Policy.
Click here
2 offers starting from Rs. 348
Rs.348 + Rs.30 delivery charges

In stock | Delivered in 5 working days

Gyan Books Pvt.Ltd, Delhi

Add to cart

Rs.465 + Rs.30 delivery charges

In stock | Delivered in 5 working days

Anshika Books, Delhi

Add to cart