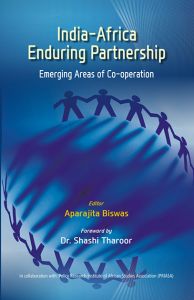 India-Africa Enduring Partnership: Emerging Areas of Co-Operation
Product Details:
Share this by email:
ISBN:
9788121212090
Publisher
:
Gyan Publishing House
Year of publishing:
2013
Format:
Hardback
No of Pages:
321
Language
: English
Description About The Author:- Prof. Aparajita Biswas is Director of the Centre for African Studies, University of Mumbai. She completed her M.A. in International Relations from Jadavpur University, Kolkata...
Read more
Description About The Author:- Prof. Aparajita Biswas is Director of the Centre for African Studies, University of Mumbai. She completed her M.A. in International Relations from Jadavpur University, Kolkata (erstwhile Calcutta). She completed her Ph.D., on India- Kenya Economic and Political Relations in 1990 from the Centre for African Studies, University of Mumbai and became Assistant professor in 1994. Since 2004, she is the Professor in the department of African Studies, University of Mumbai. She is associated with various universities, research institutes and research groups in India and abroad. She has published books and several research articles in national and international journals. She is the President of African Studies Association of India (ASA) and editor of the Journal Africa Review. (Taylor and Francis)Contents:- Contents, Foreword, Preface, Africa - Acronyms, List of Contributors, PROLOGUE, Some Trends in India-Africa Relations: Towards, Lasting Partnership?, Denis Venter, India and Africa: Which Partnership for Which, Research and Development?, Carlos Cardoso, SECTION , ISSUES OF INDIAN DIASPORA, Diplomacy of the Diaspora: Harnessing Diasporas, in Kenya's Foreign Policy, Makumi Mwagiru, Diaspora as a Heritage Resource between Indo-, African Relations, Ajay Dubey, SECTION , NON-TRADITIONAL SECURITY ISSUES, India's Energy Security and India's Relations with, Oil-Rich African Countries, Aparajita Biswas, India-Africa Enduring Partnership, Why China Beats India in Competition for Angolan, Oil, Alex Vines, SECTION , INDIA-AFRICA SECURITY ISSUES, Horizontal Africa and India's Security in this, Millennium, Musambayi Katumanga, Indian Navy's African Odyssey, S Utham Kumar Jamadhagni, India-Africa Expanding Ties: Strategic Interests and, Concerns, Nivedita Ray, SECTION , INDIA-AFRICA RELATIONS: EXPANDING TIES, India's Involvement in Africa since 's: Emerging, State Business Relationship, Shaji Sivdasan, India Africa Trade: A Review, Manendra Sahu, India's Relations with Francophone Africa, Vidhan Pathak, India Engaging with Africa for Development, Jamal M Moosa, Indian Investments in African Agriculture and the, Question of 'Land Grabbing', Viacheslav Usov, Agro-Industry as an Emerging Sector: Mutual, Interests of India and Africa, Suresh Kumar, IndexAbout The Book:- This Book Is Based On The Selection Of Papers Presented In The International Seminar On India-Africa Enduring Partnership: Emerging Areas Of Cooperation Held In March 2011 In Mumbai, India. Well-Known Africanists From Africa, Uk, Russia And From Across India Participated In The Conference And Contributed Papers. In This Book, The Contributors Have Made A Sincere Attempt To Document The Changing Dynamics Of India'S Engagement With Africa With The Focus Primarily On Trade, Investment, Official Development Assistance, Traditional And Non-Traditional Security Aspects And Capacity Building Activities. Furthermore It Explores Whether The Indian Diaspora Can Be Utilized As A Heritage Resource For Inclusive And Mutually Beneficial Engagement. The Scholars Focused Intensely On The Pragmatic Shift In India'S Foreign Policy Relating To African Countries. They Have Also Investigated The Emerging Relationship Between India And Africa To Determine Whether This Engagement Differs Fundamentally From That Of Western Countries, Particularly With Regard To Aims, Objectives And Political Discourse., About The Author:- About The Editorprof. Aparajita Biswas Is Director Of The Centre For African Studies, University Of Mumbai. She Completed Her M.A. In International Relations From Jadavpur University, Kolkata (Erstwhile Calcutta). She Completed Her Ph.D., On India- Kenya Economic And Political Relations In 1990 From The Centre For African Studies, University Of Mumbai And Became Assistant Professor In 1994. Since 2004, She Is The Professor In The Department Of African Studies, University Of Mumbai. She Is Associated With Various Universities, Research Institutes And Research Groups In India And Abroad. She Has Published Books And Several Research Articles In National And International Journals. She Is The President Of African Studies Association Of India (Asa) And Editor Of The Journal Africa Review. (Taylor And Francis), Content:- Contents, Foreword, Preface, Africa - Acronyms, List Of Contributors, Prologue, Some Trends In India-Africa Relations: Towards, Lasting Partnership?, Denis Venter, India And Africa: Which Partnership For Which, Research And Development?, Carlos Cardoso, Section , Issues Of Indian Diaspora, Diplomacy Of The Diaspora: Harnessing Diasporas, In Kenya'S Foreign Policy, Makumi Mwagiru, Diaspora As A Heritage Resource Between Indo-, African Relations, Ajay Dubey, Section , Non-Traditional Security Issues, India'S Energy Security And India'S Relations With, Oil-Rich African Countries, Aparajita Biswas, India-Africa Enduring Partnership, Why China Beats India In Competition For Angolan, Oil, Alex Vines, Section , India-Africa Security Issues, Horizontal Africa And India'S Security In This, Millennium, Musambayi Katumanga, Indian Navy'S African Odyssey, S Utham Kumar Jamadhagni, India-Africa Expanding Ties: Strategic Interests And, Concerns, Nivedita Ray, Section , India-Africa Relations: Expanding Ties, India'S Involvement In Africa Since 'S: Emerging, State Business Relationship, Shaji Sivdasan, India Africa Trade: A Review, Manendra Sahu, India'S Relations With Francophone Africa, Vidhan Pathak, India Engaging With Africa For Development, Jamal M Moosa, Indian Investments In African Agriculture And The, Question Of 'Land Grabbing', Viacheslav Usov, Agro-Industry As An Emerging Sector: Mutual, Interests Of India And Africa, Suresh Kumar, Index
Read less
Recommended Books for you - See all
Price
:
Rs. 950
Rs.705
You save: Rs.245
Vendor :
Gyan Books Pvt.Ltd, Delhi
FREE SHIPPING | Delivered in 5 working days
(Cash on delivery available)
Be assured. 7 days Return & Refund Policy.
Click here
2 offers starting from Rs. 705
Rs.705 FREE SHIPPING

In stock | Delivered in 5 working days

Gyan Books Pvt.Ltd, Delhi

Add to cart

Rs.940 FREE SHIPPING

In stock | Delivered in 5 working days

Anshika Books, Delhi

Add to cart