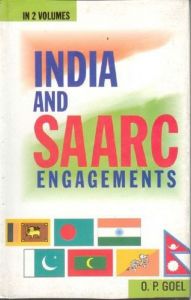 India And Saarc Engagements, 1St Vol.
By: O.P. Goyal
Product Details:
Share this by email:
ISBN:
9788182051218
Publisher
:
Isha Books
Year of publishing:
2004
Format:
Hardback
No of Pages:
302
Language
: English
Description About The Author:- O.P.Goyal secured his Ph.D in the year 1976 from Rajasthan University, Jaipur. Since then he has passed several milestones and achieved many kudos and award from various...
Read more
Description About The Author:- O.P.Goyal secured his Ph.D in the year 1976 from Rajasthan University, Jaipur. Since then he has passed several milestones and achieved many kudos and award from various prestigious organizations. His major area of interest has been institution building in this regard he has been responsibly associated with the growth of Gurugobind Singh Indraprastha University, Delhi where he now holds the Position of the Dean Academic Affairs. Prior to that he was founder dean of school of management studies. He held various responsible positions in many prestigious institutions at different points of time. He got selected for American Biographical Institute's award of gold record of achievement sciences and institution building in the year 1997. He has won several other honours and awards at national level. He has several published articles and papers to his credit, besides a text book titled Money, Banking and Public Finance in nine editions.Contents:- Volume 1: Preface • History and Evolution of SAARC • Charter of South Asians Association for Regional Cooperation • India's Relation with Neighbours • Declaration of the First SAARC Summit, Dhaka • Declaration of the Second SAARC Summit, Bangalore • Declaration of the Third SAARC Summit, Kathamndu • Declaratioin of the Fourth SAARC Summit, Islamabad • Declaration of the Fifth SAARC Summit, Male' • Declaration of the Sixth SAARC Summit, Colombo • Declaration of the Seventh SAARC Summit, Dhaka • Declaration of the Eighth SAARC Summit, New Delhi • Declaration of the Ninth SAARC Summit, Male • Declaration of the Tenth SAARC Summit, Colombo •About The Book:- This Work Is A Sincere Attempt To Understand The Indian Policy Perspective In South Asia In A Larger Context Of The Phenomenon Of Regional Integration Across The World. It Elaborately Describes The Development Of South Asia, And Particularly Of India. Details Of Saarc Summits, Regional Conventions, History And Evolution Of Saarc, Role Of Saarc In The Development Of South Asia Is Also Detailed. It Also Outlines The Indian Policy And Approach To Regionalism In South Asia In The Historical Context Of Foreign Policy Ideas And Ideology Of The Indian Leadership. These Volumes Will Be Of Great Use To Students Of Politics, Academicians, Policy Planners, Statesmen, Teachers And Research Scholars., About The Author:- O.P.Goyal Secured His Ph.D In The Year 1976 From Rajasthan University, Jaipur. Since Then He Has Passed Several Milestones And Achieved Many Kudos And Award From Various Prestigious Organizations. His Major Area Of Interest Has Been Institution Building In This Regard He Has Been Responsibly Associated With The Growth Of Gurugobind Singh Indraprastha University, Delhi Where He Now Holds The Position Of The Dean Academic Affairs. Prior To That He Was Founder Dean Of School Of Management Studies. He Held Various Responsible Positions In Many Prestigious Institutions At Different Points Of Time. He Got Selected For American Biographical Institute'S Award Of Gold Record Of Achievement Sciences And Institution Building In The Year 1997. He Has Won Several Other Honours And Awards At National Level. He Has Several Published Articles And Papers To His Credit, Besides A Text Book Titled Money, Banking And Public Finance In Nine Editions., Content:- Volume 1: Preface • History And Evolution Of Saarc • Charter Of South Asians Association For Regional Cooperation • India'S Relation With Neighbours • Declaration Of The First Saarc Summit, Dhaka • Declaration Of The Second Saarc Summit, Bangalore • Declaration Of The Third Saarc Summit, Kathamndu • Declaratioin Of The Fourth Saarc Summit, Islamabad • Declaration Of The Fifth Saarc Summit, Male' • Declaration Of The Sixth Saarc Summit, Colombo • Declaration Of The Seventh Saarc Summit, Dhaka • Declaration Of The Eighth Saarc Summit, New Delhi • Declaration Of The Ninth Saarc Summit, Male • Declaration Of The Tenth Saarc Summit, Colombo •
Read less
Other books by O.P. Goyal
Recommended Books for you - See all
Price
:
Rs. 850
Rs.630
You save: Rs.220
Vendor :
Gyan Books Pvt.Ltd, Delhi
FREE SHIPPING | Delivered in 5 working days
(Cash on delivery available)
Be assured. 7 days Return & Refund Policy.
Click here
2 offers starting from Rs. 630
Rs.630 FREE SHIPPING

In stock | Delivered in 5 working days

Gyan Books Pvt.Ltd, Delhi

Add to cart

Rs.840 FREE SHIPPING

In stock | Delivered in 5 working days

Anshika Books, Delhi

Add to cart