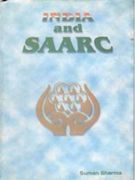 India And Saarc
By: Suman Sharma
Product Details:
Share this by email:
ISBN:
9788121207713
Publisher
:
Gyan Publishing House
Year of publishing:
2001
Format:
Hardback
No of Pages:
342
Language
: English
Description About The Author:- Dr. Suman Sharma is a reader in the Department of Political Science, Motilal Nehru College, University of Delhi. She has been teaching since 1983. She pursued her research...
Read more
Description About The Author:- Dr. Suman Sharma is a reader in the Department of Political Science, Motilal Nehru College, University of Delhi. She has been teaching since 1983. She pursued her research for Ph.D. degree in the School of Internationalo Studies, Jawaharlal Nehru University, New Dlhi. An executive member of Coalition for Action on South Asian Cooperation (CASAC)-India Chapter, She is a keen scholar of South Asian affairs and has ttravelled extensively in Sri Lanka, Bangladesh and Nepal.Contents:- Preface • Introduction • India and Regionalism in Asia • Genesis of SAARC (1980-85) • India and SAARC (1985-90) • Post-Cold War Developments and India's Role in SAARC (1990 Onwards): Economic Implications • Post-Cold War Developments and India's Role in SAARC: Political and Strategic Implications • Conclusion • Post Script • Appendices • Bibliography • IndexAbout The Book:- India And Regionalism In Asia Genesis Of Saarc (1980-85) India And Saarc (1985-90) Post-Cold War Developments And India's Role In Saarc(1990 Onwards): Economic Implications Post-Cold War Developments: Political And Strategic Implications On India's Role In Saarc., About The Author:- Dr. Suman Sharma Is A Reader In The Department Of Political Science, Motilal Nehru College, University Of Delhi. She Has Been Teaching Since 1983. She Pursued Her Research For Ph.D. Degree In The School Of Internationalo Studies, Jawaharlal Nehru University, New Dlhi. An Executive Member Of Coalition For Action On South Asian Cooperation (Casac)-India Chapter, She Is A Keen Scholar Of South Asian Affairs And Has Ttravelled Extensively In Sri Lanka, Bangladesh And Nepal., Content:- Preface • Introduction • India And Regionalism In Asia • Genesis Of Saarc (1980-85) • India And Saarc (1985-90) • Post-Cold War Developments And India's Role In Saarc (1990 Onwards): Economic Implications • Post-Cold War Developments And India's Role In Saarc: Political And Strategic Implications • Conclusion • Post Script • Appendices • Bibliography • Index
Read less
Other books by Suman Sharma
Recommended Books for you - See all
Price
:
Rs. 590
Rs.438
You save: Rs.152
Vendor :
Gyan Books Pvt.Ltd, Delhi
Free Shipping on all orders of Rs.500 and above. Add Rs.30 otherwise. | Delivered in 5 working days
(Cash on delivery available)
Be assured. 7 days Return & Refund Policy.
Click here
2 offers starting from Rs. 438
Rs.438 + Rs.30 delivery charges

In stock | Delivered in 5 working days

Gyan Books Pvt.Ltd, Delhi

Add to cart

Rs.584 FREE SHIPPING

In stock | Delivered in 5 working days

Anshika Books, Delhi

Add to cart