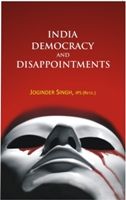 India Democracy And Disappointments
By: Joginder Singh, Ips
Product Details:
Share this by email:
ISBN:
9788121210409
Publisher
:
Gyan Publishing House
Year of publishing:
2010
Format:
Hardback
No of Pages:
534
Language
: English
Description About The Author:- Joginder Singh has been a celebrated Indian Police Service officer. He retired as Director CBI, after a distinguished career from 1961 to 1997. His father, late Mahant KartarSingh...
Read more
Description About The Author:- Joginder Singh has been a celebrated Indian Police Service officer. He retired as Director CBI, after a distinguished career from 1961 to 1997. His father, late Mahant KartarSingh was the biggest "Positive Thinker" according to him. Mr. Singh is a well known columnist to several newspapers, writer, thinker and stylist. He has authored 35 books, so far, with many more in the pipeline. Some of his books have been translated in other Indian languages, also one in Bhasha Indonesia. He is in great demand, both as an author, and a motivational speaker, as ten of his books deal with self improvement and self development. His columns appear regularly both in national and regional dailies in English and vernacular languages. Dimension of his learning and many facts of his personality are reflected in all his writings.Contents:- Contents # Preface, 1. Corruption: A Criminal Defiance on Nation, 2. Corruption: The Fire Ground Under Every Step, (Facets, Demi-gods and Combating Strategies), 3. Indian Politics and Democratic Fallout, 4. Crime: The Challenges Overgrown, 5. Terrorism: Extended Cult of Corruption, 6. Terrorism: Instances and Measures, 7. Security: A Government's Denial, 8. Police: Internal Security Weakened and Perplexed, 9. Jails and Indian Position, 10. Bureaucracy: Demagogues at Second Line, 11. Travesty of Justice, 12. Woman: The Better Half of Society, 13. Policies: Mending on the Rags, 14. India and the Others, 15. Hinduism and Threats, IndexAbout The Book:- This Book Is A Contemporary History Of India, In The Form Of Articles On Different Subjects From 2002 By Shri Joginder Singh Formerly Director, Cbi. They Cover Various Aspects Of Government And On Other Connected Issues That Touch The Lives Of All Of Us. The Articles Are Written In Simple And Lucid Style, Apart From Being Analytical In Nature And Suggesting Ways To Improve The System. All Aspirants To Civil Services, And Those Who Want To Study The Contemporary India, Will Benefit From This Collection Apart From Being Informative For The General Public As Well As, For The People Concerned With Good Governance. Some Of The Suggestions Given In The Articles Are Directly Aimed At The Rulers And How People's Problem Can Be Solved And Difficulties Alleviated. It Is Hoped That The Target Group At Which This Book Is Directed Will Avail Of The Methods Suggesting So That The Country Moves Forward. The Book Covers A Wide Ambit From Terrorism To Corruption And How All Of Us Can Help In Taking The Country Forward., About The Author:- Joginder Singh Has Been A Celebrated Indian Police Service Officer. He Retired As Director Cbi, After A Distinguished Career From 1961 To 1997. His Father, Late Mahant Kartarsingh Was The Biggest "Positive Thinker" According To Him. Mr. Singh Is A Well Known Columnist To Several Newspapers, Writer, Thinker And Stylist. He Has Authored 35 Books, So Far, With Many More In The Pipeline. Some Of His Books Have Been Translated In Other Indian Languages, Also One In Bhasha Indonesia. He Is In Great Demand, Both As An Author, And A Motivational Speaker, As Ten Of His Books Deal With Self Improvement And Self Development. His Columns Appear Regularly Both In National And Regional Dailies In English And Vernacular Languages. Dimension Of His Learning And Many Facts Of His Personality Are Reflected In All His Writings., Content:- Preface, 1. Corruption: A Criminal Defiance On Nation, 2. Corruption: The Fire Ground Under Every Step, (Facets, Demi-Gods And Combating Strategies), 3. Indian Politics And Democratic Fallout, 4. Crime: The Challenges Overgrown, 5. Terrorism: Extended Cult Of Corruption, 6. Terrorism: Instances And Measures, 7. Security: A Government'S Denial, 8. Police: Internal Security Weakened And Perplexed, 9. Jails And Indian Position, 10. Bureaucracy: Demagogues At Second Line, 11. Travesty Of Justice, 12. Woman: The Better Half Of Society, 13. Policies: Mending On The Rags, 14. India And The Others, 15. Hinduism And Threats, Index
Read less
Other books by Joginder Singh, Ips
Recommended Books for you - See all
Price
:
Rs. 900
Rs.668
You save: Rs.232
Vendor :
Gyan Books Pvt.Ltd, Delhi
FREE SHIPPING | Delivered in 5 working days
(Cash on delivery available)
Be assured. 7 days Return & Refund Policy.
Click here
2 offers starting from Rs. 668
Rs.668 FREE SHIPPING

In stock | Delivered in 5 working days

Gyan Books Pvt.Ltd, Delhi

Add to cart

Rs.891 FREE SHIPPING

In stock | Delivered in 5 working days

Anshika Books, Delhi

Add to cart