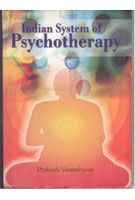 Indian System of Psychotherapy
Product Details:
Share this by email:
ISBN:
9788178350783
Publisher
:
Kalpaz Publications
Year of publishing:
2002
Format:
Hardback
No of Pages:
288
Language
: English
Description About The Author:- Prakash Veereshwar (Smt.) M.A. (Psy.), M.A. (Soc.) Ph.D. Educated at Meerut, Patna and Agra Universities. Retired after a long career of teaching at graduate and post graduate...
Read more
Description About The Author:- Prakash Veereshwar (Smt.) M.A. (Psy.), M.A. (Soc.) Ph.D. Educated at Meerut, Patna and Agra Universities. Retired after a long career of teaching at graduate and post graduate level research, guidance and counselling. After retire ment started 'MANASI' a centre for psychological guidance and counselling, book-publishing etc. She is a well-known author of several works on sociology and psychology. She received academic awards by the government of India.Contents:- Preface • Introduction • An Overview of Therapies-Western • A Glimpse of Indian Psychotherapy • The Vedas • Atharva Veda-I • Psychotherapy in Atharva Veda • Ayurveda • Samhitas • Yoga • Yoga and Psychotherapy • Psychotherapy-a Synthesis of India and Western • Conclusion-Salient Features of Indian Systemsof Psychotherapy • Bibliography • IndexAbout The Book:- The Present Work " Indian System Of Psychotherapy," Is A Pioneer In Subject. This Is An Attempt To Introduce The New And Blooming Psychologists And Psychotherapist To Our Own System,Which Are Very Ancient And Are Ingrained In Our Soil And Culture.Only Three Main Systems Have Been Discussed Here Viz. Atarva - Veda, Ayurveda And Yoga. This Covers The Whole Ancient Hindu Field. Although Ancient, These Systems Are Still Alive And Effective., About The Author:- Prakash Veereshwar (Smt.) M.A. (Psy.), M.A. (Soc.) Ph.D. Educated At Meerut, Patna And Agra Universities. Retired After A Long Career Of Teaching At Graduate And Post Graduate Level Research, Guidance And Counselling. After Retire Ment Started 'Manasi' A Centre For Psychological Guidance And Counselling, Book-Publishing Etc. She Is A Well-Known Author Of Several Works On Sociology And Psychology. She Received Academic Awards By The Government Of India., Content:- Preface • Introduction • An Overview Of Therapies-Western • A Glimpse Of Indian Psychotherapy • The Vedas • Atharva Veda-I • Psychotherapy In Atharva Veda • Ayurveda • Samhitas • Yoga • Yoga And Psychotherapy • Psychotherapy-A Synthesis Of India And Western • Conclusion-Salient Features Of Indian Systemsof Psychotherapy • Bibliography • Index
Read less
Recommended Books for you - See all
Price
:
Rs. 650
Rs.483
You save: Rs.167
Vendor :
Gyan Books Pvt.Ltd, Delhi
Free Shipping on all orders of Rs.500 and above. Add Rs.30 otherwise. | Delivered in 5 working days
(Cash on delivery available)
Be assured. 7 days Return & Refund Policy.
Click here
2 offers starting from Rs. 483
Rs.483 + Rs.30 delivery charges

In stock | Delivered in 5 working days

Gyan Books Pvt.Ltd, Delhi

Add to cart

Rs.644 FREE SHIPPING

In stock | Delivered in 5 working days

Anshika Books, Delhi

Add to cart