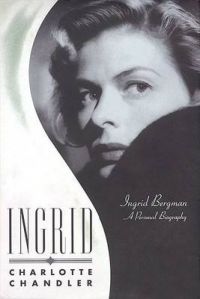 Ingrid: Ingrid Bergman, a Personal Biography
Product Details: Share this by email:
ISBN:
9781557837356
Publisher
:
Hal Leonard Corporation
Year of publishing:
2008
Format:
Paperback / softback
No of Pages:
334 pp
Review
:
Ingrid Bergman. What images just the name evokes! But behind the icon on the screen and the scandal in the headlines was a real, flesh-and-blood woman all of us would have liked to know. Meet her...
Read more
Ingrid Bergman. What images just the name evokes! But behind the icon on the screen and the scandal in the headlines was a real, flesh-and-blood woman all of us would have liked to know. Meet her now in Charlotte Chandler's "Ingrid," a biography more exciting and dramatic than most novels."-- Sidney Sheldon
Read less
Other books by Charlotte Chandler
Price
:
Rs.1317
Vendor :
Repro Knowledgecast Ltd, Mumbai
FREE SHIPPING | Delivered in 21 working days
(Cash on delivery not available)
Imported Edition
Be assured. 7 days Return & Refund Policy.
Click here