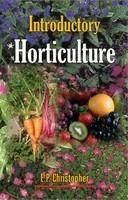 Introductory Horticulture
By: E.P. Christopher
Product Details:
Share this by email:
ISBN:
9788176220569
Publisher
:
Biotech
Year of publishing:
2012
Format:
Hardcover
No of Pages:
490
Language
: English
Equally useful for students and practitioners of horticulture, this book describes the various horticultural practices alongwith their scientific background. The introductory part of the book deals with;...
Read more
Equally useful for students and practitioners of horticulture, this book describes the various horticultural practices alongwith their scientific background. The introductory part of the book deals with; classification, structure and growth of plants; climatic requirements of horticultural crops; soils selection and management; techniques of plant propagation; and the use of plant growing structures for modifying environmental conditions. Discussed further in detail are the principles involved and practices used for the growing of more common vegetable, flower and fruit crops. Cultural practices for specific crops have been described, wherever possible. Some of the allied topics like principles of land-scaping growth abnormalities of plants and control of insects and diseases; and organisation of horticultural shows, have been covered in the concluding section of the book. Books for further reading have been listed under select references and an exhaustive subject index has been appended to the text. Chapter 1: Field of Horticulture; Relation to Other Sciences and to the Individual, Fruits, Vegetables, Ornamentals, Statistics, Chapter 2: Classification Structure and Growth of Plants; Botanical: Genus and Species, Horticultural: Animal, Biennial and Perrennial: Variety, Sport, and Strain, Cell and Tissues: Meristems, Roots, Stems, Flowers: Buds, Suckers, Water, Sprouts, Spurs and Other Specialized Stems, Growth: Photosynthesis, Respiration, Transpiration, Translocation, Tropisms, Chapter 3: Climate and Horticulture; Regional Influences: Temperature, Moisture, Light, Site Influences: Size, Elevation, Slope, Soil, Frost, Drought Floods, Chapter 4: Soil and Soil Amendments; Origin and Composition: Texture, Structure, Acidity, Fertility, Chemical Fertilizers: NPK, Nutrient Balance, Biological Properties: Composts, Water and Air, Selection and Management, Soil Tests, Chapter 5: Plant Propagation; Seedage: Influence of Environment, Testing, Hybrids, Cuttage: Types, Media, Special Treatment, Layerage: Runners, Rhizomes, Bulbs and Corms: Division, Separation, Graftage, Compatibility: Special Techniques, Chapter 6: Plant Growing Structure; Purpose: Types, Old Frame, Hotbed, Sash House, Greenhouse, Construction: Heating, Layout, Shade Houses, Chapter 7: Vegetable Crops I; Rotation, Layout, Succession, Intercropping, Plant Growing, Transplanting, Soil and Cultivation, Perennials, Asparagus, Rhubarb, Greens: Spinach, Swiss Chard, Kale, Collards, Salad Crops: Lettuce, Endive, Celery, Cole Crops: Cabbage, Cauliflower, Broccoli, Chapter 8: Vegetable Crops II; Irrgation: Weed Control, Root Crops: Carrot, Beet, Parsnip, Turnip, Radish, Bulb Crops: Onions, Beans and Peas: Sweet Potato, Sweet Corn, Solanaceous Fruits: Tomato, Pepper, Eggplant, Vine Crops: Cucumber, Muskmelon, Watermelon, Squash and Pumpkin, Potato, Chapter 9: Outdoor Floriculture; Outdoor Gardens: Plant Types and Arrangement, Annuals, Biennials, Perennials, Including Roses: Common Examples and Culture, Chapter 10: Indoor Floriculture; Soils, Including Sterilization: Soilless Culture, Light, Humidity, Ventilation, Florist Crops: Potted Plants, Bulbs, Cut Flowers, Chapter 11: Tree Fruits (Pomes); Apple: General Culture, Prunning, Flower Bud Formation: Pollination and Fruit Set, Thinning, Harvesting, Rootstocks, Pear, Quince, Chapter 12: Drupe and Evergreen Fruits; Peach: Winter Hardiness and Injury, Rest and Dormancy, General Culture, Prunning, Nectarine, Apricot and Almond, Plums, Cherries, Evergreen Fruits: Orange, Grapefruit, Lemon, Avocado, Chapter 13: Small Fruits; Strawberries: Brambles, Raspberries, Blackberries, Currants and Gooseberries, Blueberries, Craneberries, Grape, Chapter 14: Home Landscape; Planning: Areas, Walks, Drives: Lawns, Trees, Shrubs, Ground Covers and Vines: Climate Control, Special Gardens, Chapter 15: Nurseries and Arboriculture; Nursery Industry: Organization, Canning, Arboriculture: Prunning, Bracing, Feeding, Cavities, Transplanting, Chapter 16: Plant Growing Problems: Abnormalities and Pest Control; Diagnosis: Environmental and Physiological disorders, Diseases, Bacterial, Fungus, Virus, Insects: Chewing, Sucking, Miscellaneous Pests: Nematodes, Ants, Mice, Controlling Insects and Diseases: Environmental, Natural Enemies, Chemicals, Chapter 17: Storage and Marketing; Respiration: Transpiration, Atmosphere, Mechanical Refrigeration, Insulation, Precooling, Canning, Freezing, Marketing, Handling, Chapter 18: Horticultural Shows and Judging; Purpose: Preparation, Exhibiting, Judging.
Read less
Other books by E.P. Christopher

Rs. 1160
BUY NOW
Recommended Books for you - See all
Price
:
Rs. 1400
Rs.1160
You save: Rs.240
Vendor :
Astral International Pvt. Ltd., Delhi
FREE SHIPPING | Delivered in 5 working days
(Cash on delivery available)
Be assured. 7 days Return & Refund Policy.
Click here