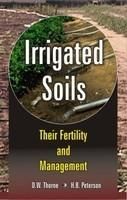 Irrigated Soils: Their Fertility and Management 2nd edn
Product Details:
Share this by email:
ISBN:
9788176221122
Publisher
:
Biotech
Year of publishing:
2013
Format:
Hardcover
No of Pages:
xii,392
Language
: English
Most of the arable soils of humid temperate areas are now employed for crop production. With an ever-increasing population, the world is again rapidly turning to the further development of irrigation in the semi-arid...
Read more
Most of the arable soils of humid temperate areas are now employed for crop production. With an ever-increasing population, the world is again rapidly turning to the further development of irrigation in the semi-arid and arid lands which comprise over half of the earth's land surface. Today more than half of the world's population is dependent on food produced under irrigation. Authors have kept constantly in mind the idea of integrated plants which will give maximum production on irrigated farms. In this approach, discussion of such topics as soil water relations, salt, alkali, soil physical properties, organic matter, crop rotations, fertilizers, and irrigation practice have been directed toward recognizing the solving practical farm problems. The emphasis on farm planning throughout the book has been brought to a final conclusion with a new chapter on planning the irrigated farm. The recent rapid expansion of irrigation in humid regions at first thought seems to justify special treatment. But further consideration indicates that the same fundamental principles are involved wherever irrigation is practiced, whether in arid or humid areas. The salt problem seldom occurs in humid regions and liming must be practiced, but still the underlying principles of irrigation agriculture are the same. In preparing the manuscript the authors have sought to emphasize fundamental principles that underlie soil management practices. Emphasis is on basic principles rather than on field practices. The general approach is to present first the fundamental principles and second the applications of the principles in solving individual problems. The authors sought to bring together viewpoints from different fields of investigation and to harmonize them into an integrated presentation. For example, in soil moisture studies, soil scientists have customarily dealt in terms of physical stresses exerted on moisture by capillary "pull" and adsorption by soil particles; plant physiologists have been concerned with osmotic stress value resulting from salts dissolved in soil or culture solutions. In irrigation agriculture, both concepts are vitally important and are presented as a unified principle that must be evaluated in estimating the water relations of plants in irrigated soils. This book will be useful in college dealing with irrigation and the management of irrigated soils, but also as a reference guide to those giving technical advice to farmers on the management of irrigated soils. Contents Chapter 1: Problems of Irrigated Regions, Early history of irrigation, Extent of irrigation in world agriculture, Problems in irrigation agriculture, Bibliography; Chapter 2: Soil as a Medium for Plant Growth, Plant roots, Soil characteristics and plant growth, Soil classification as a key to management problems, Bibliography; Chapter 3: Soil and Water Relations, Moisture retention by soils, Methods of expressing the tension of soil water, Definitions of moisture terms, Water movement, Bibliography; Chapter 4: Soil Water, and Plant Relations, Water availability in soil, Range of available moisture, Optimum moisture level, Water requirements of crop plants, Bibliography; Chapter 5: The Salt Problem, Classification of salted soils, Plant relations to salted soils, Bibliography; Chapter 6: Evaluating Land for Irrigation, Field evaluation of land, Evaluation of salted soils, Plant food reserves, Bibliography; Chapter 7: Source and Quality of Irrigation Water, Importance of watershed management, Water rights, Quality of water, Changes in water quality, Soils in relation to water quality, Improving the quality of irrigation water, Analysis of selected irrigation waters, Soil changes induced by irrigation water, Bibliography; Chapter 8: Measuring Irrigation Water, Units, Weirs, Other measuring devices, Bibliography; Chapter 9: Planning A Farm for Irrigation, Preparing the farm for irrigation, Farm distribution systems, Selecting an irrigation method, Methods of water application, Planning cropping systems for water supplies, Bibliography; Chapter 10: Irrigation Practice, Quantity of water to apply, Water application efficiency, Leaching losses, When to irrigate, Integration of irrigation with other management practices, Bibliography; Chapter 11: Drainage, Planning a drainage system, Depth and spacing of drains, Types of drains, Design and construction of drainage systems, Surface drainage, Bibliography; Chapter 12: Reclamation and Management of Saline and Alkali Soils, Salt balance, Reclamation of saline soils, Reclamation of alkali soils, Illustration of reclamation procedures, Reclamation of soils damaged by sea water, Management of saline and alkali soils, Bibliography; Chapter 13: Control of the Physical Properties of Soil, Soil structure, Aeration, Permeability, Soil temperature, Resistance to erosion, Tillage for the control of soil physical properties, Effect of plants on physical properties of soil, Organic matter and improved physical condition of soils, Chemical treatment for soil improvement, Bibliography; Chapter 14: Control of the Biological Properties of Soil, Plant disease organisms in the soil, Promotion of desirable microbiological activities, Denitrification, Effects of crops on succeeding crops, Crop rotation, Planning rotations, Bibliography; Chapter 15: Maintaining Organic Matter in Soil, Role of organic matter in soil fertility, Principles governing the quantities of organic matter in soils, Activity of soil organic matter, Principles for building and maintaining organic matter content, Green manure crops, Farm manure, Artificial manure and composts, Crop residues, Bibliography; Chapter 16: Minerals and Plant Growth, Non essential elements of interest in plant nutrition, Classification of essential elements, Function of the essential elements in plant growth, Availability of plant nutrients, Bibliography; Chapter 17: Fertilizer Elements and Fertilizer Materials, Nitrogen, Phosphorus, Potassium, Bibliography; Chapter 18: Using Fertilizers, Guarantees and regulations, Fertilizer ratios, Compatibility of ingredients, Calculating fertilizer formulas, Estimating fertilizer values, Home mixing, Selecting fertilizers, When to apply fertilizer, Placement of fertilizer, Systems of fertilizer management, Bibliography; Chapter 19: Soil Management for General Field Crops, Sugar cane, Sugar beets, Potatoes, Corn, Cotton, Cereal crops, Alfalfa and clovers, Pastures, Rice, Bibliography; Chapter 20: Soil Management for Fruit, Vegetable and Specialty Crops, Fruit crops, Vegetable crops, Seed crops, Lawns, Ornamentals, Bibliography; Chapter 21: Farm Planning, Making the farm map, Soil map, Inventory and evaluation of resources and problems, Types of farming in relation to farm plants, The farm layout, Adjusting crops and livestock, The written report, Bibliography.
Read less
Other books by David Wynne Thorne
Recommended Books for you - See all
Price
:
Rs. 1500
Rs.1242
You save: Rs.258
Vendor :
Astral International Pvt. Ltd., Delhi
FREE SHIPPING | Delivered in 5 working days
(Cash on delivery available)
Be assured. 7 days Return & Refund Policy.
Click here