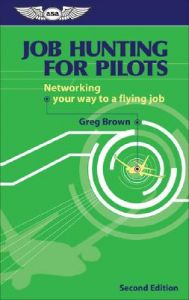 Job Hunting for Pilots: Networking Your Way to a Flying Job
By: Gregory N. Brown
Product Details:
Share this by email:
Specifically focusing on how to get resumes hand-carried into specific flight departments, this book covers all aspects of the job-hunting process.
Review
:
Recommended for any serious wantabee commercial pilot. Excellent value for money and one of the few books that cover the topic of what you do after, indeed, that should read what you do BEFORE you...
Read more
Recommended for any serious wantabee commercial pilot. Excellent value for money and one of the few books that cover the topic of what you do after, indeed, that should read what you do BEFORE you obtain your commercial pilot licence..." -- Reader
Read less
Other books by Gregory N. Brown
Recommended Books for you - See all
Price
:
Rs.1363
Vendor :
PBC Books, Delhi
FREE SHIPPING | Delivered in 21 working days
(Cash on delivery not available)
Imported Edition
Be assured. 7 days Return & Refund Policy.
Click here