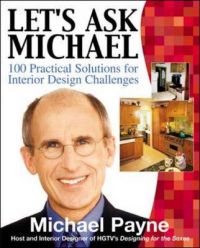 Let's Ask Michael: 100+ Practical Solutions for Interior Design Challenges
By: Michael Payne
Product Details:
Share this by email:
Michael Payne - popular host of the HGTV's hit series, "Designing for the Sexes" - brings his unique talents and expertise to this beautiful and practical reference designed to help homeowners find stylish...
Read more
Michael Payne - popular host of the HGTV's hit series, "Designing for the Sexes" - brings his unique talents and expertise to this beautiful and practical reference designed to help homeowners find stylish solutions to today's most challenging home design dilemmas. It features real life questions asked by real life people. Utilizing a vibrant full-color format, Michael answers such questions as: I want a classic Victorian theme in my family room, where do I begin? Our new living room has 20-foot ceilings and makes furniture look miniature, what should we do? We want color in our room, but have no idea where to start, what do you suggest? Michael Payne's ingenious - and beautiful - answers will give you ideas you'll want to try in your own home.Whether you're married or single, you'll appreciate the exciting decorating solutions in "Let's Ask Michael". This book: puts 100 complete design answers in front of your eyes in gorgeous 4-color, 2-page spreads; answers questions on all the rooms in your home; follows a logical room-by-room sequence; and, is packed with Michael's unique tips on lighting, upholstery, accessories, storage, and more.
Through emails, internet chats, and attendance at his seminars, Michael's fans have directly asked him to solve their most difficult interior design dilemmas. This beautiful reference delivers the answers they seek in a style that captures Michael's trademark wit and charm. Questions range from the common to the outrageous, providing always informative - and often amusing - reading. It provides practical solutions in an innovative format.
Read less
About the author:
Michael Payne
Review
:
By Deborah Mann Lake The master bedroom might be considered the epicenter of the his-her battle over interior design. He will ogle the studded leather headboard; she will drool over tasseled...
Read more
By Deborah Mann Lake The master bedroom might be considered the epicenter of the his-her battle over interior design. He will ogle the studded leather headboard; she will drool over tasseled pillows and lace. And somewhere in the middle, HGTV interior designer Michael Payne will find a way to bring them together. Payne, the star of Designing for the Sexes, will talk about creative ways to solve design problems and autograph copies of his book Let's Ask Michael: 100 Practical Solutions for Interior Design Challenges (McGraw-Hill, $24.95) during the House Beautiful Show Friday, April 18 at Reliant Center. "The master bedroom is where you expect couples to want to be together," Payne said in a telephone interview that revealed his dry sense of humor. "But most women want an exhibition of femininity with lace and pillows and foo-foo. Some women will add pillows on the bed until they run out of real estate. A man doesn't want 8 million pillows on the bed." But a woman will cringe at the thought of a leather headboard, so Payne tries to find a middle ground, perhaps with a carved wood or an upholstered headboard in a plan fabric for him and tasseled pillows -- in a limited number -- for her. Then, if there's room, he can have his leather chair and she can have her upholstered chaise. Everyone's happy by the end of the show. But don't expect Payne to help compromise on everything. "I fight stuffed heads," he said. "I will make sure there is a wonderful display in the garage across from where he parks his SUV. He can press the garage-door opener and right in front of him will be his collection of stuffed animals. He can appreciate them right in his face." Payne said he would love to take his show on the road some day, but for now he looks for people in the Los Angeles area where he lives. One of the biggest criteria? Couples must have a "reasonable budget." So these days, what's reasonable? Payne said it depends on the project. You can't tear out and rebuild a kitchen for $5,000, as one wanna-be-on-the-show proposed. "It's realistically going to take $30,000 to $40,000 to redo a kitchen and $15,000 to $20,000 for a living room," Payne said. "But a kid's room could be done for $1,500 to $2,000." One of the most fascinating parts of the show -- for Payne and viewers alike -- is the couple's relationship as they work through their design battle. "I think the show forces -- or allows -- couples to really communicate with each other, often for the first time," Payne said. "Often, it's the first time a man has been asked for his opinion on color or style. I can tell you that if a man were to go out and buy a truck tomorrow, he knows exactly what color he wants. So why wouldn't he have an opinion on the color of the sofa he's sitting on?" By giving each person input, each has ownership. ...Editing a room -- taking stuff away to be replaced on a rotating basis -- is another way to make a room look fresh. Drama can come in the form of adding dimmers to light switches, he said. Payne built his book of common decorating dilemmas around e-mails received from thousands of people who have watched the 5-year-old show, like whether it's okay to do the bathroom all in white (yes) or what to do with that giant television (hide it in a cabinet). We couldn't resist asking for help on our own decorating dilemma: what to do with the dark wood paneling in a 1973 ranch-style home. Payne said the best option, in his opinion, was to get rid of it and put in drywall. Stripping and bleaching the paneling in a lighter color is an option. And you can always paint it, but it will look like painted paneling, he said. His favorite solution, and the most expensive: upholster the walls. "The paneling gives you a surface for the staples. You can put a really beautiful fabric on the walls and it will not only look great, it will add sound insulation."... Houston Chronicle 20040511 By Bridget Bulger with contributions by Barry Wisdom Michael Payne, re-energized host of HGTV's "Designing for the Sexes" returned to his show this fall following a one-year hiatus. Those who pick up this chatty, informative and well-illustrated book (designed by his son Juston), will see that Payne did not waste his time during his break. In "Let's Ask Michael" ... the British-born but L.A.-based Payne answers some of the real-life design questions tossed his way since landing on TV and becoming a "name commodity." The Sacramento Bee 20031113 Article by Linda Hutchinson He rethinks rooms in his weekly HGTV series "Designing for the Sexes." Now interior designer Michael Payne takes his ideas to the page in Let's Ask Michael: 100 Practical Solutions for Interior Design Challenges. Based on an e-mail from a couple who feuded over a design issue in their home, the discussion ended with "let's ask Michael." Payne immediately recognized it as a great book theme. Payne addresses a number of different design problems in his hot 100, which are essentially amalgamations of e-mailed design questions. He explains his design philosophy in the process, that "all spaces in a home should reflect the resident's needs as well as personality. "Rooms are like machines," he wrote. Before any thought is given to their appearance they need to work." Payne breaks the chapters up by room, starting with the bedroom and moving on to the bathroom, living room, kitchen, dining rooms, and family room. Each section offers a number of fairly specific design questions followed by Payne's take on the issue, which is enhanced by either before-and-after photos or other illustrative photos to make his design point. One question is if an iron bed, which isn't very feminine, can be softened down? Payne addresses the look of the bed frame as a non-issue and moves directly to advice on soft, warm wall colors and throw pillows. He gets specific: "In my experience, people often gravitate to light reds for the warm quality," he wrote. The bed won't matter if the overall look of the room is warm. Another question addresses the issue of high ceilings and furniture size. The 20-foot ceiling in a new house makes the homeowners' furniture look dwarfish. What can be done? "Think big and heavy," suggests Payne. "Consider dark floors, such as walnut stained wood or dark stone to anchor the floor." He goes on: large paintings, tapestries or a large mirror will help the proportions of the room. If there's good light, a tall tree could help fill the space as well. While many of the questions are specific, Payne's way of solving problems can be generalized. What's nice about a book like this is that rather than dealing with palatial problems, the book's questions relate to every day homes that could be found in any cul-de-sac. He also doesn't dismiss some realities that other designers want to deny - for example, people collect things and often have to deal with huge storage issues. And not everyone has an armload of money to rebuild or make big structural changes. Many of Payne's suggestions relate to arrangement, better furniture choices, paint, accessories, fabrics, and the overall sue of color - a welcome approach. San Gabriel Valley Daily Tribune 20031111 Decorators have always had to solve impasses...few do it better, or with more charm and enthusiasm, than...Michael Payne. HOME Magazine 20031001 A moment with ... Michael Payne, host of 'Designing for the Sexes' By SUSAN PHINNEY It's hard to believe Michael Payne, host and interior designer of HGTV's "Designing for the Sexes," started his business career as a computer nerd. This charming, Armani-clad Brit with a math/physics background was transferred to the U.S. for one year (30 years ago) to work in the computer industry. He worked in Boston and Los Angeles before deciding computers weren't the key to his life. Payne enrolled in a design program at UCLA and never looked back. He opened his own firm in 1980 and became a TV designer/personality in 1998. He was in Seattle last week to autograph copies of "Let's Ask Michael: 100 Practical Solutions for Interior Design Challenges" (McGraw Hill, 195 pages, $24.95). Here's what he had to say about TV shows and their influence: On family rooms. They're the prime concern of most people. Bedrooms are second. This is where we all spend a lot of time. The problem with family rooms is laying out the furniture. You have more than one focal point -- a fireplace, a big-screen TV, sometimes French doors opening to a view. Making the space work efficiently is a major challenge. On TV design shows. One cannot underestimate the influence they've had on the public over the last 10 years. Before then, the world of interior designers and decorators was for the wealthy. It was all about money and status. Now the public appreciates the values and skills of designers. They realize they can have things they've seen in shelter magazines in their own homes. We're seeing the industry acknowledge they have set a machine in motion. Faux finish has become part of our vocabulary. This is a phenomenon that didn't exist. Men and women are making design decisions together. On home offices. They're really important. Instead of putting a computer on an old tabletop, more and more people want really beautiful home offices ... offices on par with their living and dining rooms. On downsizing. If your furnishings fit, use them. If they don't, get rid of them and replace with things that work. People have a psychological attachment to their furniture. But you can't take furniture from a 5,000-square-foot home and put it all in a 2,000-square-foot condo. http://seattlepi.nwsource.com/tv/129391_paynemoment.html Seattle Post-Intelligence Reporter 20030705 By Ina Cordle from The Miami Herald Michael Payne, the host of HGTV's popular Designing for the Sexes, has mesmerized loyal viewers for years, as he cheerily navigates a middle ground between the divergent tastes of husbands and wives. To live in beautiful, comfortable, workable surroundings is a fundamental desire, he believes, but too often people are afraid to make expensive mistakes. So, Payne has culled his ideas into dozens of tips that even design-challenged homeowners can use to enhance any space. He puts his expertise to work solving viewers' real problems in a breezy new paperback Let's Ask Michael: 100 Practical Solutions for Interior Design Challenges. The goal of the book, Payne said, was to fill a void between fancy coffee table books that offer glossy pictures but little content, and reference books that provide heavy reading but few photographs. "I wanted a compromise," he said. "I wanted a book that was really visually exciting ... and I wanted it to have ideas, content that people could read, and read quickly." QUERIES LEAD TO BOOK Payne, whose show has run for nearly five years and is now in reruns, has received thousands of e-mails from viewers who needed help choosing a color scheme, updating a dining room or replacing an ugly fireplace. He chose 100 e-mail questions for his book, wrote descriptive answers and illustrated his points with photographs of real projects he had designed over the years, including some from his show. Separate chapters are devoted to every room in the house. On each page or two, Payne explores a different issue, like how to best use stone in a kitchen or the benefits of opening up the ceiling of a family room. Payne, 58, even offers glimpses of his own home -- a 1926 Spanish house in the Hollywood Hills neighborhood of Los Angeles. Interspersed among his design tips are a photograph of a bronze pig doorknob in his kitchen and another picture of his son's bathroom, decorated as an underwater environment, when his son was a child. Now 23 years old, Payne's son, Juston, a Colgate University graduate, was the book's graphic designer. Payne's wife, Janice, served as an "objective critic." "Sometimes I want to do things that are completely wild and crazy and she reminds me that I may think they are marvelous, but frankly, the rest of the world may not get it," he said. EXUDES WARMTH That flamboyance, warmth and humor are clearly evident on his show, which first aired Oct. 1, 1998. Payne jokes that a viewer may have to watch an episode 10 times to catch the finer nuances, like when he walks into an "absolutely dreadful" room and says "This is certainly different." Designing for the Sexes is currently airing with a different host, Susan Hunt. Her episodes run this spring and summer, and then a new series of episodes hosted by Payne will debut in October. "People respond well to him as a designer, and he has credibility," said Michael Dingley, senior vice president of programming for HGTV. '"And that is something we look for in all our shows." Though Payne has no training in psychology, it's an understanding of human nature that seems to guide his vision. At the start of each episode of Designing for the Sexes, Payne enters the home of a couple who need help decorating a space. The husband may want plain white walls and brown leather contemporary furniture for the living room, while his wife yearns for burgundy walls and flowered traditional upholstery. '"Women, from the moment they are born, live in a world of color," Payne says, citing dresses, bonnets, booties and hair bows. Little boys, on the other hand "grow up all about beige, white. Men live in a truly colorless world," he said, '"They go to work in corporations and wear white shirts, for heaven's sake!" BRIDGING THE GAP The secret to bridging that gap is to find a neutral color, like sage green or a light, buttery yellow, that gives the woman the shot of color she needs, while being subtle enough for the man, Payne said. Along the same lines, Payne will cover a large sofa in a solid color to please the husband, and place colorful throw pillows trimmed in fringes and tassels for the wife. "Everybody should get something they really want," Payne said. "It's a balancing act. So when they enter the room, seeing what they want to see, they will both feel good about being in the space together." An interior designer with his own firm since 1980, Payne stumbled into the world of television quite by accident. In 1997, he was asked to be on an episode of Christopher Lowell's show, Interior Motives, on the Discovery Channel. A year later, HGTV asked Payne to appear on a new show that would feature 13 episodes with different designers. Soon, the producers changed their minds and asked him to do all 13, he said. Halfway through that series, they locked him in for 65 episodes. Payne claims no acting talent, and says that he is "exactly the same person" on the show as he is in real life. Perhaps his greatest gift, Payne says, is that he doesn't see the camera. '"Michael is amazing. He can look in a room for two seconds and know exactly what to do," said Carol Felman, whose Studio City, Calif., master bedroom was featured on one episode, and appears on page 7 of his book. "He's so nice to work with. We were a little nervous about doing the show, but he made us so comfortable. It was just so much fun." SOUGHT SATISFACTION Born in Epson, England, Payne received a degree in physics and mathematics from Southampton University, then embarked on a career in the computer industry. When he was 26, his company sent him to Minneapolis for what was expected to be one year. By 30, Payne decided he wanted a career that would give him more inner satisfaction. So he studied interior design at UCLA and gained experience working for a Los Angeles firm whose upscale clients owned palaces and homes around the world. Just as chatty on the phone as he appears on the show, Payne is brimming with more ideas for new endeavors. First, he plans a book highlighting a handful of projects from start to finish, offering a closer view of how he conceives his design ideas, with photos of the work as it progresses. The book could be out in six months, he said. Payne also would like to do a major remodel of his own home and have the whole process shot as a show. That, he says, would show the public that he and his wife share exactly the same design dilemmas as his viewers. "I don't have a wife who says 'Yes, dear, anything you want,'" Payne says, laughing. "The fact that I am an interior designer, with a television show, carries no weight at all." The Miami Herald 20030518 An interior designer and host of Home and Garden Television's Design for the Sexes Payne answers questions he has received as a result of the design guidance he gives on his show. Although the show's premise is to get couples to compromise on their design preferences to create mutually satisfying room decor, here he primarily solves individual design challenges. Payne answers questions concerning every room of the house-bedrooms, bathrooms, dinning rooms, kitchens, hallways, home offices, guest rooms, and libraries-and he illustrates his advice with color photographs. His practical, down-to-earth approach to design recommends this book for public libraries of any size. Library Journal 20030515 Excerpt from article by Cyndi Schu Comfort, personal choice important home this spring Making...home more desirable has become a priority, and more people are redoing and updating the homes they have. This spring, the key to home decorating and furnishing is one word: comfort. Michael Payne, host and designer for HGTV's, "Designing With the Sexes, "and author of the upcoming Let's Ask Michael (McGraw-Hill), says, "People want to feel comfy at home, and want things that embrace them with comfort. At the same time they want to be smart and elegant. Stuffiness ...gone, as is clutter. Keep a room open and have space." ... The San Bernadino Sun 20030426 Devotees of Payne's HGTV series, Designing for the Sexes, will welcome this richly illustrated user-friendly guide to interior design. Payne, a California interior designer, has compiled frequently asked questions he has received from viewers since his show first aired in 1998. Divided into sections by rooms, the author addresses design issues such as color, space, light and budgetary considerations. For example, a stay-at-home working mother who is using a guest bedroom for an office wonders how to make the room most attractive and efficient for both her and sleepover guests. The author suggests purchasing a "Murphy" bed that can be housed behind wall cabinetry with shelves that can be closed when the bed is not in use. Payne is also adept at resolving conflicts in taste between two people who are living together. He helps a husband and wife who are planning to remodel their living room in order to reconcile the husband's love of new design trends that emphasize light metals with his Japanese wife's desire to incorporate elements from her culture. Since both tastes begin with simplicity, Payne demonstrates a design marriage between traditional Asian simplicity and geometric lines. The color photos complement and strengthen the author's solutions. Although Payne does take budgetary and space constraints into account, this manual will be most useful to upper-middle-class families who live in houses rather than apartments. Publisher's Weekly 20030421 Excerpts from feature article about author Michael Payne by Erica Noonan A couples-therapy view of decorating Every Thursday night at 9, Payne strolls up the front walk of a Los Angeles mansion to call decorating timeout for a bickering couple. Usually, he introduces the design dilemma with something provocative like, "She loves French country. He loves Salvadore Dali melting-clock posters. Can these two ever agree? Then in 30 minutes, courtesy of Home & Garden Television, they invariabley do. Payne, 57, is the first of the new wave of telegenic, celebrity interior designers to advocate for the man of the house. For decades men's decorating opinions were ignored -- or worse, mocked by women and the designers they hired. ..."It's all about compromise," he said, and most "Designing for the Sexes" couples end up happy. ... Payne's first book, Let's Ask Michael, a collection of reader e-mails and solutions to common design dilemmas, is due to be published next month by McGraw-Hill... Boston Globe 20030313
Read less
Recommended Books for you - See all
OUT OF STOCK
Looks like the book you were looking for is currently not in stock with us. Please leave us your email and phone number.
We will get back to you as soon as it's available.
Your email

Phone No.

Enter characters from image