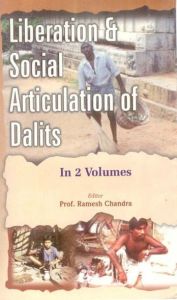 Liberation And Social Articulation of Dalits (Issues of Dalit And Backward Liberation), 2Nd Vol.
By: Ramesh Chandra
Product Details:
Share this by email:
ISBN:
9788182051256
Publisher
:
Isha Books
Year of publishing:
2004
Format:
Hardback
No of Pages:
322
Language
: English
Description About The Author:- Prof. Ramesh Chandra was born in a family of academicians and freedom fighters on July 1st. 1957 in village Bijwara, District Meerut of Uttar Pradesh. He started his research...
Read more
Description About The Author:- Prof. Ramesh Chandra was born in a family of academicians and freedom fighters on July 1st. 1957 in village Bijwara, District Meerut of Uttar Pradesh. He started his research career at University of Delhi and then went to the New York Hospital-Cornell University Medical Center, as well as at the School of Medicine, State University of New York at Stony Brook as a faculty member and then went to Harvard University Medical School-Massachusetts General Hospital jointly at MIT, Cambridge, USA. On his return to India he joined the faculty at the University of Delhi, where he is currently a Professor of Chemistry and Director of Dr. BR Ambedkar Centre for Biomedical Research: in addition to his present assignment as Vice-Chancellor of Bundelkhand University, Jhansi (UP). He was appointed Professor (Research Scientist) by the UGC at the young age of 35 years. He is a creator, performer and builder of institutions of higher learning. He has established Dr. BR Ambedkar Centre of Biomedical Research at University of Delhi, when he was just 33 years old and became its Founder Director. He was appointed as youngest Vice-Chancellor of Bundelkhand University on March 24th, 1999 at the age of 41 years. He has metamorphosed it into a Center of Excellence by creating 36 institutes of higher learning of higher learning and increasing the capacity of students from 225 to 90000 and raising the number of faculty member from 8 to 270 in such a short span of time. Prof. Ramesh Chandra is a scholar and an eminent scientist. He has done pioneering research work in the field of drug development and his inventions are being used in the development of drugs for Neonatal jaundice and breast tumor. He is recipient of several National and International Awards such as: UGC Career Award, Prof. DP Chakravorty Commemoration Award, The Rockefeller Foundation, USA Biotechnology Career Award, UGC Research Scientist Award, Fullbright Scholarship, Award of the Highest Honor of the Soka University, Japan and Fellowships of: the Royal Society of Chemistry, UK, International Academy of Physical Sciences. He is also recipient of National Scholarship of the Govt. of India and many more. He is member of more than three dozen scientific and academic societies as well as founder of several academic and scientific societies and institutions. He has been visiting scientist at various University and research institutions all over the world.Contents:- Volumes-II • Preface • Discrimination on the Ground of Caste and Tribe • Dalits in Contemporary India • Social Disabilities of Dalits • Rights of Dalits • Educational Development of Dalits • Development of Dalit Women • Dalit Welfare Programmes • Bibliography • IndexAbout The Book:- The Set In Two Volumes Track Down Dalit History, Their Marginalisation, Welfare Measures And Awakening Of Dalits. In Addition, The Work Also Suggests Ways And Means To Bring Dalit Into Mainstream Society. The Work Highlights Various Problems Associated With The Dalits As Racism, Injustice, Torture, Discrimination, International Human Rights, Social Disabilities Of Dalits, Rights Of Dalits, Development Of Dalit Women Etc. This Is A Comprehensive Coverage On Various Issues Of Dalits And Backward Liberation, The Role Of State And Social Agencies In The Mainstreaming Of The People Is Also Discussed In These Volumes. The Work Will Be Highly Useful For Social Work Organizations, Policy Planners, Researchers In The Field And Students. Vol. 1 : Dalit, Racism, And Social Articulation Includes Chapters Like Dalits: History, Colour, Caste And Culture, Ethnicity, Racial Conflict, Racism And Justice, Dalit Migration And Racial Exclusion, Torture, Discrimination And The Law, Mainstreaming Dalits. Vol. 2 : Issues Of Dalits And Backward Liberation, Includes Discrimination On The Ground Of Caste And Tribe, Dalits In Contemporary India, Social Disabilities Of Dalits, Rights Of Dalits, Educational Development Of Dalits, Development Of Dalit Women, Dalit Welfare Programmes., About The Author:- Prof. Ramesh Chandra Was Born In A Family Of Academicians And Freedom Fighters On July 1St. 1957 In Village Bijwara, District Meerut Of Uttar Pradesh. He Started His Research Career At University Of Delhi And Then Went To The New York Hospital-Cornell University Medical Center, As Well As At The School Of Medicine, State University Of New York At Stony Brook As A Faculty Member And Then Went To Harvard University Medical School-Massachusetts General Hospital Jointly At Mit, Cambridge, Usa. On His Return To India He Joined The Faculty At The University Of Delhi, Where He Is Currently A Professor Of Chemistry And Director Of Dr. Br Ambedkar Centre For Biomedical Research: In Addition To His Present Assignment As Vice-Chancellor Of Bundelkhand University, Jhansi (Up). He Was Appointed Professor (Research Scientist) By The Ugc At The Young Age Of 35 Years. He Is A Creator, Performer And Builder Of Institutions Of Higher Learning. He Has Established Dr. Br Ambedkar Centre Of Biomedical Research At University Of Delhi, When He Was Just 33 Years Old And Became Its Founder Director. He Was Appointed As Youngest Vice-Chancellor Of Bundelkhand University On March 24Th, 1999 At The Age Of 41 Years. He Has Metamorphosed It Into A Center Of Excellence By Creating 36 Institutes Of Higher Learning Of Higher Learning And Increasing The Capacity Of Students From 225 To 90000 And Raising The Number Of Faculty Member From 8 To 270 In Such A Short Span Of Time. Prof. Ramesh Chandra Is A Scholar And An Eminent Scientist. He Has Done Pioneering Research Work In The Field Of Drug Development And His Inventions Are Being Used In The Development Of Drugs For Neonatal Jaundice And Breast Tumor. He Is Recipient Of Several National And International Awards Such As: Ugc Career Award, Prof. Dp Chakravorty Commemoration Award, The Rockefeller Foundation, Usa Biotechnology Career Award, Ugc Research Scientist Award, Fullbright Scholarship, Award Of The Highest Honor Of The Soka University, Japan And Fellowships Of: The Royal Society Of Chemistry, Uk, International Academy Of Physical Sciences. He Is Also Recipient Of National Scholarship Of The Govt. Of India And Many More. He Is Member Of More Than Three Dozen Scientific And Academic Societies As Well As Founder Of Several Academic And Scientific Societies And Institutions. He Has Been Visiting Scientist At Various University And Research Institutions All Over The World., Content:- Volumes-Ii • Preface • Discrimination On The Ground Of Caste And Tribe • Dalits In Contemporary India • Social Disabilities Of Dalits • Rights Of Dalits • Educational Development Of Dalits • Development Of Dalit Women • Dalit Welfare Programmes • Bibliography • Index
Read less
Other books by Ramesh Chandra
Recommended Books for you - See all
Price
:
Rs. 1000
Rs.742
You save: Rs.258
Vendor :
Gyan Books Pvt.Ltd, Delhi
FREE SHIPPING | Delivered in 5 working days
(Cash on delivery available)
Be assured. 7 days Return & Refund Policy.
Click here
2 offers starting from Rs. 742
Rs.742 FREE SHIPPING

In stock | Delivered in 5 working days

Gyan Books Pvt.Ltd, Delhi

Add to cart

Rs.989 FREE SHIPPING

In stock | Delivered in 5 working days

Anshika Books, Delhi

Add to cart