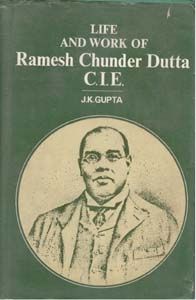 Life And Work of Ramesh Chunder Dutta C.I.E.
By: J.K. Gupta
Product Details:
Share this by email:
ISBN:
9788121200301
Publisher
:
Gyan Publishing House
Year of publishing:
1986
Format:
Hardback
No of Pages:
594
Language
: English
Description Contents:- Contents: Introduction Preliminary Book I. 1. Family 2. Early Days 3. Europe and Civil Service Examination 4. Official Apprenticeship 5. Literary Apprenticeship 6. Historical Novels...
Read more
Description Contents:- Contents: Introduction Preliminary Book I. 1. Family 2. Early Days 3. Europe and Civil Service Examination 4. Official Apprenticeship 5. Literary Apprenticeship 6. Historical Novels 7. District Magistrate 8. Report on Tenancy Act and other Official Literature 9. ?Rig Veda,? ?The Lays of Ancient India,? and the Sahitya Parisad 10. ?History of Civilisation in Ancient India? 11. Travels 12. Divisional Commissioner 13. Social Novels 14. Home Life and Personal Attachments Book II. Introductory 15. 1897, Publication of ?England and India? 16. 1898 and 1899. The Bengal, Municipal act and other Controversies 17. Translation of the Epics 18. President of the National Congress 19. 1900 and 1901, ?Famines? and ?Economic History? 20. 1902 and 1903, the Delhi Durbar, Indian Tour, and Lancashire Campaign 21. First Principles of Politics 22. Agrarian and economic views 23. Agrarian and Economic Views (Continued) 24. Views on Industrial and Financial Questions 25. Views on Administrative Reforms 26. Liberary Preferences 27. Personal Chapterstics Book III. 28. Work in Baroda 29. His Cosmopolitan home at Baroda 30. The new Industrial Movement 31. The Decentralisation Commission 32. Later Political work and freeform scheme 33. Last Days 34. Appeciations 35. General EstimateAbout The Book:- Ramesh Chunder Dutt (1848-1909) Is One Of The Brightest Stars In The Galaxy Of Nineteenth Century Indian Thinkers Both In History And Literature As Well As In Contemporary Politico-Economic Conditions. His Innumerable Writings On India`S Economic Conditions Under The British Rule, And On The Cultural Heritage Of This Country Are Too Well Known To Need Any Fresh Introduction; They Made His Name Known In India, As Well As In The West. He Was At Once A Man Of Great Capacity And Of Great Character. The Present Work Is, As The Title Indicates, An Account In Great Details, Of The Life And Works Of The Above Mentioned Thinker. The Work Is Not Simply A Narrative Biography, But It Has Been Written From A Particular Standpoint-It Depicts The Life Of Romesh Chunder Dutt, An Acknowledged Master In The Field Of Indian Economic History And Administration, As A Chapter Of The Contemporary National Life. The Present Work Describes All The Stages Of The Life Of Ramesh Chunder Dutt And His Career Both As An Administrator And As A Writer. All His Works Have Been Reviewed To Highlight Their Importance In The Field Of Scholarship And National Movement. A Good Collection From Romesh Chunder`S Correspondence, Included In The Work, Has Greatly Enhanced Its Value. The Work Is Profusely Illustrated By Rare Portraits Of Ramesh Chunder And His Family.,Content:- Introduction Preliminary Book I. 1. Family 2. Early Days 3. Europe And Civil Service Examination 4. Official Apprenticeship 5. Literary Apprenticeship 6. Historical Novels 7. District Magistrate 8. Report On Tenancy Act And Other Official Literature 9. ?Rig Veda,? ?The Lays Of Ancient India,? And The Sahitya Parisad 10. ?History Of Civilisation In Ancient India? 11. Travels 12. Divisional Commissioner 13. Social Novels 14. Home Life And Personal Attachments Book Ii. Introductory 15. 1897, Publication Of ?England And India? 16. 1898 And 1899. The Bengal, Municipal Act And Other Controversies 17. Translation Of The Epics 18. President Of The National Congress 19. 1900 And 1901, ?Famines? And ?Economic History? 20. 1902 And 1903, The Delhi Durbar, Indian Tour, And Lancashire Campaign 21. First Principles Of Politics 22. Agrarian And Economic Views 23. Agrarian And Economic Views (Continued) 24. Views On Industrial And Financial Questions 25. Views On Administrative Reforms 26. Liberary Preferences 27. Personal Chapterstics Book Iii. 28. Work In Baroda 29. His Cosmopolitan Home At Baroda 30. The New Industrial Movement 31. The Decentralisation Commission 32. Later Political Work And Freeform Scheme 33. Last Days 34. Appeciations 35. General Estimate
Read less
Recommended Books for you - See all
Price
:
Rs. 360
Rs.267
You save: Rs.93
Vendor :
Gyan Books Pvt.Ltd, Delhi
Free Shipping on all orders of Rs.500 and above. Add Rs.30 otherwise. | Delivered in 5 working days
(Cash on delivery available)
Be assured. 7 days Return & Refund Policy.
Click here
2 offers starting from Rs. 267
Rs.267 + Rs.30 delivery charges

In stock | Delivered in 5 working days

Gyan Books Pvt.Ltd, Delhi

Add to cart

Rs.357 + Rs.30 delivery charges

In stock | Delivered in 5 working days

Anshika Books, Delhi

Add to cart