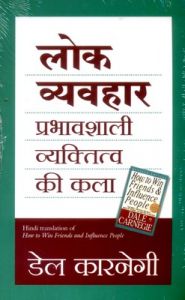 Lok Vyavahar (Hindi)
By: Dale Carnegie
Product Details:
Share this by email:
Lok Vyavahar is the Hindi edition of Dale Carnegie's bestselling book on building relationships, How to Win Friends and Influence People.
Summary Of The Book
How to Win Friends and Influence...
Read more
Lok Vyavahar is the Hindi edition of Dale Carnegie's bestselling book on building relationships, How to Win Friends and Influence People.
Summary Of The Book
How to Win Friends and Influence People, authored by Dale Carnegie, was first published in the 1930s, and it is still one of the most popular books on communication and building relationships.
Lok Vyavahar, the Hindi edition of the above-mentioned book, shows the reader how to connect with strangers, how to build a good relationship with people, how to make others listen, how to be a good communicator, and how to be a good leader.
Here are a few of the concepts the author explains as being fundamental in building a good relationship with people:
According to Carnegie, it is necessary to make the other person feel important and make them feel that they are really being paid attention to. He tells the reader that first, they have to be a good listener before they can make others listen to them. Taking a genuine interest in other people, listening to them, making them feel appreciated, all these help establish a good connection.
He explains the basic rules for communicating with people in Lok Vyavahar. First, a sincere smile when greeting them and addressing them by their name gets their attention. Then, starting the conversation, making them talk, listening to what they have to say, and paying attention are all important factors. A good conversationalist should also be a good listener.
The following are some of the ideas to achieve better communication, as explained in this book.
When paying compliments, it is important to be sincere. The author opines that showing genuine appreciation for the other person makes them feel good, and the best way to influence people is by making them feel good about themselves and also making them comfortable while having a conversation, which also makes them feel that the listener is genuinely interested in what they have to say.
According to the author, a sure way to spoil a relationship is to start an argument, for there are no real winners in an argument. Avoiding arguments is an important step in communication, as given in Lok Vyavahar.
The author states that it is important to respect the other person's opinion, and never say 'You are wrong'. Admitting a mistake makes people feel more sympathetic towards the person, and makes them feel that he/she is sincere.
Lok Vyavahar also lays emphasis on showing appreciation for one's work and then pointing out the mistake he/she made in the course of the conversation.
The book says that while communicating ideas or plans, it is advisable to create a visualization, and dramatize it so that it remains in people's memory. The author illustrates this point with many examples. One of them shows how a salesman selling new cash registers made a sale.
In the book the author gives an example of a neighborhood grocer, where he saw they were using cash machines that were very old. The salesman saw the shop owner and told him that he was throwing away pennies by using the old machines. He accompanied this statement by picking up a few coins and throwing them on the floor. The sound of the coins hitting the floor communicated the salesman's idea better than an hour of sales talk could, and he made the sale.
Lok Vyavahar attempts to give the readers a new perspective on how to connect with other people and how to communicate effectively.
About Dale Carnegie
Dale Carnegie was an American writer and coach on the subject of self-development. Born in 1888, this poor farm boy from Missouri became one of the best known self-help experts of all time.
Dale Carnegie published many books that explained his techniques to a wider audience. Some of his other popular books include Art of Public Speaking, How to Stop Worrying and Start Living, The Quick and Easy Way to Effective Speaking, and Lincoln The Unknown.
Carnegie was a salesman, and then an actor before he finally came up with the idea of helping people improve their self-confidence and learn to communicate better. His techniques and lectures soon became very popular.
Read less
Other books by Dale Carnegie
Recommended Books for you - See all
Price
:
Rs. 115
Rs.111
You save: Rs.4
Vendor :
Zapzhoop Services, Mumbai
Free Shipping on all orders of Rs.500 and above. Add Rs.30 otherwise. | Delivered in 4 working days
(Cash on delivery available)
Be assured. 7 days Return & Refund Policy.
Click here