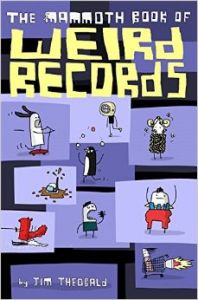 Mammoth Book Of Weird Records (English) (Paperback)
By: Jim Theobald
Product Details:
Share this by email:
ISBN:
9781472117694
Publisher
:
Constable & Robinson
Year of publishing:
2015
Format:
Paperback
No of Pages:
560
Language
: English
Everyone's heard of Usain Bolt, but how many people know about Dineka Maguire? Like Bolt, the Irish woman is a world record holder but in the rather lesser known sport of bog snorkelling. She is just one of the hundreds...
Read more
Everyone's heard of Usain Bolt, but how many people know about Dineka Maguire? Like Bolt, the Irish woman is a world record holder but in the rather lesser known sport of bog snorkelling. She is just one of the hundreds of unsung heroes featured in this book chronicling the people who go to bizarre lengths to break world records in the weirdest categories; people who devote hours of intense training to spitting dung, eating cockroaches, sniffing feet or tossing tuna in the hope of one day being recognised as the best in the world. This astonishing compendium of the weirdest, wackiest and most disgusting world records will amuse and astound in equal measure.Entries include:Longest ear hairFastest marathon while wearing a deep-sea diving suitFastest bog snorkellerFarthest distance skateboarding by a goatMost bees on bodyMost milk crates balanced on head Fastest 5-km run while dressed as a penguin and jugglingHeaviest airplane pulled with teethFastest shopping trolleyLongest backwards motorcycle rideMost stairs climbed by bicycleFastest 30 metres on a scooter by a dogFirst water-skiing squirrel
Read less
About the author:
Jim Theobald
Recommended Books for you - See all
Price
:
Rs. 963
Rs.833
You save: Rs.130
Vendor :
S.V. Enterprise., Mumbai
FREE SHIPPING | Delivered in 5 working days
(Cash on delivery available)
Be assured. 7 days Return & Refund Policy.
Click here