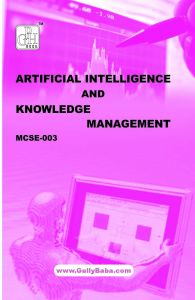 MCSE003 Artificial Intelligence and knowledge Management (IGNOU Help book for MCSE-003 in English Medium)
Product Details:
Share this by email:
ISBN:
9789381690956
Publisher
:
Gullybaba
Year of publishing:
2015
Format:
Paperback
No of Pages:
238
MCSE-003 Artificial Intelligence and Knowledge Management
CONTENTS COVERED
1. Introduction To AI
Unit-1 Introduction to Intelligence and Artificial Intelligence
Unit-2 The Propositional Logic
2. Knowledge...
Read more
MCSE-003 Artificial Intelligence and Knowledge Management
CONTENTS COVERED
1. Introduction To AI
Unit-1 Introduction to Intelligence and Artificial Intelligence
Unit-2 The Propositional Logic
2. Knowledge Representation
Unit-3 The First Order Predicate Logic (FOPL)
Unit-4 Deductive Inference Rules And Methods
Unit-5 Systems For Imprecise/Incomplete Knowledge
3. AI Programming Languages
Unit-6 AI Languages-1: LISP
Unit-7 AI Languages-2: PROLOG
4. Applications of Artificial Intelligence
Unit-8 Expert Systems
Unit-9 Intelligent Agents
QUESTION PAPERS
1. Solution Paper - Dec 2008
2. Solution Paper - June 2009
3. Solution Paper - Dec 2009
4. Solution Paper - June 2010
5. Solution Paper - Dec 2010
6. Question Paper - June 2011
7. Solution Paper - Dec 2011
8. Solution Paper - June 2012
9. Solution Paper - Dec 2012
10. Question Paper - June 2013
11. Question Paper - Dec 2013
12. Question Paper - June 2014
13. Question Paper - Dec 2014
Read less
Other books by GPH Panel of Experts
Recommended Books for you - See all
Price
:
Rs. 200
Rs.192
You save: Rs.8
Vendor :
GullyBaba Publishing House (P) Ltd., Delhi
Free Shipping on all orders of Rs.500 and above. Add Rs.30 otherwise. | Delivered in 5 working days
(Cash on delivery available)
Be assured. 7 days Return & Refund Policy.
Click here